Decorated Marine wrestler no longer fixture in Okinawa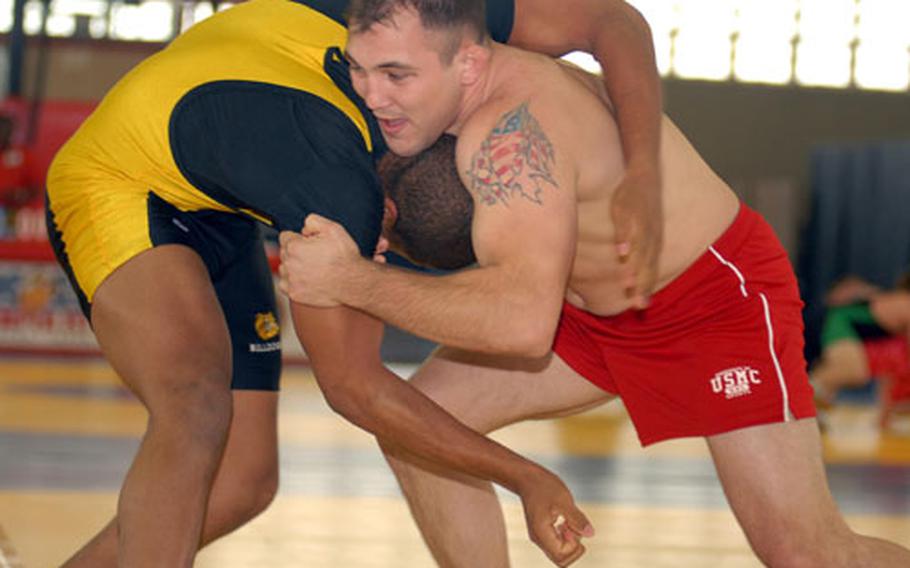 CAMP FOSTER, Okinawa — Most Marine Corps deployments don't involve much jet-setting, but Jacob Clark's recent journey would have overwhelmed even Marco Polo's travel agent.
Try Russia, Finland, Sweden, Estonia, Brazil, Poland and China, in between stops at Quantico, Va. He'll hit the road again later this month for Turkey and Uzbekistan.
But none of those stops involved wearing a battle suit or toting a rifle. Clark's combat usually is performed in a singlet and headgear and on a heavy rubber foam mat, on which he's garnered 10 All-Armed Forces gold medals, six U.S. championships, a Pan American Games silver medal and a seventh-place World Championship finish.
"It's been crazy," said Clark, 26, a sergeant from South St. Paul, Minn., who for the last three years — when not wrestling — has been assigned as a Camp Foster transportation management specialist. "I lose track of the dates. I'm still trying to figure out what time zone I'm in. It feels like several years since I was here."
Almost immediately after he returned to Okinawa two weeks ago, it was time to check out and head for his new duty station: Marine Corps Air Station Cherry Point, N.C. — conveniently, about 20 miles from Camp Lejueune, the All-Marine wrestling team's new headquarters.
He'll continue to wrestle and to travel, something he said he's aspired to since being a child in Minnesota. "I was a little kid reading about it, and now I'm doing it," Clark said.
But, Clark said, of everything he's done, places he's seen and medals he's won, nothing beats carrying the red, white and blue banner into the World Championships ring in September at Juangzhou, China.
"Just being able to step into the ring at the worlds as the lone U.S. representative at my weight class. That's probably my best memory," he said.
Clark said he's done his best to give back to the sport.
The past two summers, he's conducted clinics for Pacific high school wrestlers at home in Minnesota and taken them under the banner of Team Okinawa to USA Wrestling's junior and cadet championships in Fargo, N.D. He said he plans to continue the practice this summer.
Recently Clark spent some time working with Kadena High School's wrestlers during a practice, then with Kubasaki's grapplers during Saturday's Foster Open tournament.
"Any time a guy like Jake wants to come over and volunteer his time, I'll take it," said coach Steve Schrock of defending Far East tournament champion Kadena.
"He's very inspirational and motivating," Kubasaki coach Terry Chumley said during the Foster Open. "He definitely promotes the younger guys, he's there cheering them on. It's great for our kids, to watch him wrestle and learn from the master."
Teaching and perhaps coaching high school wrestling was "my plan in college," Clark said. "Things changed, but I do plan on coaching after I hang up the shoes. I'd like to return to Minnesota but that's in the distant future."
More immediately, Clark said, he wasn't looking too far ahead about his chances of representing Team USA in the 2008 Summer Olympic Games in Beijing.
"I don't even think about that," he said. "I take it one month at a time. You have to make the Olympic team before you think of a medal."
---
---
---
---