D-II clash: High-powered offense vs. shutdown defense
---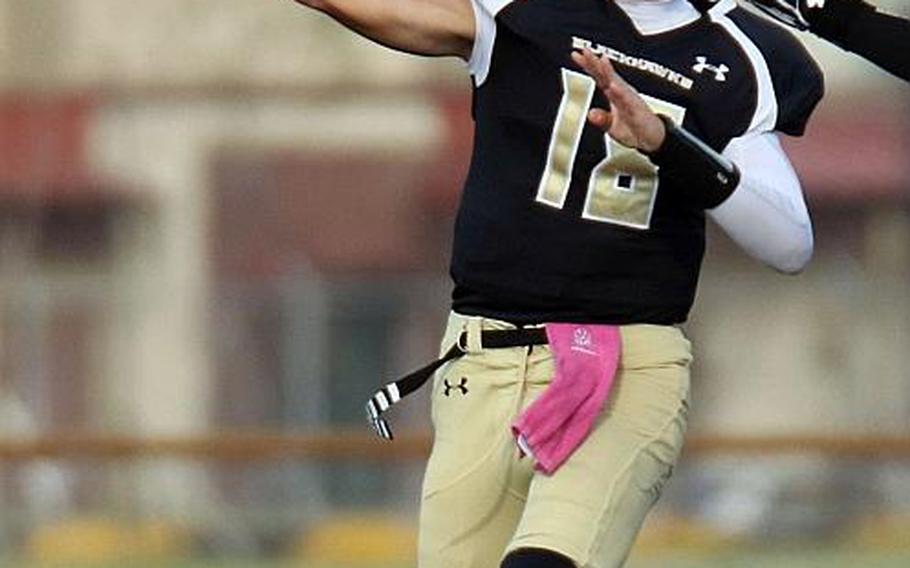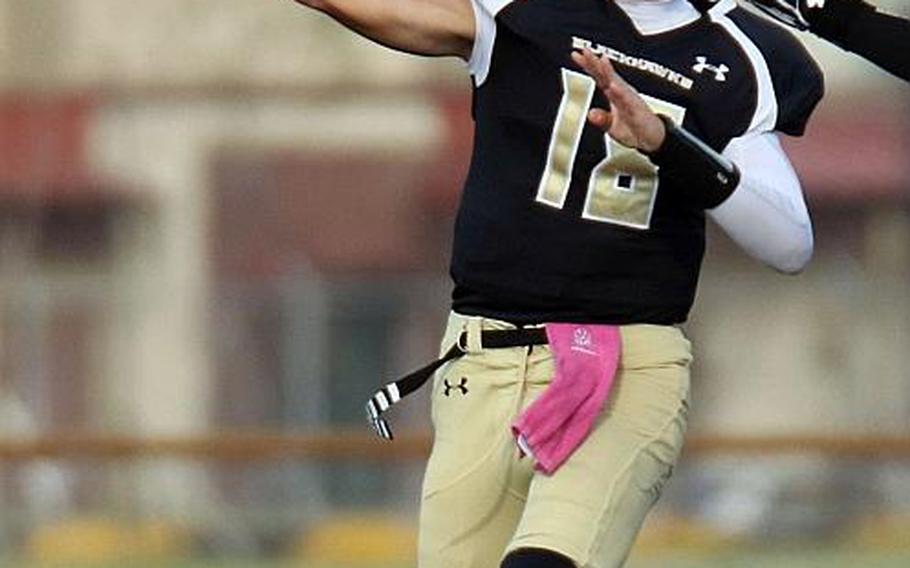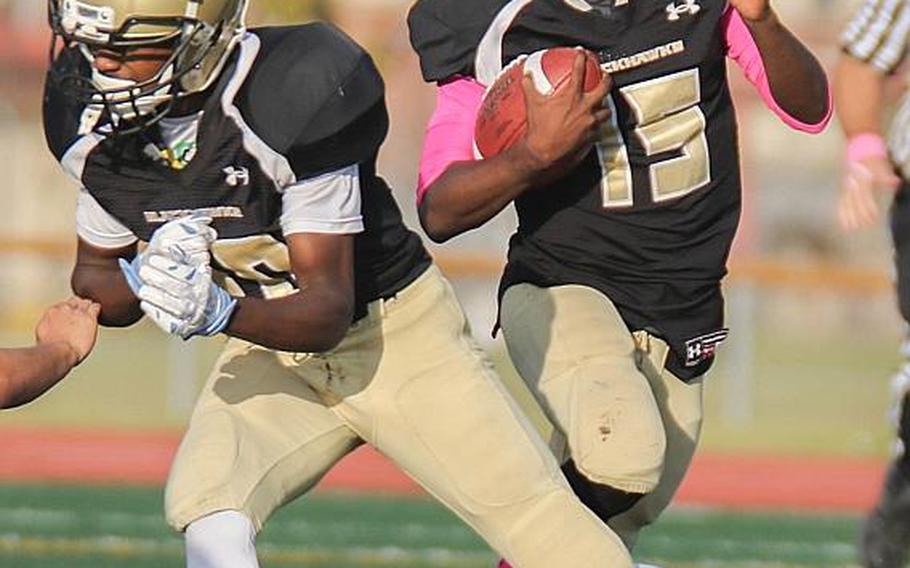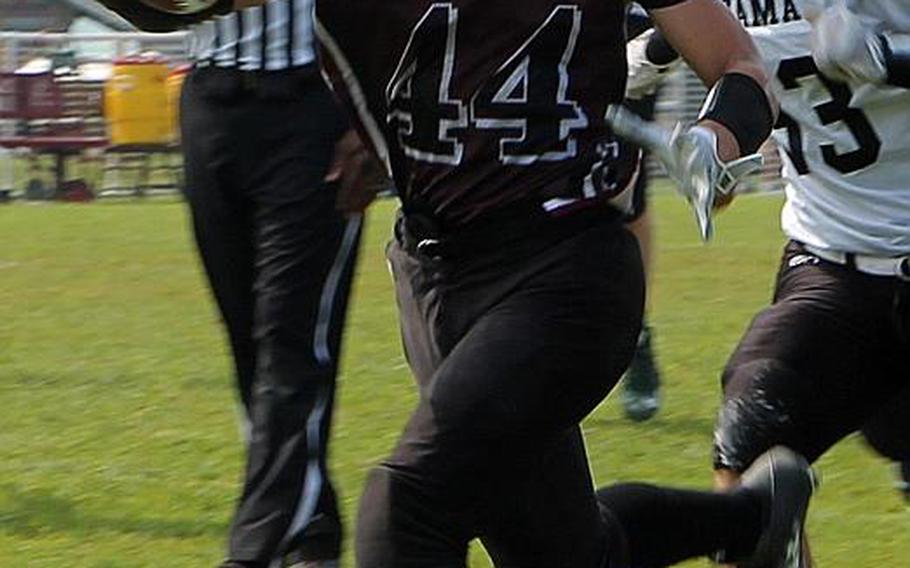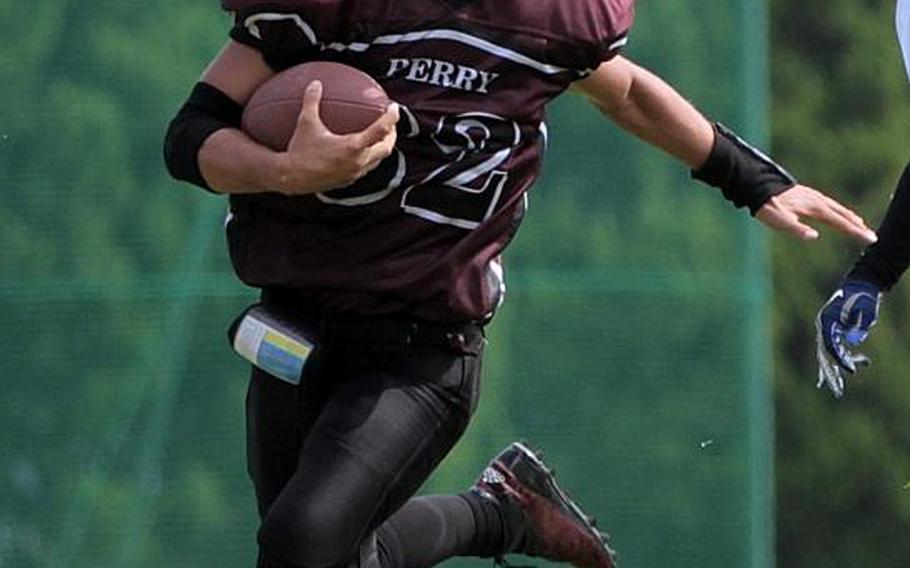 Given the teams' contrasting offensive styles – Humphreys, with its fast-paced spread attack, and Matthew C. Perry, with its deliberate ground-pounding run game - one might view this an unlikely Far East Division II football championship pairing.
For that matter, given where each team was just three years ago – Perry rebooting after a 10-season hiatus, Humphreys a year away from getting a varsity program off the ground – it might seem more unlikely that the Samurai and Blackhawks even made it to the title game at all.
Yet as they look out at Samurai Field for Saturday's high-noon showdown, there they are.
Host Perry is in just its third varsity season back after suspending its program after 2003 due to lack of players. It brings a 6-1 record and the region's top scoring offense (40 points per game), spearheaded by senior Caeleb Ricafrente, to the table.
Joining them is visiting Humphreys, playing its second season of varsity ball after a non-varsity 2013 season. Brice Bulotovich and the Blackhawks are the last unbeaten DODEA-Pacific team at 7-0, and boast the Pacific's most stingy scoring defense (six points per game).
"It's amazing, from where we were, from what was expected and anticipated to what we've done this season," first-year Blackhawks coach Steven Elliott said. "It's a testament to these kids and their will to win."
Samurai coach Frank Macias said echoed that thought: "We have rarely been the most talented team on the field, but heart, passion and belief can go a long way."
The teams will tee it up in what could be the last game on Perry's grass field. A new campus opens in less than a month and features a turf surface that the Blackhawks are more used to.
It's a field where Perry played and lost the D-II championship 60-50 to Daegu, which was in the midst of a run of three straight D-II titles.
Ricafrente, Pacific's touchdown leader, missed that game with a broken elbow and has made it his stated mission to return to the title game this season. Macias says he and his son Garrett embody the "W1N THE DAY" spirit the team's T-shirts bear.
"They have both been examples of selflessness, particularly this year," the elder Macias said, adding that his son had more scoring passes last year than completions this year and Ricafrente "could have set records if I had given him the rock more often.
"So when you have two stars and unquestioned leaders willing to do what's best for the team, you can see why our line, tight ends and backs will block and lay it on the line for each other every play."
Elliott and the Blackhawks embody a similar philosophy, "Not Me; It's We." He says that emanated from a most unlikely source: Freshman David Key, new to Humphreys after moving from Okinawa was asked to play linebacker after expressing a desire to play running back.
"The team needed somebody in the middle," Elliott said, "and he took it and owned it and became one of the best" defenders on the team. "I love his attitude. It spread across the board. Everybody was, wherever you need me, put me and I'll give it everything I've got."
Both teams got a bye week prior to the championship, which both coaches said gave players a chance to heal bumps and bruises in the run-up. "I love the chance for us to recover," Elliott said. "It's working out. We're pretty excited."
Twitter: @ornauer_stripes
On the air: AFN Iwakuni The Eagle plans to air the D-II title game. Listeners can access the game here.
---
---
---
---