D-I soccer champ SHAPE proves it belongs with big schools
by
bryanr@estripes.osd.mil Rusty Bryan
May 24, 2010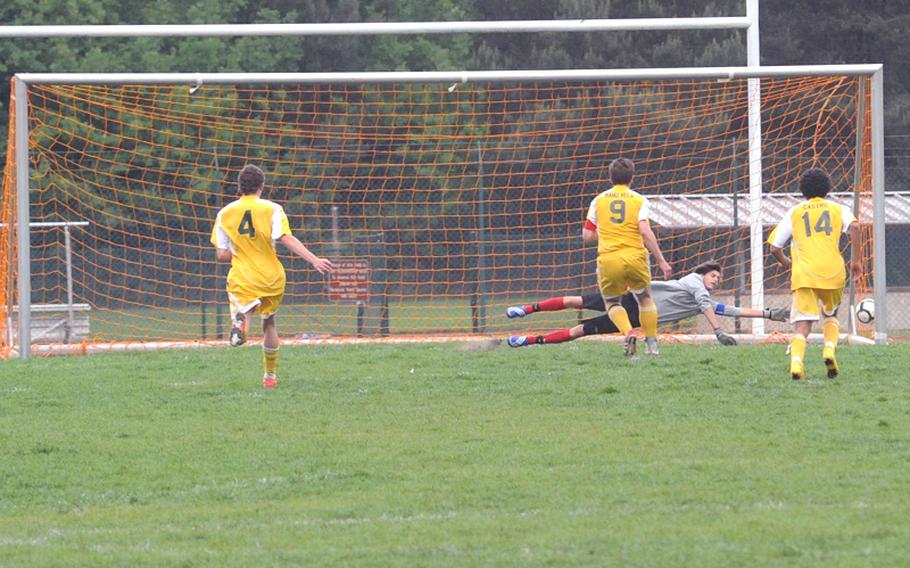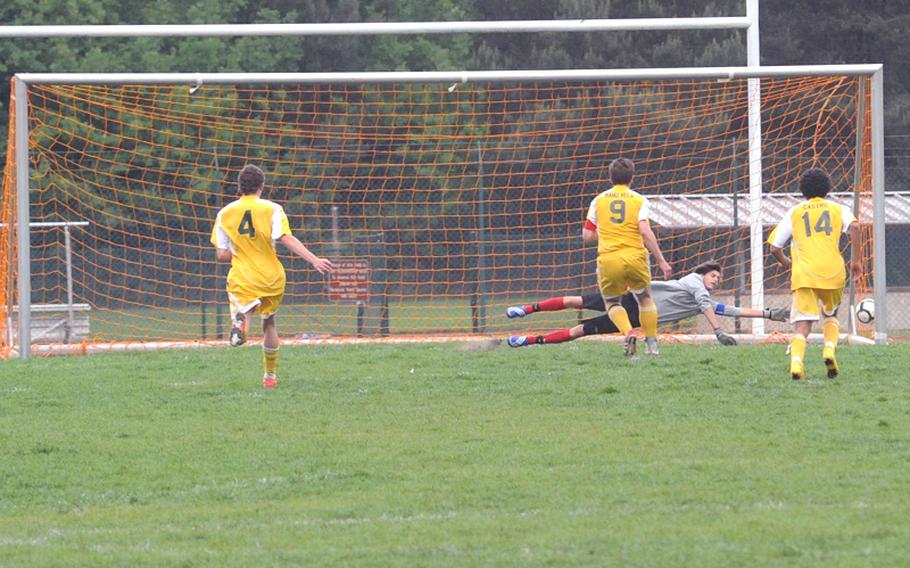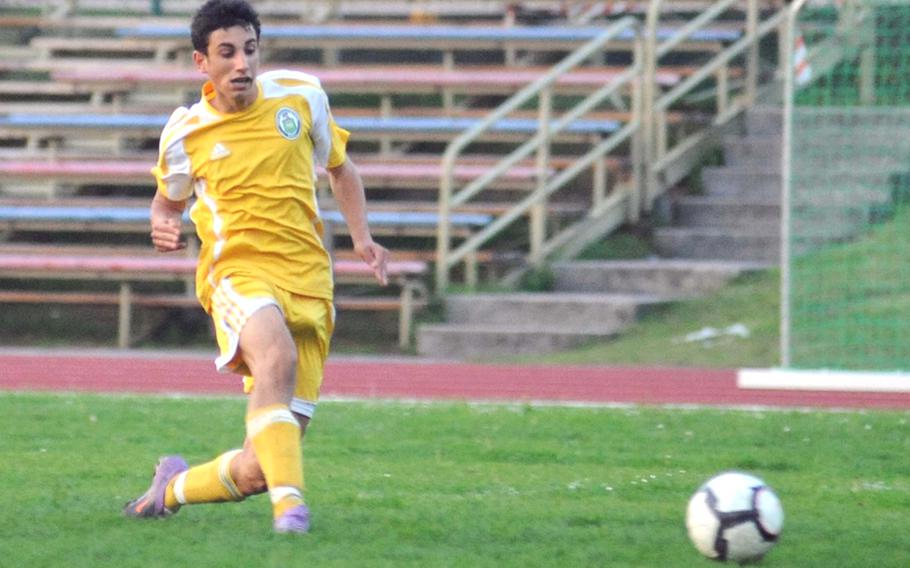 RAMSTEIN AIR BASE, Germany — Nothing like starting at the top.
The SHAPE Spartans, in their first season as a Division I school, blanked the International School of Brussels Raiders 2-0 Saturday night to win the European Division I soccer championship.
"For years we should have been here," said veteran coach Tony Blasio about his team's elevated status this year. "Not to win it, but because you get better competition in D-I."
SHAPE, which won last year's D-II crown, got all the best of the competition on Saturday night, taking a 1-0 lead on Manuel Vela's 39th-minute penalty kick and putting the game away in the 80th and final minute on Simone Arcamone's solo run on a counter behind the ISB defense.
In between, the sometimes spectacular play of SHAPE goalkeeper Jonathan Canei kept ISB off the scoreboard.
Canei was especially effective in the late going as ISB desperately attacked his line. Most notably, the Mons, Belgium, senior stuck his nose into a frantic goal-mouth scramble by ISB 20 minutes before game's end, and leaped high seven minutes later to pick off a header that was headed for his net.
"We can be champions in any division," Canei said. "We do it for Mr. Blasio."
For his part, Blasio, the DODDS-Europe version of Mr. Chips who's been at SHAPE since 1967, expressed his pride in the 2010 Spartans.
"This is a great bunch of kids," he said, gesturing toward his international squad whose players draped themselves in the flags of Spain, Croatia, Colombia and the U.S. as they waited to be presented their trophies. In all, the SHAPE roster contains natives of 11 nations.
Although the verdict avenged SHAPE's only loss of the season, a 4-2 defeat May 1 at ISB, that aspect of Saturday's showdown had no effect on his team's performance, according to SHAPE assistant coach Marco Fumagalli.
"We have no rivalry with them," Fumagalli said.
But, he added, "They were the hardest team we could have played for the championship."
Because of that earlier game, tourney MVP Kewin Nielsen summarized, the new D-I champs had a good handle on what was going to happen Saturday night.
"We knew it would be a close game," he said. "We knew what we had to do and we did it."
That involved playing hard and being effective on offense, he later said.
SHAPE's ascent to the top of the big-schools' division and its showdown with ISB marked the end of several D-I eras. It was the first time since 1986 that neither Heidelberg, the 2008 champs, nor Ramstein, the 2009 winners, appeared in the D-I title game, and the first time since 2007 that neither of those teams won the championship. This year's third-place team, Lakenheath, won in 2007 to snap a string of 14 previous championships won by Heidelberg (12) and Ramstein (2).
From now on, however, look for this year's finalists, at a minimum, to be a permanent part of the D-I title mix.
"We've been wanting to play D-I for years," Fumagalli said with a mission-accomplished air. "We proved we belong here."
bryanr@estripes.osd.mil