Boys basketball AOY
Cox didn't get all he wanted, but got all he could
---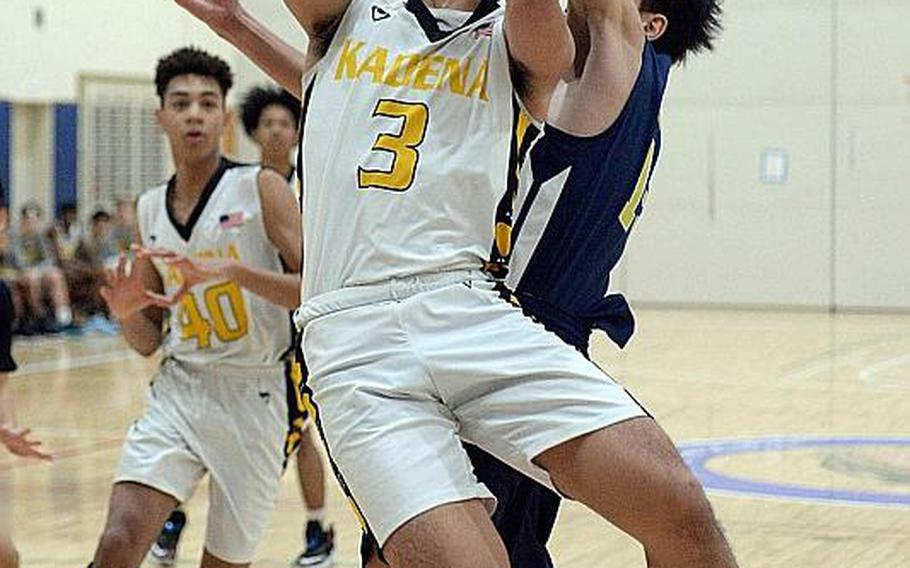 KADENA AIR BASE, Okinawa – Since losing the Far East Division I Tournament final to Seoul American three years ago, Casey Cox said it had been his mission to make up for that defeat and took dead aim at his senior season to do it.
Through no fault of his own, though, he never got the chance.
Due to concerns about the novel coronavirus, last month's Far East was canceled partway through the first day, and after Cox and the Panthers had won two games that day and were primed to take on host Humphreys the evening that the tournament was called off.
"It's going to stay with me throughout my life," said Cox, a senior, the Panthers' starting point guard and the lone player who had been on Kadena's roster the last four years. "I will look back and say that I never got the chance. It was my senior year."
Still, the season wasn't a total loss for Kadena, which went 21-3 in the just completed season, two of the losses coming in the American School In Japan Kanto Classic in January and the other to a Japanese team in December.
The Panthers finished second in the Kanto Classic, won the Okinawa-American Friendship Tournament for the second straight season and came away with two wins in January's Taipei Basketball Exchange, winning one of the games in double-overtime.
Through it all, Cox averaged 11.2 points, 11.8 assists and 3.4 steals a game, shooting 42 percent from three-point range.
Cox becomes the first non-Korea player in four years to be named Stars and Stripes' Pacific's boys basketball Athlete of the Year.
"Anything I needed Casey to do, Casey got it done," Panthers coach Antiwon Tucker said. "He was like having another coach on the floor. He never complained. He was one of the best captains I ever worked with in all my years of basketball. He gave up the 'me' for the 'we.'"
Cox said two things stood out about the just-completed season: Reaching the finals of the ASIJ Kanto Classic on Jan. 25, in which the Panthers lost 53-45 to Father Duenas of Guam; and Kadena's 86-79 double-overtime win over Taipei American on Jan. 18.
"A lot of teams there, different competition, and for us to make it all the way to the (Kanto Classic) final, that was a big thing," Cox said.
Kadena led much of the way in the extra-time game against Taipei, which clawed back to outscore the Panthers 23-16 in the fourth quarter to send the game to overtime.
"The adrenaline was pumping every minute. It was so close, neck and neck. And the next day, we blew them out," Cox said of the Panthers' 65-36 win over the Tigers on Jan. 19.
If there's anything that Cox says he would like to leave behind, not just for future Kadena players but for anybody playing high school ball, he says it's that one never knows what might happen from one day to the next.
"Always stay hungry," Cox said. "Every game counts. Make the most of it. Play every game like it's your last one."
Stripes' Pacific boys basketball All-Far East teams
Division I Kadena: Casey Cox (Player of the Year), Blake Dearborn; Humphreys: Junior Gregory, Myles Johnson; St. Mary's: Aidan O'Flaherty, Alister Jones; Nile C. Kinnick: Darryl Williams, James Mincey; Kubasaki: Dylan Canlas; Father Duenas: Matthew Fegurgur.
Division II E.J. King: L.J. Scarver, Jalen Nall; Zama: Kalil Irby, Chandler Platt; Christian Academy Japan: Koji Matsuoka, Enosh Mutenda; Matthew C. Perry: Shion Fleming; Robert D. Edgren: Dylan Tomas, Nasir Sales; Daegu: Andrue McCall; Osan: Bryson Goldsmith.
ornauer.dave@stripes.com Twitter: @daveornauer
---
---
---
---