Cougars claim second Class A volleyball title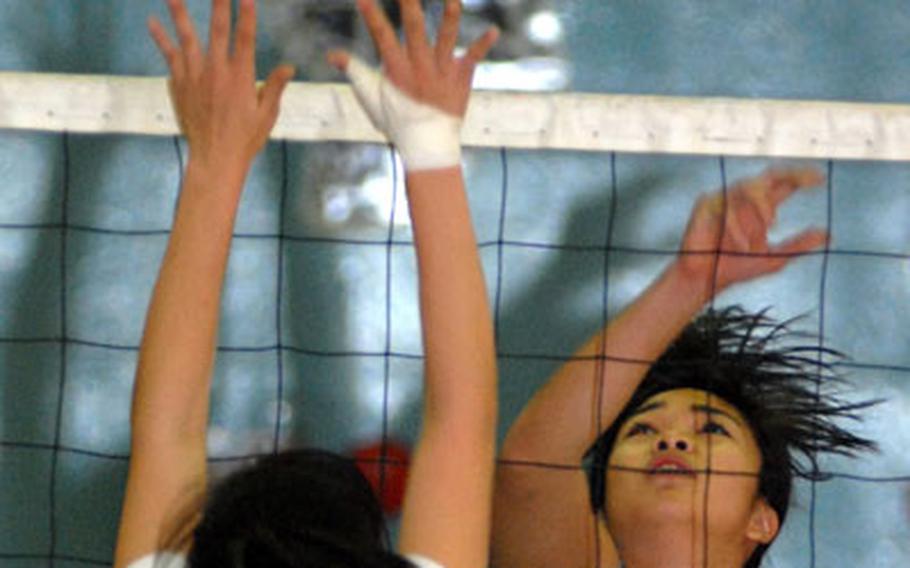 The talent was never in question, Brian Swenty said. But he spent all season waiting, hoping that his Osan American girls volleyball team could put it together.
That moment came Friday — when the Cougars won their first Far East Class A Tournament title since 2001.
Led by juniors Celine Baldevia and Laura Vega, sophomore Nicole Sparks and seniors Sasha Gluzinski and Olivia Dickinson, the Cougars dethroned Morrison Christian Academy 25-21, 25-21, 13-25, 25-10 for the title at Camp Walker's Kelly Field House.
"This was what we were capable of all season. This was the first time we'd seen it. It was a beautiful thing to watch," said Swenty, who took over the team in 2003 and finally assembled the pieces for a title run this season.
"This is just so amazing," said Vega, adding that she and Baldevia "have dreamed about this for three years. This is so great."
"We just wanted it more," said Baldevia, chosen as the tournament's MVP.
After going 12-12 last year, the Cougars went 12-4 in Korean-American Interscholastic Activities Conference play, 2-1 in the league tournament and blew through the Class A field, falling once in 10 matches to finish 23-6.
Prior to ousting Morrison in Friday's title match, the Cougars beat Faith Academy of the Philippines 25-22, 15-25, 25-20, 25-19 in the winner's bracket final of the double-elimination playoffs. In each match, defense played a huge role, Swenty said.
"Relentless defense. Perfect team defense," Swenty said.
The victory over Faith was a sharp reversal of the Cougars' straight-set defeat at the Vanguards' hands in Wednesday's seeding match.
"We weren't able to execute our game plan last time. This time, we did," Swenty said.
On Friday against Faith, Sparks recorded 22 defensive digs. Baldevia had 16 spike kills in 56 attempts, 16 set assists and 13 digs. Vega added 16 assists and 12 digs, Dickinson six kills and 20 digs and Gluzinski 16 kills in 39 attempts plus seven digs.
Faith kept up a steady stream of hard spikes, but "we kept digging them back up," Swenty said. "We kept coming and coming."
The defeat sent Faith to the loser's bracket, where the Vanguards, trying for their second Class A title, fell 25-17, 25-22, 25-18 to the Mustangs in the bracket final.
Thanks once more to Osan's defense, the Mustangs came up short in their bid for a repeat and their third championship overall.
Sparks had 21 digs, Dickinson added 10 and Baldevia 16, to go with 12 kills in 47 attempts and 18-for-20 serving with six aces. Vega was 25-for-26 serving with six aces and 13 assists. Gluzinski pounded 11 kills in 24 attempts and added 14 digs.
Sparks, selected as the tournament's best defender, was "the base of our defense. She was the backbone," Baldevia said.
"They played the way they needed to play and the way they were capable of playing the whole time," Swenty said.
Falcons come up short in bid for first Class AA title: A strong Christian Academy in Japan team, and an untimely ankle injury to senior middle blocker Avianca Manning, kept Seoul American from achieving its dream of a Far East Class AA championship.
The Knights reached their third tournament final in four years, sweeping the Falcons 25-17, 25-17, 26-24 in Friday's semifinals.
That relegated Seoul American to Saturday's third-place match, in which the Falcons were to face Academy of Our Lady of Guam. The Cougars lost the other semifinal to George Washington of Guam 18-25, 25-17, 25-19, 19-25, 15-11.
Manning's injury came late in the second set and "put a crimp" into the Falcons' gameplan, coach Denny Hilgar said. While the "wheels came off" early in the third set, the Falcons rallied to keep it close behind key blocks and spikes from Liz Gleaves.
In the end, it was "too little, too late," Hilgar said.