Contraction shakes up boys field
---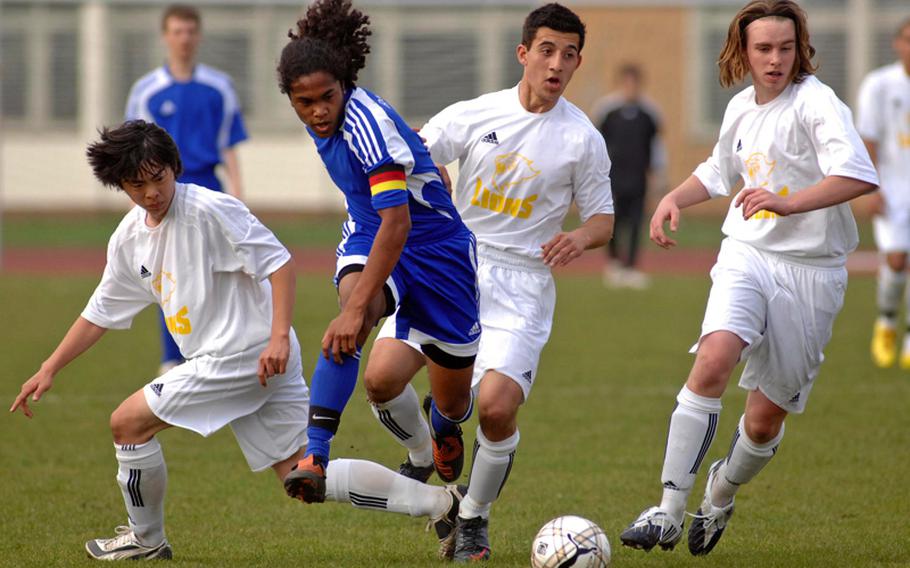 KAISERSLAUTERN, Germany — As the three 2010 boys European soccer tournaments kick off their four-day runs Wednesday at seven sites in this area, the operative word is "upheaval."
Sure, most of the usual powers, such as Ramstein, Heidelberg, SHAPE, Black Forest Academy and the American Overseas School of Rome, are back and loaded again. But the contraction of the European tournaments from last year's four to this year's three and the re-alignment of schools into different categories has created a musical-chairs logjam in some of the 2010 events.
Take Division I, for example.
For the past 17 years, either Heidelberg or Ramstein — usually both — has been involved in the D-I boys title game. Heidelberg won 12 of those and Ramstein four, with Lakenheath breaking the two schools' title stranglehold in 2007. But although defending champion Ramstein and 2009 runner-up Heidelberg are back in contention again — at the No. 1 and No. 3 seeds, respectively — both will find the competition's grown significantly for 2010.
Crashing the D-I party in this year's nine-team tournament are the SHAPE Spartans, D-II champions the past two seasons. The Spartans drew the No. 4 seed in their new neighborhood on Monday, despite dropping just one game this season, a 4-2 loss to an undefeated International School of Brussels squad, the No. 2 seeds here.
For all the power SHAPE brings to the table, however, Ramstein coach Dan Nukala welcomes the Spartans' arrival.
"I think it's great SHAPE is in Division I now," Nukala said Tuesday in an e-mail. "Clearly, they play superior soccer and whatever size limitations their school might have certainly never show on the field. Both SHAPE and ISB have lots of great international players, and our kids love to play against them."
SHAPE's departure from D-II would seem to clear the path for Black Forest Academy, runners-up to the Spartans in 2009 and the champions in 2008 before a self-reported violation of school-system rules led the Falcons to vacate their title. BFA also won the D-II crown in 2001, '04, '05 and '07.
But the reduction from four divisions to three elevated some former D-III powers into BFA's class.
Most notable of those are undefeated Marymount International School of Rome, the Region IV champions for 2010, and runner-up American Overseas School of Rome, which won the D-III crown four straight seasons and four of five before that, before being upset by the Hohenfels Tigers in 2006.
Marymount and AOSR, whose lone loss in 2010 was a 4-2 defeat by Marymount, drew the top D-II seeds, with BFA, with just a 1-1 tie at Heidelberg keeping it from going unbeaten and untied, awarded the No. 3 slot. The seeding is less disadvantageous than it might have been, however, since the 15-team D-II field is divided into four pools.
In Division III, Brussels is top-seeded, with Menwith Hill and 2009 D-IV champion Alconbury ranked second and third.
bryanr@estripes.osd.mil
---
---
---
---