Collett's late 80-yard TD run hands D-II title to Bitburg
---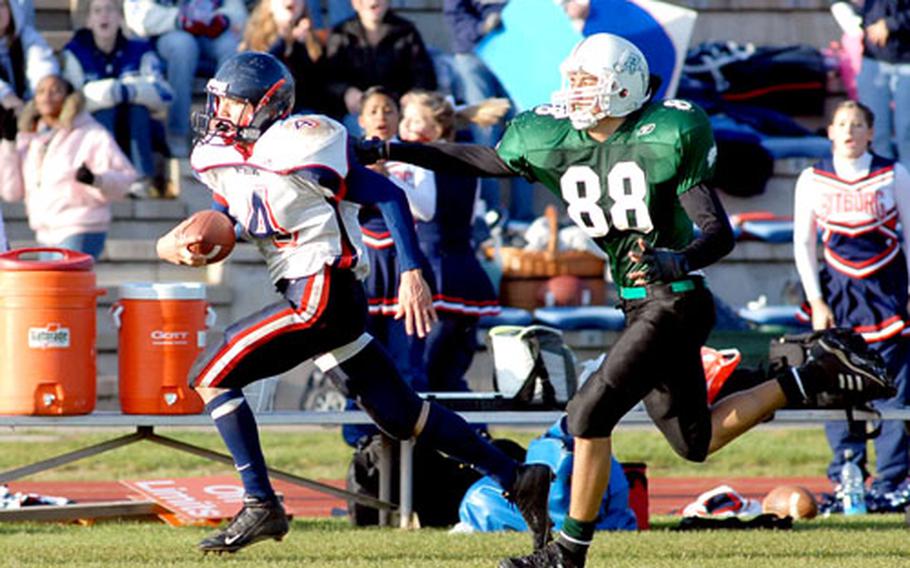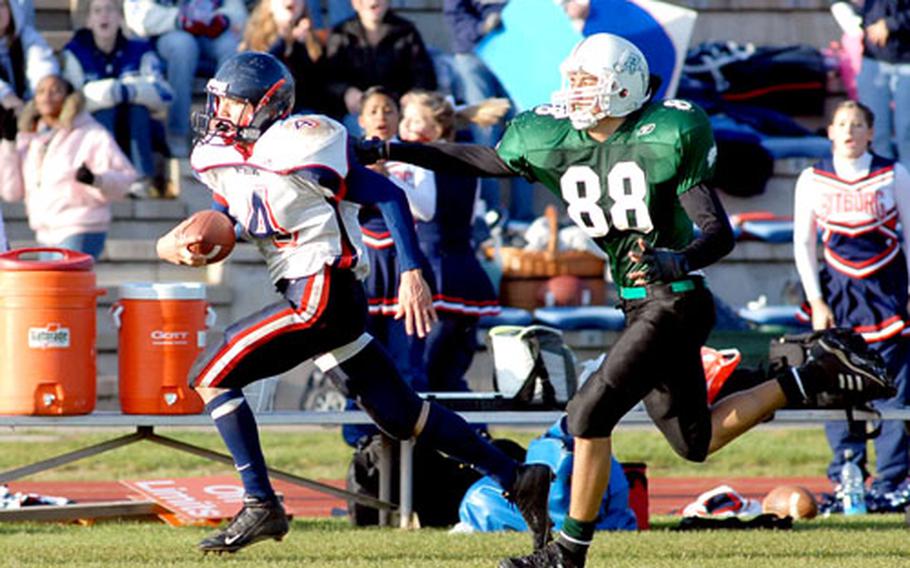 BAUMHOLDER, Germany — Naples was 3 minutes and 11 seconds from the DODDS European Division II football title Saturday when Bitburg quarterback Josh Collett snatched it away.
On the first play from scrimmage after Naples tailback B.J. Taylor had given the Wildcats a 24-19 fourth-quarter lead, Collett broke an option run around right end for 80 yards and the decisive touchdown in the 27-24 victory.
"I cut up and got through," said Collett, who averaged 8.96 yards a carry during the season but until that moment had been held to 21 yards on nine carries by an in-your-face Naples defense. "I ran for my life."
The run was the longest of the season for Collett, who wasn't able to savor the feat until he and his defensive mates had run Naples out of downs and out of time one last time.
Led by senior quarterback Tyler Terronez, Naples mounted a final drive that reached the Bitburg 42-yard line and near field goal range for Tyler White, who earlier had kicked a 43-yarder. Collett and Brandon Pitts knocked down passes on third and fourth downs to end the threat.
The win over Naples (7-1) was Bitburg's eighth on-field victory of the season. The Barons (7-1) forfeited their season-opening victory for inadvertently using an ineligible player.
"They played a good ballgame," said Bitburg tailback Anton Harris, who battered the 10-in-the box Naples defense 27 times for 159 yards and touchdown runs of 12 and 1 yards. "They had a great heart."
They also had a great head for adjustments.
After Bitburg's road-grader opening drives — 11 rushes for 80 yards and a touchdown on the first and 10 carries for 68 yards and a TD on the second — Naples moved 10 men close to the line of scrimmage and dared the Barons to throw the ball.
Bitburg declined, and Naples held the Barons, who had rushed for 140 yards in the opening 12 minutes, to only 66 more until Collett's game-breaker.
"We're coming to get you," is how Naples coach Jim Hall described his defense, which forced Bitburg to turn the ball over on downs twice and to punt twice in the second and third quarters.
Collett's only pass came on an unsuccessful two-point conversion try after he had plunged in from a yard out with 6:16 left to give Bitburg a 19-17 lead.
Naples responded with a 48-yard scoring drive, set up by a personal foul penalty on the kickoff and kept alive by an 18-yard pass from Terronez to T.J. Lumar on third-and-eight. Taylor, who rushed for 93 yards and two TDs, capped the drive with a 15-yard dash through a gap on the left side opened by Phillip Perez, Dallas Cagle and Matt Hejab.
Terronez was 18-for-28 passing for 183 yards and a touchdown — earning him compliments from the opposition.
"You scared me to death," Bitburg coach Mike Laue told him as he shook his hand after the game.
Terronez would have had better numbers, but three completions were erased by ineligible-receiver-downfield penalties.
Penalties, in fact, proved to be key. Naples was flagged 11 times and the Barons twice.
"I don't know how to explain that," Hall said without rancor. "We can't be that bad a team. If we were, we wouldn't be here."
Harris said the Barons never gave up.
"We've believed in ourselves," he said, "since the first day of practice."
---
---
---
---