Girls DI final
Clutch-kicking Wiesbaden dethrones Stuttgart
---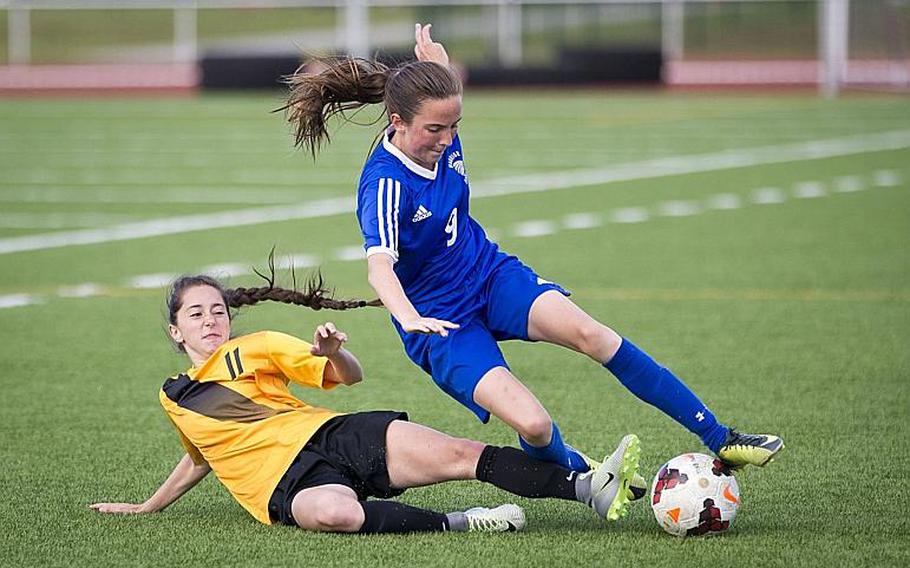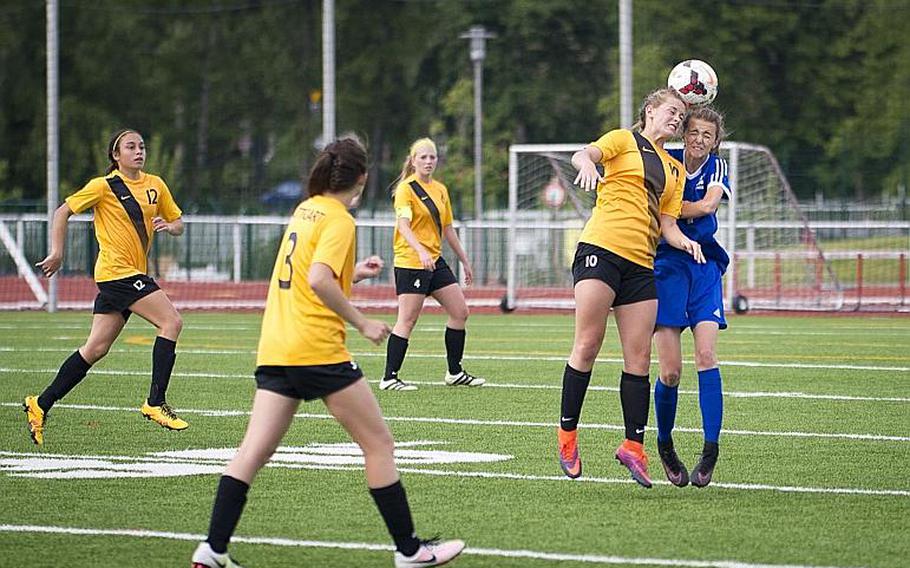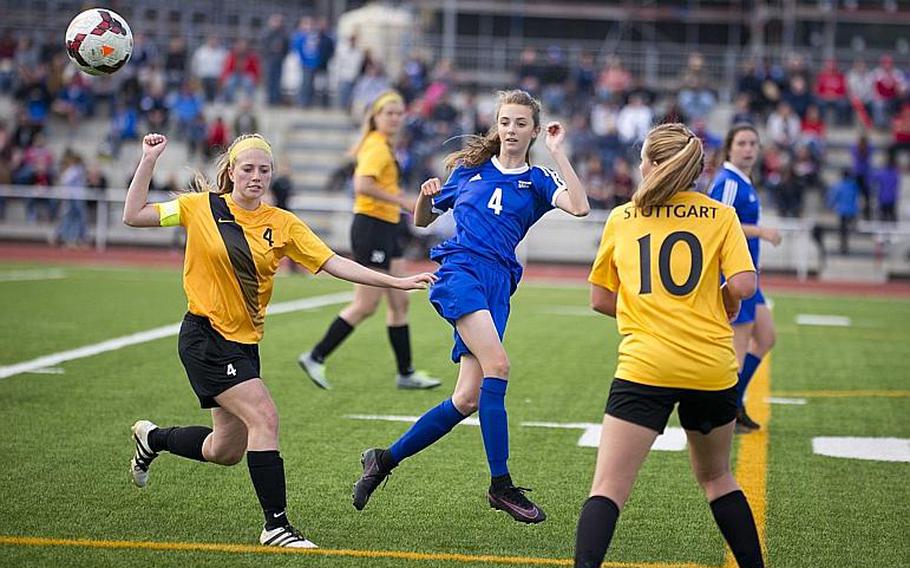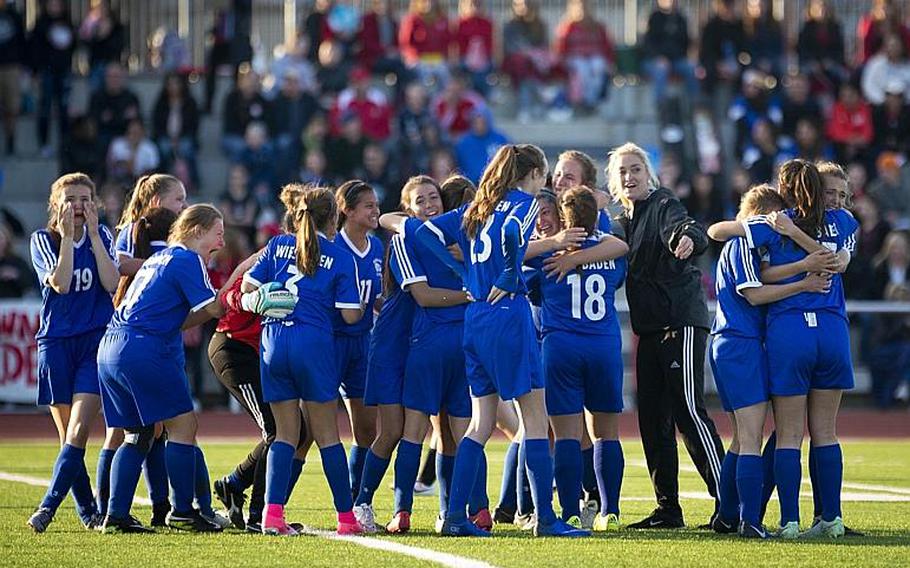 KAISERSLAUTERN, Germany — Wiesbaden's Peggy Mathis had played more than 100 minutes of soccer before she walked up to take what would be the final penalty kick of the 2017 DODEA-Europe Division I girls soccer championship game.
She buried it into the net, sending her team into rapture and Stuttgart into despair.
"Honestly I think we were all dead tired, but I had one goal in mind, and that was to make history," Mathis said after the game, which ran for two 40-minute halves and two 10-minute overtime periods, ending deadlocked at 1-1 before Wiesbaden won 3-0 on penalties.
Mathis' fateful strike was the culmination of an improbable run in which a relatively young Wiesbaden team beat or tied presumptive girls Division I favorite and reigning champion Stuttgart three times in less than ten days, a sign of increasing confidence and unity, according to coach Nicole Angel.
"I'm just so proud of these young ladies, they're amazing," she said. "They played with their hearts all season, from when the game started to the end, all 100 minutes, they gave everything. Kudos to Stuttgart, they're a tough team, but we knew after we beat them, tied them, that we could do this."
The Warriors certainly rode their luck at times in Saturday's final, with Stuttgart starting the game in imperious form. The Panthers nearly scored from a header within the game's first 30 seconds, and midfielder Lexi McLellan smacked a shot off of the crossbar just a minute after that. Wiesbaden looked awed by the occasion, and they paid for it when Stuttgart striker Alexa Smith scored on an outrageous 40-yard free kick with one of the last kicks of the first half. However, because Stuttgart had missed several chances, Wiesbaden was still in it. The Warriors began the second half visibly more confident and composed, keeping the ball deep in Panther territory. Eighteen minutes into the half, striker Erin Goodman booted in a scrappy goal after some good work by Kendal Stopinski in controlling a Gabi Diaz cross.
"A lot of girls were crying (at halftime) but we're a family," captain Camryn Angel, the coach's daughter, said. "We don't play to win, we play to have fun, we play with our hearts."
The tie held, despite further chances for the Panthers, including a Smith free kick that managed to strike both posts and not go in. It was one of those days for the defending champions.
"Soccer's one of those games where you can do everything and the ball just won't go in the goal," Stuttgart coach Daniel Coapstick said. "You hate those games the most, but it's just the way it is."
Coapstick paid tribute to his seniors, who have won nearly all their games for the Panthers over the last couple seasons.
"The whole team fought really hard and with our seniors, they're all amazing players and they're going to go places," he said. "They're just amazing, amazing girls."
With the sun beating directly in the eyes of the penalty takers, Wiesbaden was drawn to kick first. Coapstick opted for the taller Nicol Hartwell in goal over Samantha Kellogg, who had played there the entire game.
Diaz was first to take, and she missed wide right. But first-year Wiesbaden goalkeeper Karli Wallace saved Meaghan Ambelang's shot, giving her team some precious breathing space and confidence. Their next two takers, Lily Hogenson and Goodman, tucked their shots away. For the Panthers, Emily Smith and Madison Barta both misfired, setting things up for Mathis to clinch it for the Warriors, which she did.
"We believed in ourselves, they gave me 100% day in and day out," coach Angel said. "I love each and every one of them."
Twitter: @DKS_Stripes
---
---
---
---