Europe cross country
Clear favorites headline large fields
by
Gregory Broome
October 26, 2017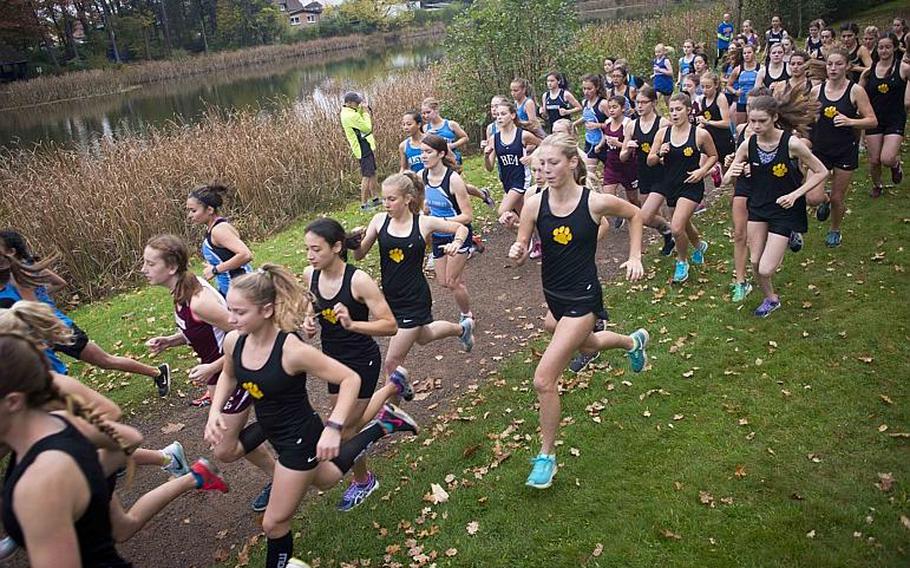 A couple hundred or so of DODEA-Europe's top distance runners will take to Rolling Hills Golf Course in Baumholder, Germany, on Saturday for the 2017 DODEA-Europe cross country championship meet.
Two season-long frontrunners will meet for the first time this season to perhaps the decide the boys' championship, while a reigning champion is the runaway favorite to retain the girls' crown.
Boys The time produced by a runner in a 5-kilometer cross country race would seem to be comparable to the time produced by other runners in different races. By that measure, the Europe-best time of 16 minutes, 12 seconds produced by Black Forest Academy's Mac Roberts on Oct. 21 at Ramstein makes him the man to beat Saturday.
But it's not that simple. A long list of extenuating circumstances, from the weather to the condition and layout of the course to the quality of the competition, can serve to skew a runner's time longer or shorter. It's too complicated to truly account for it all when comparing runners.
That's why they bring everyone to a central location for the final. All of those factors will be flattened out at Rolling Hills, where every runner tackles the same course under the same conditions.
Roberts will share the course with Naples' Daniel Aleksandersen on Saturday after staging a long-distance rivalry atop the DODEA-Europe leaderboard this fall. And Aleksandersen has his own mathematical edge - he finished second in the European championship race last fall with a time of 16 minutes, 58 seconds, nearly a minute ahead of Roberts' 12th-place time in that race.
Those two favorites are part of a field that numbers in the triple digits and is packed with runners looking to deliver both personal records and the high-placing finishes that might lead to a team championship for their school. Kaiserslautern and Ramstein, both packed with elite runners, will finally resolve their season-long rivalry Saturday and perhaps claim Division I honors in the process.
Girls Kayla Smith is running.
Any prognostication of the DODEA-Europe girls' race can be reduced to that lone sentence, given the domination the St. John's senior has exercised over her rivals over the course of her career. Smith has won the last two European championships and set Baumholder course records on each occasion. Her efforts this fall don't suggest vulnerability.
Among those pushing Smith will be two top-five finishers from the 2016 race, SHAPE's Holly Moser and Stuttgart's Tatiana Smith. Moser and Smith will also be leading their teams into a rematch of last year's chase for the Division I team title, which Stuttgart narrowly claimed by a score of 56-58.
Twitter: @broomestripes
---
---
---