Class AA belongs to Seoul American girls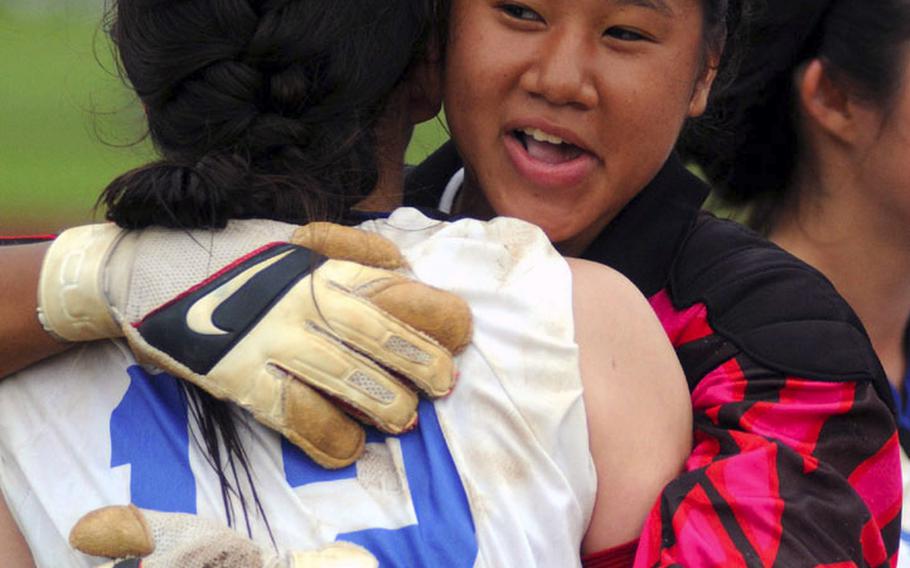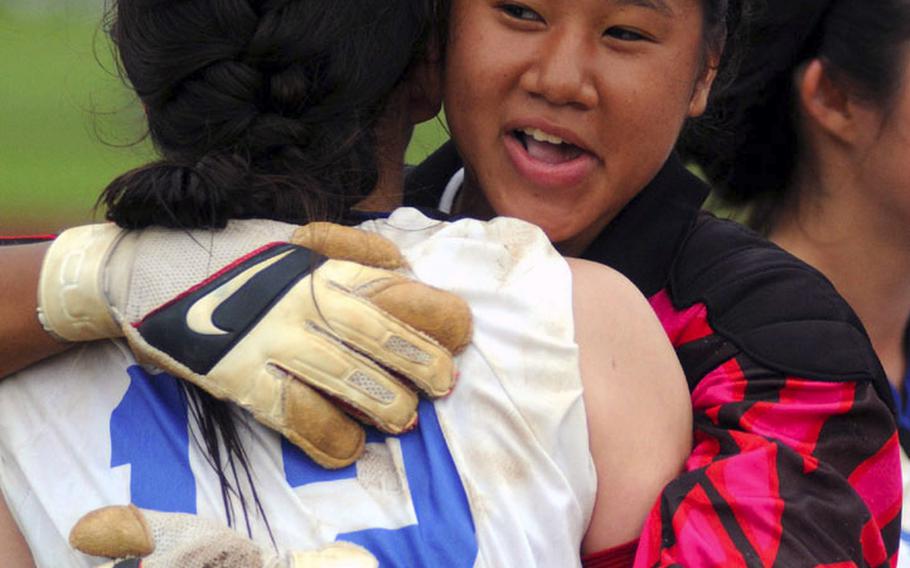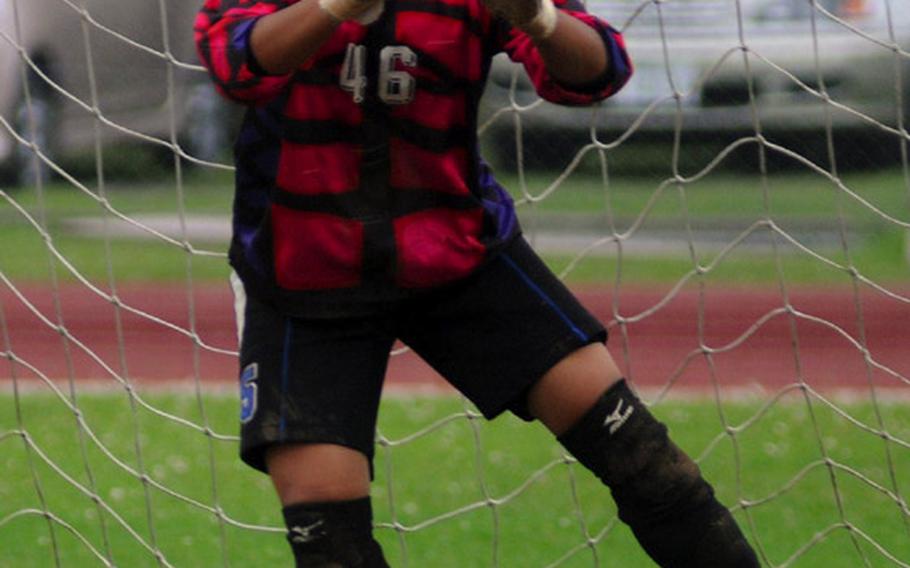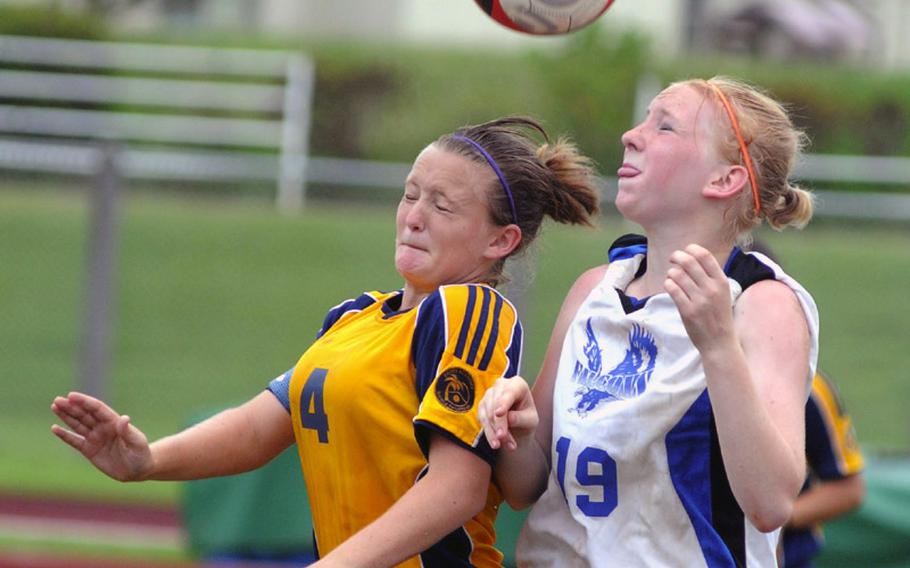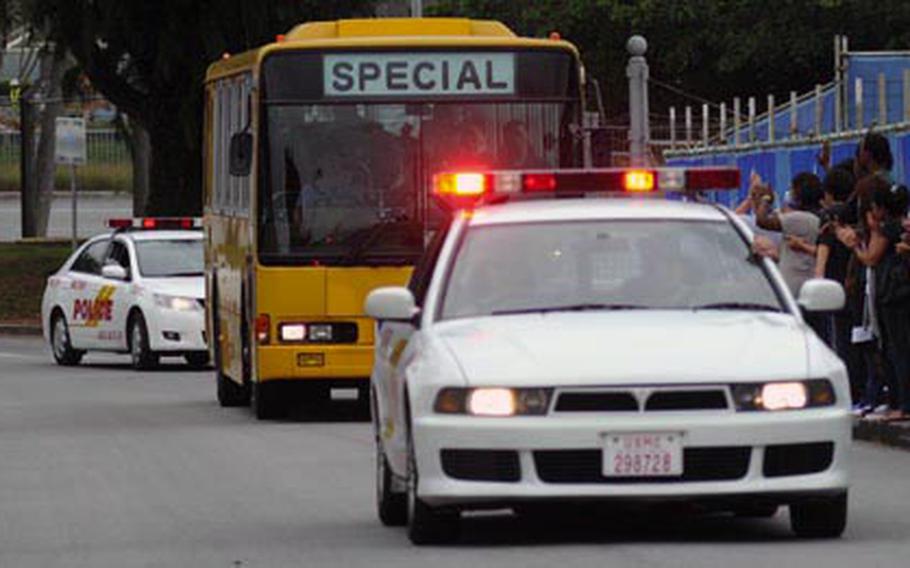 CAMP FOSTER, Okinawa — He feels optimistic, soccer coach Billy Ratcliff says, going into penalty-kick shootouts with junior Liz Gleaves minding the Seoul American net.
He has good reason.
For the second time in three weeks, Gleaves made three saves in a PK shootout, this time lifting the Falcons to a 1-0 victory over Faith Academy on Friday at Kubasaki High School — and Seoul's first Far East High School Girls Class AA Tournament title.
"She's a phenomenal athlete. She's probably the best goalkeeper I've coached," Ratcliff said of Gleaves, who stopped three PK shots in the Falcons' Korean-American Interscholastic Activities Conference Division I Tournament final triumph over Seoul Foreign last month.
Gleaves' presence in net is crucial, Ratcliff said, for a team that scored just 42 goals in 26 matches after losing several offensive stars from a team that nearly reached the 2008 final.
"This year, I decided to build around the defense [and] it paid off for us," Ratcliff said, adding that the Falcons "constantly work PKs in practice. To have an outstanding keeper like Liz, it makes it easier."
Gleaves also leads the Falcons with nine goals and five assists. "I could have put her in the field today and maybe that would have made a difference" in ending the match sooner, Ratcliff said, "but I wanted to play it safe and have her at keep."
The victory was a breakthrough for the Falcons, who had eight previous Final Four berths but never one in the final. Faith and Seoul also met in the Class AA volleyball semifinals, which Faith won in November on Guam, and the Class AA basketball final, which Seoul won 50-47.
"They have a lot of heart," Gleaves said of Faith. "They always leave everything on the court or field."
Gleaves made six saves in regulation, including one on a scoring chance by Faith's Lauren Cleope at the end of regulation. Gloria Patterson fired wide right on Seoul's lone scoring chance, a breakaway in the third minute of overtime. Cleope had two more chances in overtime before the match came down to PKs.
Faith did not score on five shootout attempts, with Gleaves stopping Grace Fern, Kristi Trenrud and Cleope. Lee Ann Schade of Seoul was the only player to score, in regulation or the shootout. The next shooter, Faith's Kendra Hause, sailed the ball wide left.
"To take titles in basketball and soccer and against this team again, it's a really incredible experience," Ratcliff said.
Seoul became the lowest-seeded team coming out of pool play to win the title in the tournament's 13-year history. Friday's final was also the first to enter PKs scoreless after 110 minutes of play.
It appeared as if the Boys Class AA Tournament final at Seoul American would also go to overtime. But with four minutes left, Kadena made a bad throw-in, and before it could settle on defense, Hong Kong inbounded the ball to Stephen Liu just inside the area, and he banged it home to put the Dragons ahead 2-1. The lead stood.
"Just a miscue on one play," coach Tom McKinney said, adding that Kadena "surprised people" by reaching the final after a pedestrian regular season. "We knew we could get to the finals. We had our opportunities, just didn't put one in."
Stan Schrock's goal, assisted by Aaron Ahner in the 54th minute, tied it. Liu had put the Dragons up 1-0 with a goal in the 20th minute.
It was the third time in the past five years that Kadena, with four Class AA titles to its credit, lost in the final.