Class A girls healthy despite losing 'heart'
by
Dave Ornauer
June 13, 2004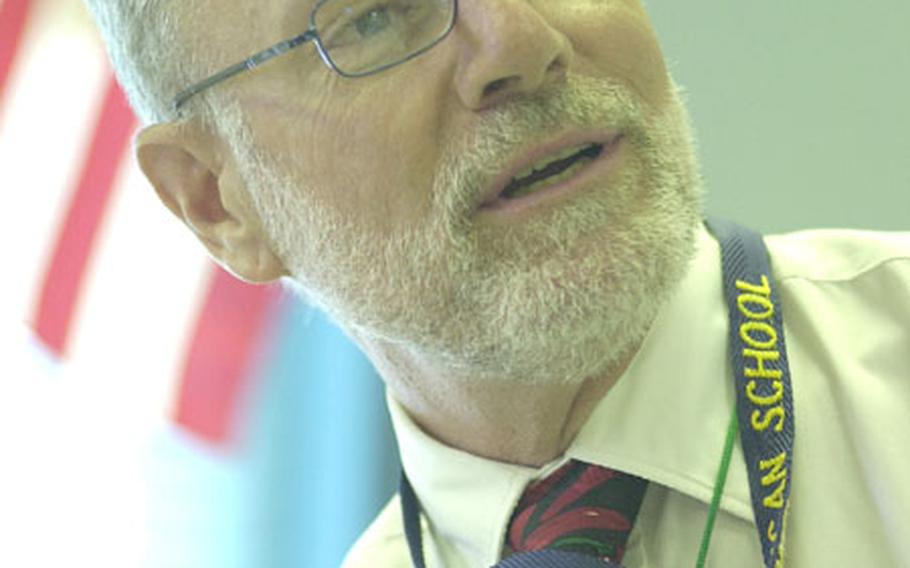 CAMP HIALEAH, South Korea — He's been called the "heart" and a "great leader" of the Class A Far East High School girls basketball tournament.
A high school math teacher for 35 years in Department of Defense Dependents Schools-Pacific, the last 33 at Pusan American School, Don Miller was the first and until now the only director in the event's 15-year history.
Unlike other DODDS-Pacific Far East tournaments that change locations every couple of years, this tournament has remained in place since 1990.
And under Miller's guiding hand, it has become a week-long festival that encompasses every aspect of the school and the Camp Hialeah community, in ways not seen in other Far East tournaments.
"He has that thing down to a fine-tuned machine," Don Hobbs, DODDS-Pacific Far East Activities Council chairman, said.
"He's led very well. He gets everybody involved. It's not just a tournament, not just a sports championship. It's a community event. It's a Pusan event."
Miller says the tournament's unique success is hardly about him.
"It's about the kids," said Miller, 59, of Redford, Mich., who will transfer to Lakenheath, England, this summer.
"When the kids got here and the tournament was running itself that first year, it was so exciting, and the excitement has never died. It's one of the things, for one week out of the year, that makes the base come alive."
Tiny Pusan American, with its enrollment of about 50 high school students, immerses itself in the tournament with elaborate opening and closing ceremonies, a candle-lighting, Junior ROTC drill teams, even a daily student newspaper called "Hoop Scoop."
Camp Hialeah, home to about 1,200 soldiers, civilians and family members, opens its doors to participants, offering everything from billeting to space in its dining facility. When billeting is limited, families act as hosts to some teams.
Hobbs credits Miller for getting the school and base on board.
"He makes people feel like they're truly contributing, and they're doing it because they want to, that they're helping the Pusan community," he said. "They're buying into what Don has sold them on."
In 1969, Miller, then 24, took a teaching job at Kubasaki High School on Okinawa. A transfer to Pusan followed two years later, "for the adventure," he said. "People who lived on Okinawa said Korea was a great place to be."
And they were right, he said, even though he kept applying for transfers. "They never honored my requests, so I quit asking," he added. "The Koreans, the people, the weather, the kids, all of that kept me here."
Miller stuck solely to teaching until 1988, when Dennis Rozzi, then-coach of Pusan American's girls basketball team and now the DODDS-Korea assistant district superintendent, first pushed for a Class A tournament, as the boys had played at Taegu American since 1983.
DODDS-Pacific approved the idea in 1989, and Miller was asked to become the tournament director.
"Rozzi asked me to do it. He said he was tired of getting beat up" in the Class AA tournaments, Miller recalled. "I told him, 'I'll give it a shot.'"
He credits the community for wanting to be involved.
"Every last facet of Camp Hialeah has a kid in school," Miller said. "They have a vested interest."
In trying to mirror what retired Army Master Sgt. Jess Rookard did with the Class A boys tournament at Taegu American, Miller went above and beyond.
"He's everything," Pusan American junior guard Brieanna Carroll, the 2004 tournament MVP, said. "He's the heart of the tournament. He brings all the energy."
David Clausen, Pusan American's language arts and journalism instructor who oversaw the advent of "Hoop Scoop" in 1994, praised Miller for making himself available to solve tournament-related difficulties.
"He's at their beck and call for anything, no matter what," Clausen said. "From the opening to the closing ceremony, he brings that touch that brings a human side to the tournament."
Bruce Barker, who guided Pusan American to the 1994 Class A girls title and now coaches at Osan American, agreed.
"He's one of the most classy in terms of putting on a good tournament," said Barker, who has coached teams in Far East tennis, soccer and boys basketball tournaments. "I've been to all but one of those [Class A girls] tournaments, and they've all been run top-notch."
Robert Victoria, coach at Japan's E.J. King School the past two years, points to Miller's keen organizational mind.
"He keeps the coaches informed as to the teams and possible brackets throughout the planning of the tournament," Victoria said. "He asks for our input. I have found it to be a very well-run tournament and a pleasurable experience."
Miller has raised two girls, Sara and Ginny, each of whom made the all-tournament team playing for Pusan American, and impressed upon them when they were young, "If you do something, you do it right because you're Millers. If I have my name on it, it's going to be done right."
How will Miller's departure affect the tournament?
"It will be a lot more work" for the individual who inherits tournament director duties, Carroll said. "It won't be as smooth."
Miller feels otherwise, saying that Pusan American, with athletic director Laird Small and soccer coach Gary Canner leading the way, demonstrated that "you don't need Miller to run good tournaments."
For the moment, Carroll's parents — Jerry, a civilian working for Nike in Pusan, and his wife, Corina — have taken all of Miller's tournament files and expressed an interest in taking over.
"They shall do a good job," Miller said.
"So can it, so can the school, so can the kids," Miller said about the tournament's chances of flourishing in Pusan after he leaves. "I can't wait to see the new blood."