Citizenship might offer London Central wrestler Scott a shot at Olympics
by
Bryan Mitchell
February 16, 2006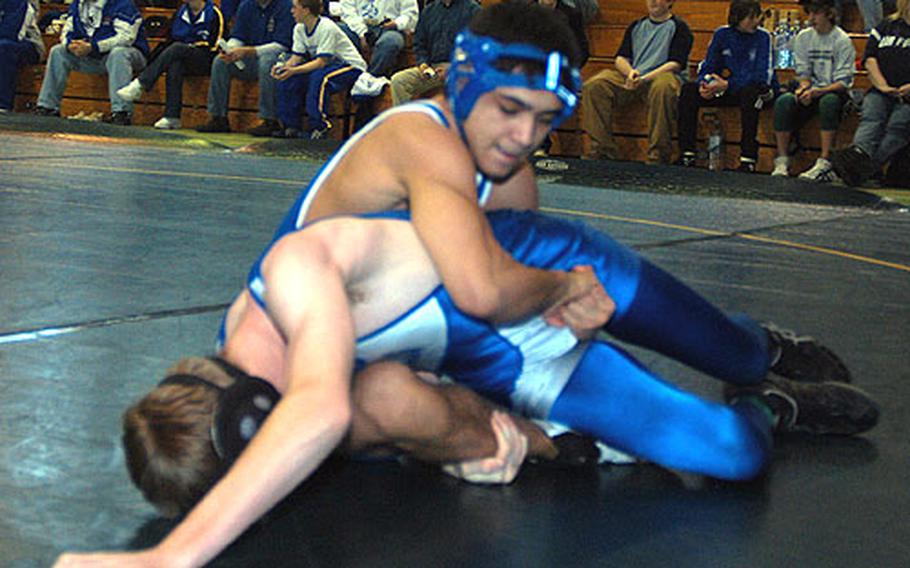 RAF ALCONBURY, England — It's always good to have options, especially if you're shooting for an Olympic bid.
That's why London Central High School senior Johnathan Scott is exploring the possibility of becoming a British citizen.
The two-time DODDS-Europe wrestling champion will shoot for his third consecutive title this week at Wiesbaden Army Airfield. Scott earned a shot at the three-peat by winning the 140-pound crown in the regional meet at RAF Alconbury on Saturday. The top two finishers in each regional were assured of spots in the European championships.
Scott finished his season with a 19-0 record.
"I have a lot of heart and drive to be a champion," he said. "I want to be the best at what I do and I work hard to achieve that goal."
Scott credits much of his success to his affiliation with the British Wrestling Association, with which he has been training for several years. He has traveled all over Europe representing the British Wrestling Association, and claimed the 2005 63-kilogram (139 pounds) British title.
The 17-year-old Florida native said the experience with the BWA helped him earn the confidence needed to wrestle at the collegiate level. He plans to walk on during the Iowa State tryouts next year.
"That's one of the main things I sell myself on — saying that I have a lot of international experience because most guys in the States just don't get that," Scott said. "I think it will be a great advantage for me to have wrestled so many people from all over the world."
He said he would like to study physical therapy in college and eventually become a wrestling coach.
London Central head coach Fredo Ontiveros said he's well on his way.
"He's like having a second or third coach out there for our team," Ontiveros said. "Sometimes I give him 10 minutes during practice for a clinic. He'll talk about how important the mental element of this sport is and then other times he will just lead by example."
After the European tournament, Scott will return to the BWA and his travels throughout Europe. The association has shown interest in Scott becoming a citizen so he can possibly represent Britain in the Olympics.
He said his father has done some research and found that he could apply for citizenship after living in Britain for five years. He would not have to rescind his American citizenship, but would instead hold two passports.
Dual citizenship would help him repay those who have assisted him as a wrestler.
"My parents, my coaches and the BWA have all given me so much," he said. "They are the reason I have had so much success as a wrestler."