Wrestling AOY
China almost went untested, but passed final challenge
---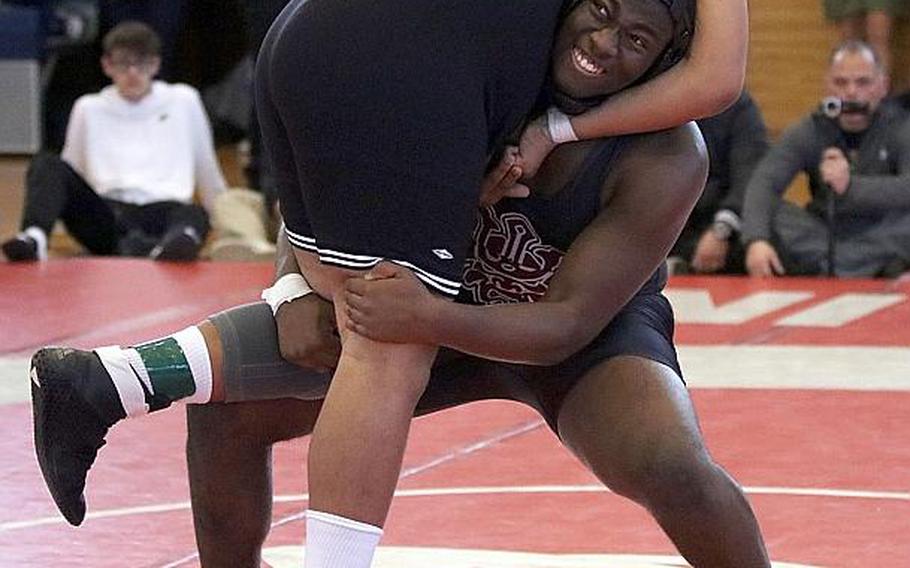 MARINE CORPS AIR STATION IWAKUNI, Japan – For 38 straight wrestling matches, Marshall China appeared to have all the right moves.
The Matthew C. Perry senior heavyweight became renowned for not just victories, but for big throws on opponents, lifts that appeared nigh onto impossible given their sheer size.
But it was when China had his back to the virtual wall, brought to his back by Osan senior rookie Myles Bradley in the Far East tournament final, that he aced what he and his coach called the true test of a champion.
"It was good for me; I needed the experience of being down and having that pressure," China said Tuesday, almost three weeks after he rallied to pin Bradley and win his third straight Far East tournament heavyweight title.
It was the first time he'd been truly challenged since his sophomore year. Oh, he'd given up a couple of technical points, to Desmond Martin of Zama, but had never been in serious trouble until then.
"He was heavy; I couldn't pick him up and slam him," China said of Bradley. "I had to switch up my game plan. I didn't panic. I had to be a smarter wrestler. Work on my shots. Not get into situations when I get put on my back, or when I did get on my back, not get pinned."
Trailing by points with 40 seconds left, China finally was able to put Bradley on his back, pinning him at 5 minutes, 46 seconds.
"That's when the true champion came out," Samurai coach Chris Munsell said. "He made a spectacular move, put him (Bradley) on his back. That was an epic moment, going up against the home wrestler, the home crowd, to overcome all that was the moment of the entire tournament."
China was voted the Outstanding Wrestler of the tournament, the first from Perry to be so honored in the 43 years of Far Easts. He has also been named Stars and Stripes Pacific's wrestling Athlete of the year.
China nosed out a tightly-bunched field that included:
-- Colin Nation, the former Florida state champion who transferred to Kubasaki and dominated the Pacific at 180 pounds, giving up two technical points all season in winning both the Far East and Nile C. Kinnick Invitational "Beast of the Far East" tournament titles.
¬¬-- Rin Zoot, an American School In Japan senior, voted the 2019 Far East Outstanding Wrestler who won his last 42 bouts dating back to his sophomore year and allowed no technical points in his last 23 bouts. He won the 158-pound titles in both "Beast" and Far East.
The qualities China showed in coming back to beat Bradley were emblematic of the things he brought to the mat this season and before, Munsell said.
"When something he was trying to do didn't go his way, he didn't let it get to him," Munsell said. "He stayed on task. He kept his cool. He kept pressing on. He knew that if he kept working the match that it would end up working out in his favor."
China said he and his father talked frequently approaching his senior year about how there might be somebody better out there and that winning three straight Far East titles was not a fait accompli.
"When my senior year came, I knew how to handle it, keep my composure, don't let things get to me, keep wrestling like I have been," China said, adding that the Bradley finale was "good for me. In college if that happens, I know what to do in that situation."
ornauer.dave@stripes.com Twitter: @daveornauer
---
---
---
---