Girls soccer preview
Champs hope for more of same, while contenders look for change
by
Gregory Broome
March 15, 2018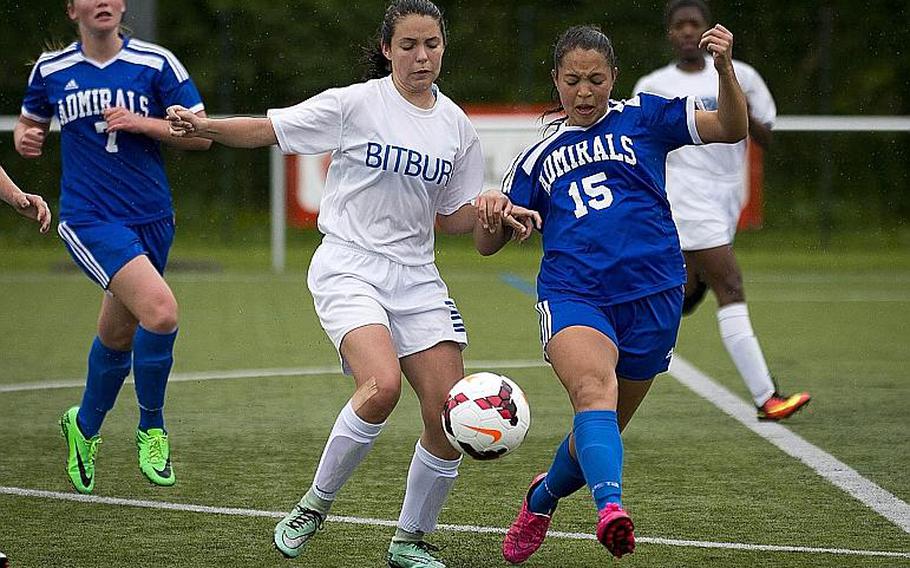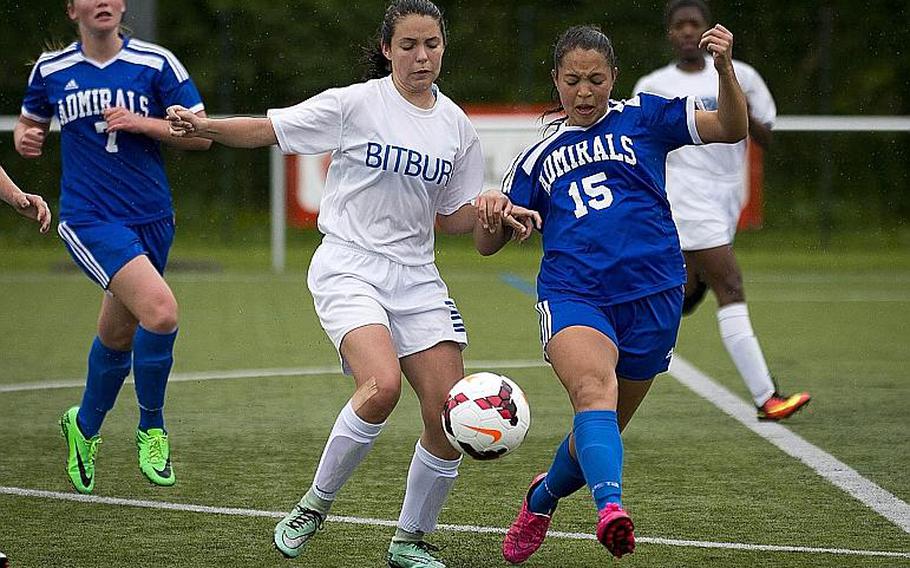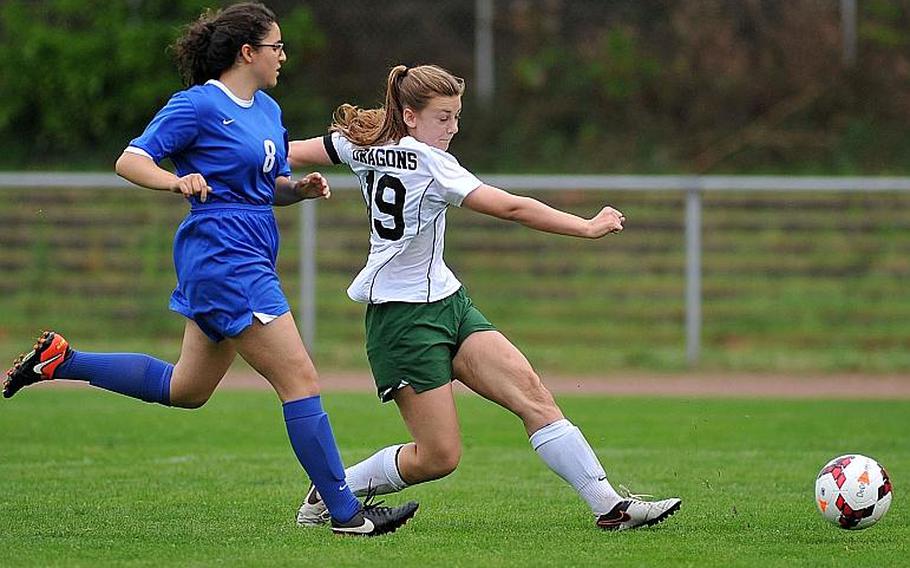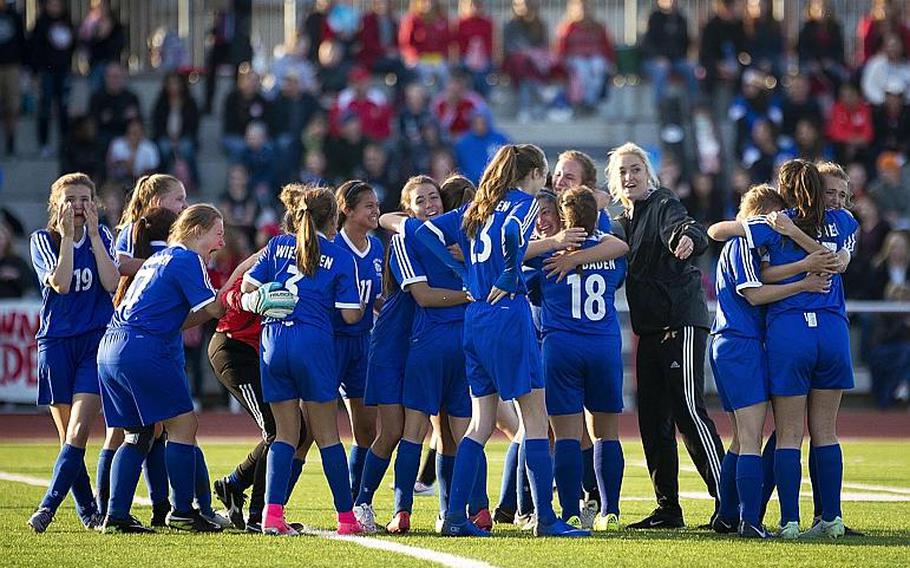 DODEA-Europe girls soccer picks up Saturday where it left off last spring.
The Wiesbaden Warriors visit the Stuttgart Panthers on Saturday as part of the organization's five-match opening-day schedule. The opener, the weekend's only matchup of Division I teams, is a rematch of last season's European championship game, which the Warriors claimed in dramatic shootout fashion.
The light early schedule gives way to a fuller slate March 23-24, the only full-fledged weekend prior to spring break. The regular season's stretch run begins the weekend of April 14, leading up to the European tournament set for May 21-24.
Division I The large-school girls field was once firmly under the control of the Stuttgart Panthers and Ramstein Royals. But their vise grip began to slip in 2016, and in 2017 it was broken entirely.
The Wiesbaden Warriors surged to the forefront of Division I girls soccer last spring with a stunning 3-1 regular-season defeat of undefeated and seemingly invincible reigning champion Stuttgart. After tearing through the tournament, the Warriors ended the Panthers' title reign via shootout after a 1-1 tie that ranked among the most competitive European title matches in recent memory.
With the Ramstein-Stuttgart duopoly cracked, Wiesbaden now turns its attention to sustaining its newfound status among the divisional elite. Head coach Nicole Angel welcomes seven returning starters back to a team filled with proven performers across the field. Senior Missy Thomas and junior goalkeeper Karli Wallace anchor an outstanding Warrior defensive unit, while junior Peggy Sue Mathis ranks among DODEA-Europe's most dynamic midfielders.
Stuttgart will look to reclaim its title without most of the big names from its recent two-year title reign. New coach Billy Ratcliff will build around just four returning starters,,but has the foundation of a productive attack in senior midfielders Camille Pereira and Maddie Barta and junior wing Emily Smith.
Ramstein, which hasn't reached a European final since 2015 and hasn't won a divisional title since 2014, will look to shore up its own status as a Division I powerhouse this spring. Returning coach Ricardo Buitrago has five incumbent starters and a promising group of newcomers with which to build a resurgent contender.
Naples, meanwhile, has been on the verge of a championship breakthrough since graduating from its Division II dominance in 2015. The Wildcats have lost to the eventual European champion in the elimination round every year since the realignment, including an appearance in the 2016 title game.
Local rival Vicenza, however, will try to usurp Naples' role as Italy's primary contender. The Cougars boast six returning starters and an explosive offense led by midfielders Grace Bello, Hope Bello and Mia Soto.
Division II The 2017 European champion Bitburg Barons are now the Spangdahlem Sentinels. And that's not the only thing that's different for the defending Division II champs.
Coach Mark Spencer said the Sentinels are "a relatively new team" after damaging round of PCS moves. That leaves the squad searching for solutions at key positions in the starting lineup.
But Spangdahlem has a firm foundation around which to build a new contender. Senior Amanda Zubowicz and junior Emma Passig are proven performers in the middle of the field; Spencer said the team will be "leaning hard" on that pair's skill and savvy to organize its attack.
The rebuilt and rebranded Sentinels will find plenty of teams anxious to test its resilience as defending champion.
Among the top challengers are returning runner-up AFNORTH, which welcomes back eight players from last year's finalist; 2017 semifinalists Bahrain and Rota, which made deep tournament runs after brief or non-existent DODEA-Europe spring schedules; Aviano, which faltered in the postseason after a 3-1 regular season; Black Forest Academy, the 2016 champion coming off what it hopes was a temporary dip out of contention; and Italian international schools American Overseas School of Rome, Marymount and Florence, all of which have struggled to match the impact of their dominant boys programs.
Division III The Alconbury Dragons secured a Division III-peat last spring. Now they're poised to extend their dynasty by another season.
Alconbury returns 10 players, including seven starters, from the squad that claimed the school's third straight European title in 2017. Among the returning standouts are senior forwards Isabel Black and Laela Evans, a dynamic striking duo that has proven too much for opposing small-school defenses to handle.
While Alconbury has held the crown for three years running, the Division III pack isn't far behind. Sigonella has lost the last two European championship matches to the Dragons by one goal on each occasion, including last year's overtime decision, and fields an inexperienced squad this spring after losing seven starters and all of its all-tournament performers.
Brussels, which predated the current Alconbury reign with a 2014 title victory, offers a worthy foil to the champs' stellar front line in senior defender Juliette Mobley.
Twitter: @broomestripes