Chadwick edges Kubasaki to retain Perry Cup title
by
Dave Ornauer
March 23, 2019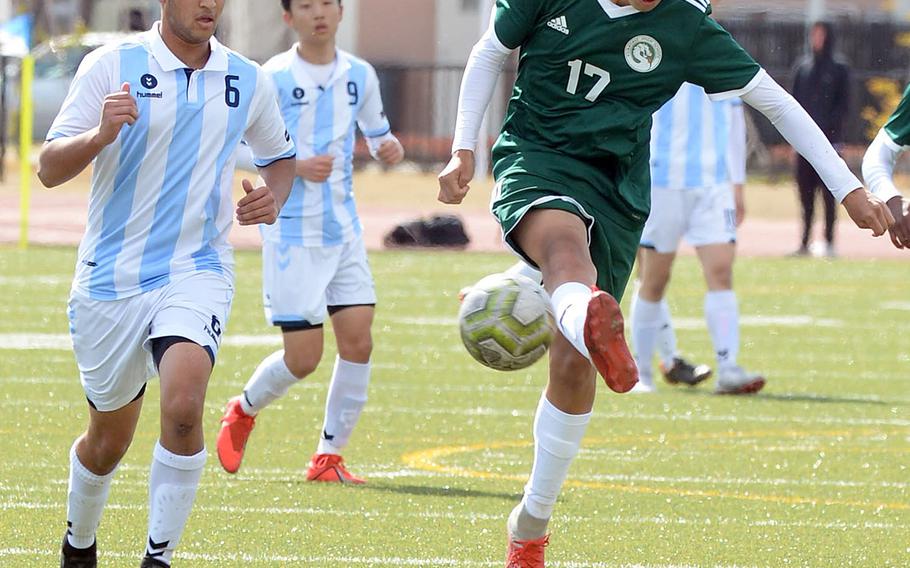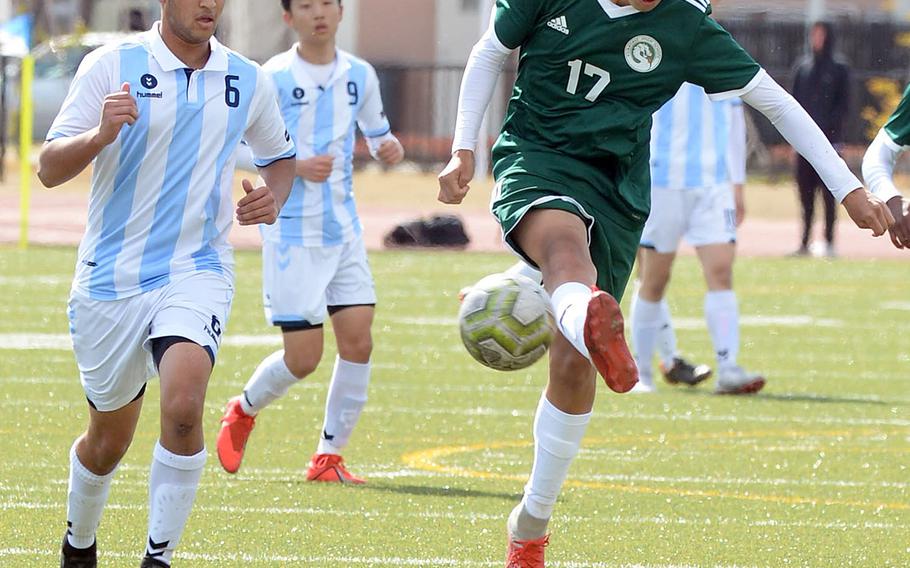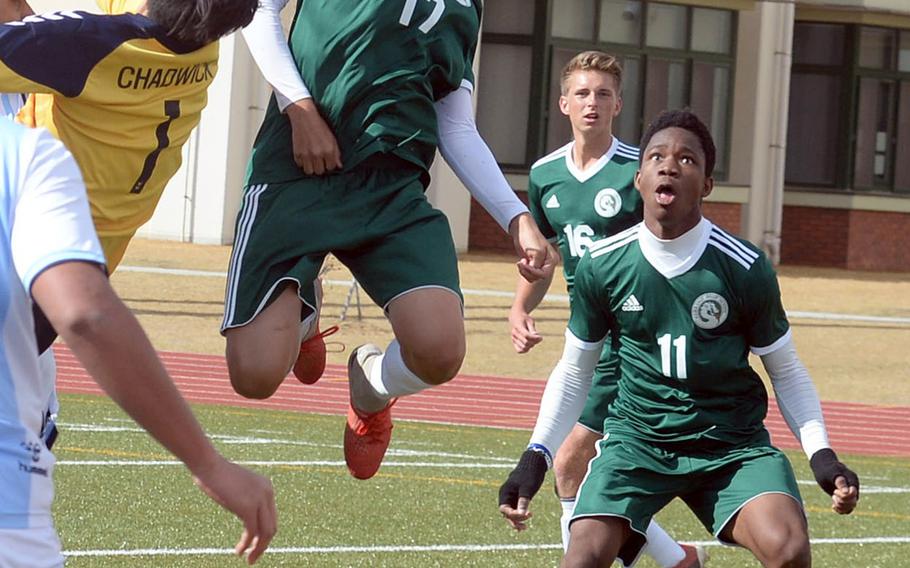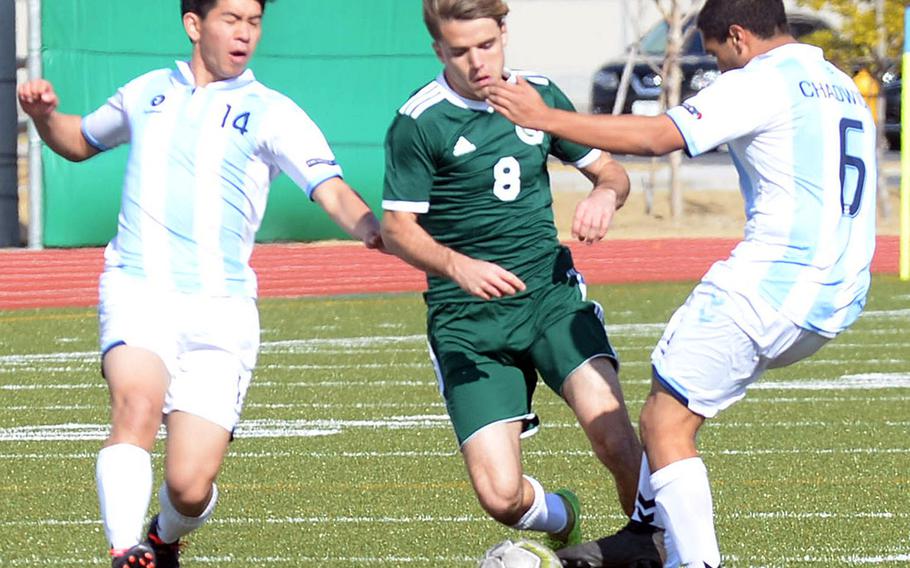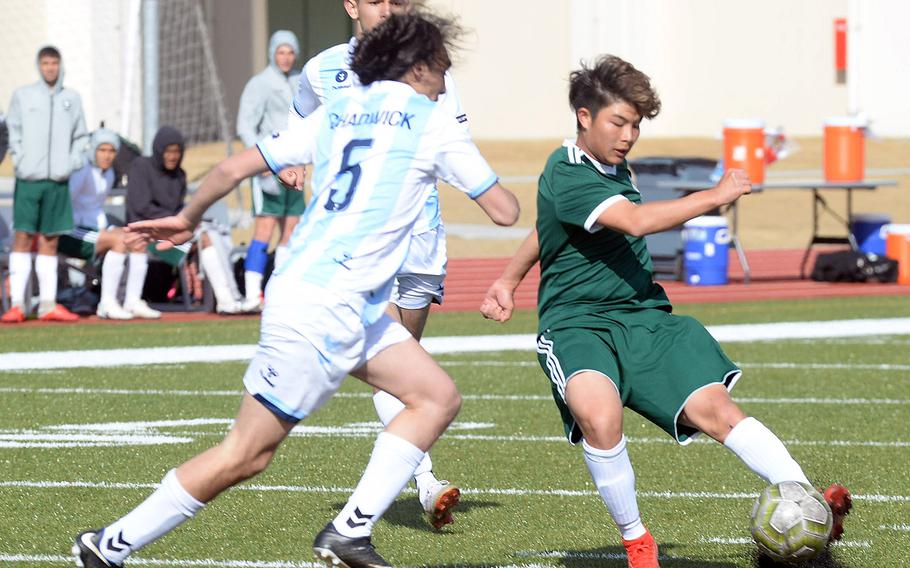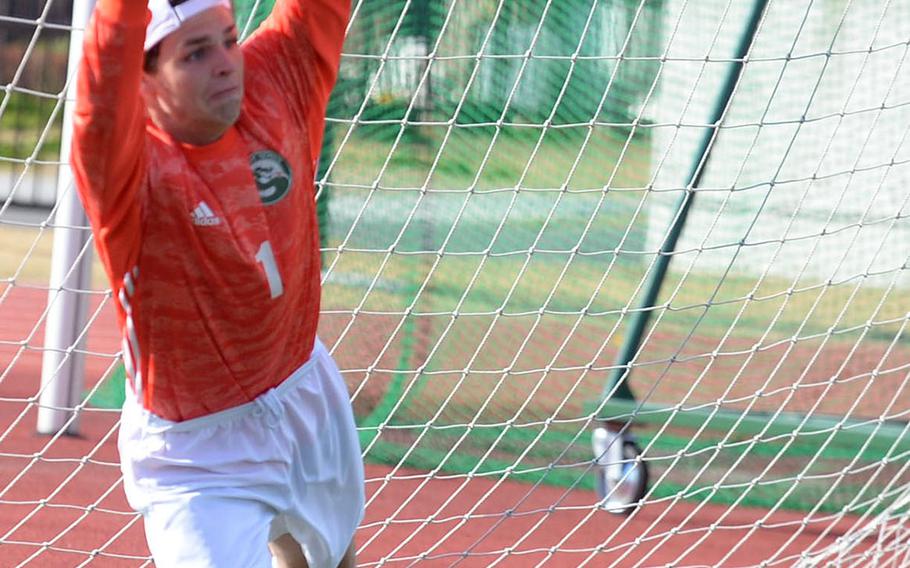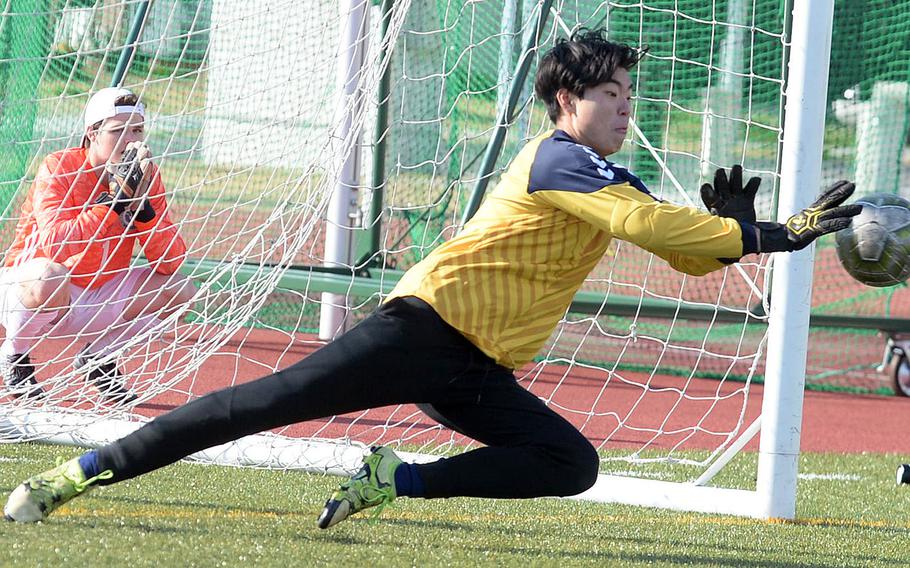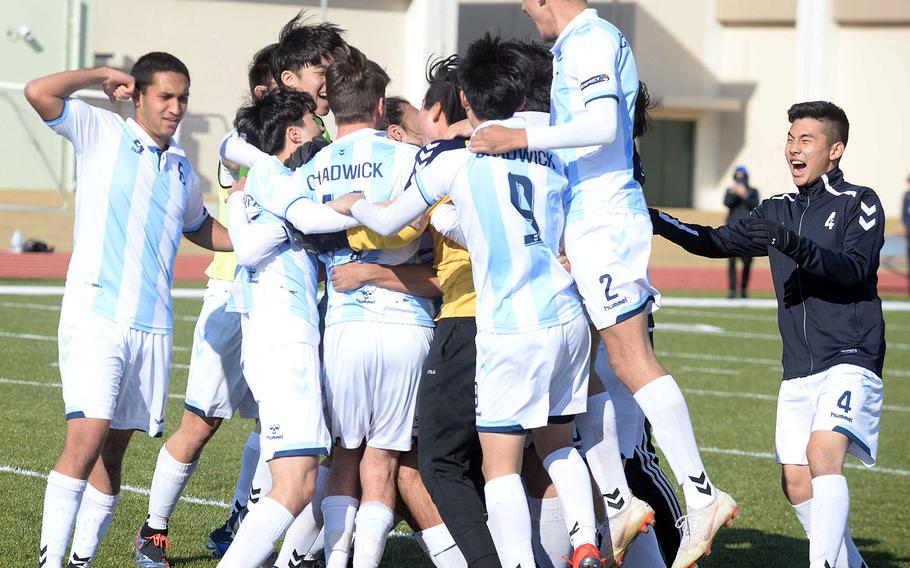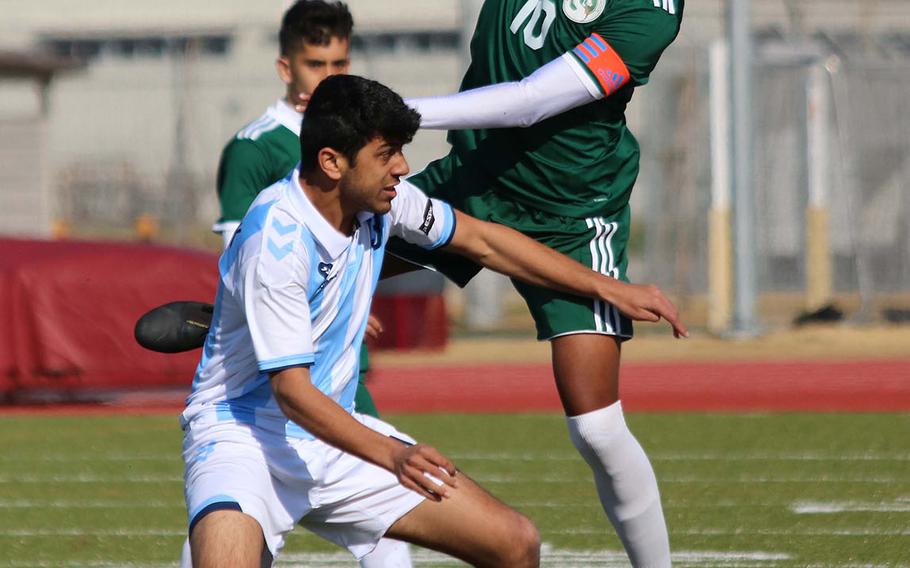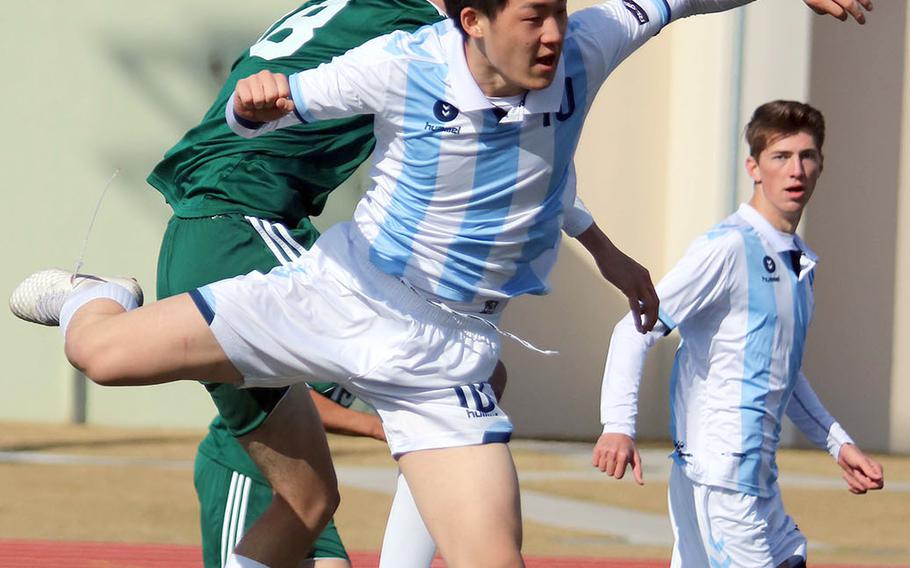 MARINE CORPS AIR STATION IWAKUNI, Japan – Kubasaki came up just short in its bid for a Perry Cup soccer tournament title in the Dragons' first appearance in the in-season invitational.
Kubasaki lost in penalty shots to Chadwick, which repeated as the tournament's champion on Saturday.
But for Noah Hayes and the Dragons, who were a last-minute entry in the 10-team event, "it was worth it" to play in the two-day combined pool-play/single-elimination event.
"Hard work, determination, what it takes to win a tournament, what it takes to get to a final," said Hayes, a senior who scored eight goals for the Dragons, who won four of five matches over the weekend.
"This can be a life experience for us. It's a good practice" for the Far East Division I Tournament scheduled for May 22-24 at Kadena; the Dragons won D-I a year ago.
"They enjoyed competing" in the tournament, Kubasaki coach Chris Eastman said. "I feel like they did that every game. They played physically, but they played cleanly every single game. I'm proud of the effort."
Saturday's final was played under sunny skies but in blustery wind gusts up to 35 mph, giving Kubasaki a first-half wind advantage and the Dolphins the wind at their backs in the second half.
Jake Baik, named the tournament's Most Valuable Player, scored on a PK after a foul in the area to give the Dolphins the lead five minutes in.
From there, the Dragons kept applying pressure. They got the equalizer on Sam Gbatu's header off Jeffrey Horton's corner kick four minutes before intermission.
Even with the piercing, howling wind in their faces, Kubasaki refused to be cowed in the second half. They forced Dolphins keeper Mitchell Masuda to make one spectacular save after another, two coming on corner-kick set pieces.
"The wind played a big factor in how difficult it was to save the ball," Masuda said.
The match was still deadlocked at 1-1 after full time, leading to penalties straightaway. Each side missed their initial try, then Chadwick converted their next three while Kubasaki missed twice in an effort to stay in the shootout.
"It feels great," Masuda said. "The relief is sweeter than anything, but you can't replicate the taste of victory."
It was a far cry from Chadwick's easy 3-0 victory over Yokota in the Perry Cup final last March 17. "This was fun; the competition really stepped up this year," athletics director Mike Farzley said. Chadwick is an Incheon-based school that plays in Korea's Red Division.
Despite the defeat, the Dragons would "absolutely" return if invited next year, Eastman said, adding that the Perry Cup "is what Far East is supposed to be like. It's sad that (Division I) only has four teams."
This was the largest field in the Perry Cup's five-year history, up to 10 this year from seven in 2018. Kubasaki was invited late last month when tournament organizers sought to even the field out at 10 teams.
Red Devils girls prevail in inaugural Cobra Cup SASEBO NAVAL BASE, Japan – Jillian Mock netted two goals as Nile C. Kinnick cruised to the title in the inaugural four-team Cobra Cup soccer tournament. The Red Devils shut out host E.J. King 5-0 to complete the double-elimination tournament unbeaten at 3-0.
Kinnick was joined only by the host Cobras, Matthew C. Perry and Robert D. Edgren. Organizers and Kinnick coach Nico Hindie say they're hopeful of a bigger field to rival the Perry Cup in future seasons.
"It's a great opportunity for all the teams to get some experience," Hindie said. "Hopefully, (the) tournament will grow to something comparable to the Perry Cup to support girls soccer in the Pacific and give them equal opportunities."
Weather wreaks havoc on track, soccer in Korea CAMP HUMPHREYS, South Korea – For the second time in the last 13 months, a Korea track and field meet was truncated by heavy weather as rain, sleet and even snow accompanied by heavy wind forced five boys and four girls events to be curtailed on Saturday.
"It was scary," said meet marshal Laura Corder, adding that winds blew so hard that computers were blowing off the managers' tables and athletes were blown out of a hospitality tent on to the track.
Last April 14, similar conditions allowed only seven events to be held during at a meet at Humphreys. It's not known if the events scheduled for Saturday would be made up.
Up north at Yongsan Garrison, Seoul American's boys soccer team got its first win of the season, 3-0 over Daegu, but not before lightning delayed the match for a half hour. Rain, sleet and snow fell alternately throughout the rest of the match.
"The weather switched back and forth about three times between rain, snow, hail and clear skies," said Falcons coach James Madsen. "It was crazy."
Cobras pitching strikes once more in sweep of Zama SASEBO NAVAL BASE, Japan – On the heels of Leo Schinker's no-hitter on Friday, E.J. King hurlers Edrick Cummings and Matthew Gagnon each allowed one hit in their respective starts as the Cobras blanked Zama twice on Saturday, 6-0 and 8-0.
That gave King three shutout wins by a combined 30-0 over nine innings during the weekend. Coach Joe Schinker said the Cobras were making progress, but more work is needed.
"We didn't hit the ball like we need to," the elder Schinker said of getting just eight hits over that span. "But we played good defense and threw strikes; that was the difference."
If the Cobras can get consistent pitching out of their current three starters and find a fourth one by the time Far East comes along May 22-24 at Humphreys, "maybe we can surprise some people," Schinker said. "We're getting there."