Carr built more than just Bitburg football program
by
Rusty Bryan
June 29, 2004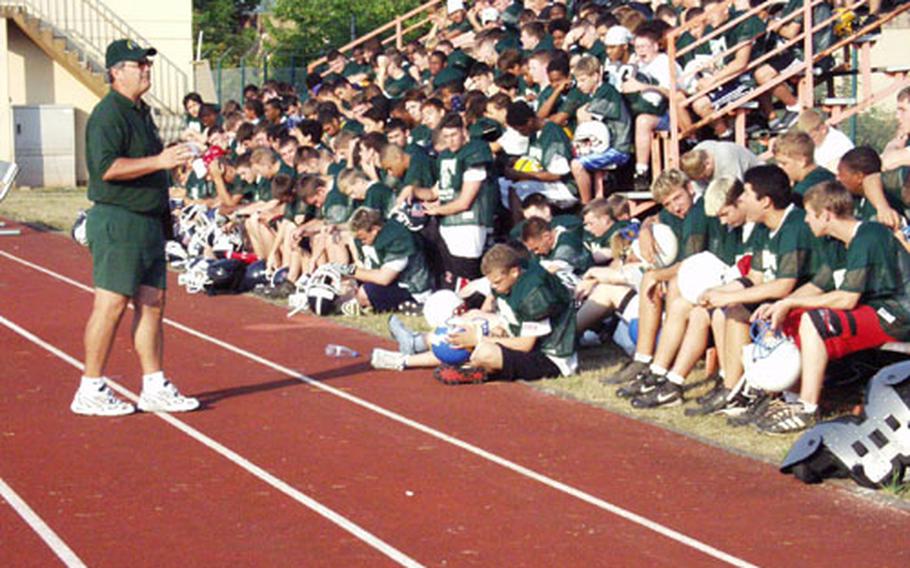 When Rik Carr moves to Reno, Nev., next month, Bitburg High School's football coach for the past 26 years will be leaving behind a lot more than 88 gridiron victories, six conference championships, three European titles and a football field that will bear his name "until the Germans come in and paint over it."
As a witness to the drawdown of the 1990s that turned Bitburg from a main operating base into a bedroom community for Spangdahlem Air Base, and converted its flight line into a German sports and recreation center, Carr, 56, knows all about the transitory nature of physical legacies.
However, his main bequest — the gifts of innovation, dedication, leadership, sportsmanship and inspiration that many of his former players and colleagues are already following — should last a lot longer.
"For me personally, he's the reason I decided to go into education as well as coaching," said Carter Hollenbeck, who played for Carr in the 1980s and is now Baumholder's football and girls basketball coach. "It was outstanding for me to have a chance to play for him."
It's a sentiment seconded by former Carr colleague Steve Boyd, now coaching in Korea.
"I learned a tremendous amount about football and life from him," Boyd wrote in an e-mail. "He really made me understand what 'caring about kids' really means. I remember the endless hours Rik worked on football and wrestling and how much the kids loved him."
It would have been hard for the players to react any other way, considering the time and attention Carr lavished on them.
"It was really kind of cool to play for him," Hollenbeck said. "Before the season, we'd all go over to his house and have a cookout. On Sundays, we'd go over there to watch game films. He's the nicest guy you'd ever want to meet."
Hollenbeck added that Carr also affected his coaching philosophy.
"A lot of his special talent dealt with seeing the personnel and deciding how to run an offense and defense based on their capabilities," Hollenbeck said. "A lot of coaches arbitrarily decide on a system and try to run it no matter what."
Hollenbeck recalls talking with Carr immediately after taking the reins at Baumholder.
"I was full of plans and told Coach Carr that I was going to do this and do that," Hollenbeck said. "He just smiled, so I said, 'OK, what would you do?' He explained that at small schools you can't run things like that. You have to adapt to what you have."
Few adapted better than Carr, who successfully went to a risky shotgun offense a few seasons back when his team had no choice but to field a fiercely game but grossly undersized 140-pound center.
"If I had put the quarterback up under center, our center would have gotten killed," Carr explained at the time.
Not content with just building a program at Bitburg, Carr set out to improve all the football programs in Department of Defense Dependents Schools-Europe. His emphasis on teaching took wings in the 1990s with the revival of the preseason DODDS-Europe football camp, a way for every football player in the system to have a chance to improve.
"It was the best thing for DODDS," Carr said of taking on the labor-intensive camp, which attracted wholehearted and mostly voluntary support from DODDS coaches, and a Bitburg community and command that filled Carr's many requests for help. With Carr's departure, the camp moves to Würzburg this August.
Carr, who began his coaching career at an inner-city high school in Detroit in 1970, said the drawdown and its impact on the athletic program was the biggest change during his tenure.
He said when he started coaching "it took seven to nine quality athletes to win a championship. With the population decrease, it's down to four or five."
Carr doesn't think he'll miss coaching, "at least until the season starts."
"I won't miss those long trips — all day Saturday and Sunday — and sleeping on hard gym floors," he added.
The best part of it?
"The great kids who came by, and also the great friendships I've had with the other coaches," he said.
No coach has been a better friend than Bitburg colleague Denny Lemmon, whose most recent major achievement has been guiding the Lady Barons to four straight European basketball championships. Contributing to that streak was a legion of well-schooled JV players coached by Carr to a 50-2 record in the past six seasons.
"I hate to see him leave," said Lemmon, who's been a friend and associate of Carr's for 25 years. "It's like going through a divorce."
---
---
---