Can four teams stay perfect heading into championships?
by
Gregory Broome
January 25, 2018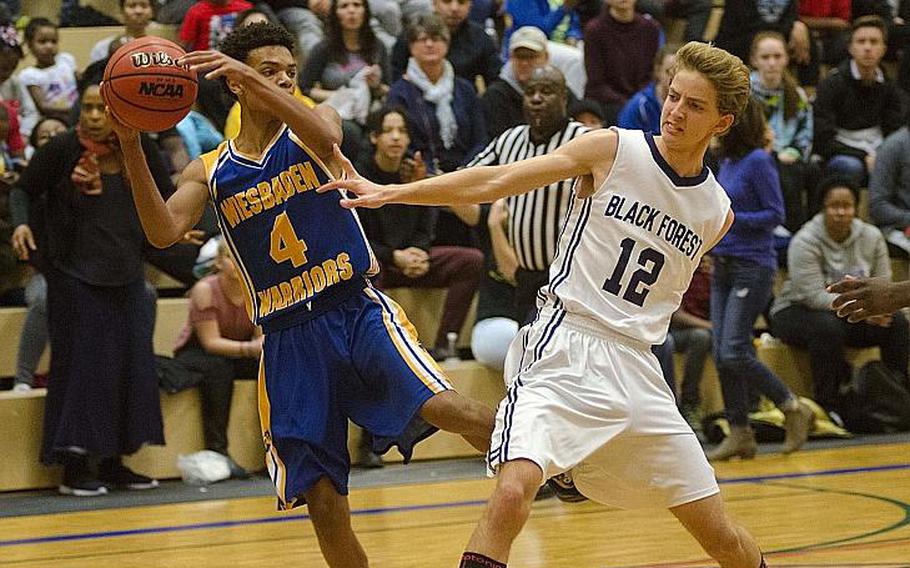 Four standout DODEA-Europe boys basketball teams enter the final weekend of January with undefeated records in their respective divisions. Here's a look at their chances of surviving the final weeks of the regular season with those unblemished marks intact and advancing to the Feb. 21-24 European tournament atop the divisional brackets.
Division I The Wiesbaden Warriors, a year after a heartbreaking loss in the European championship game, have returned as the clear team to beat in 2017-18.
The Warriors routed Ramstein 59-44 in an opening-night rematch of the 2016-17 final, and haven't let up since. They entered the holiday break on the momentum of a 61-55 defeat of Kaiserslautern, another top contender, then celebrated the new year with sizeable sweeps of SHAPE and Lakenheath.
Wiesbaden faces a pair of middling opponents over the next two weekends in Stuttgart and Vilseck before running the Royal-Raider gauntlet one last time before the tournament. The Warriors visit Ramstein on Feb. 9 and host Kaiserslautern on Feb. 16.
Division II Reigning champion Black Forest Academy has played just two divisional games this year, but those two games carry major ramifications. The Falcons' 52-49 and 46-27 defeats of divisional archrival Rota ensconced BFA atop the division despite its major personnel losses and a sub-.500 overall record.
The Falcons' primary threat, however, carries none of that baggage. The Spangdahlem Sentinels, formerly known as the Bitburg Barons, boast a new identity and a fresh swagger after reclaiming the Division II football crown behind many of the same star athletes that headline this 6-0 hoops squad.
A meeting between the established Falcons and upstart Sentinels will have to wait for the tournament, however. BFA has completed its Division II schedule, while Spangdahlem's entry in a four-team meet Feb. 2-3 at Rome wraps up its divisional slate.
Division III The long-suffering Baumholder Bucs have been on the precipice of a championship breakthrough for years, and this year's squad looks built to finally make good on that promise.
The Bucs boast experienced senior leadership, high-end talent and a level of depth that is the envy of their small-school foes.
If there is reason to doubt this 6-0 Baumholder squad, it is in its occasionally slight margin of victory. The Bucs have survived games by a single basket in two consecutive weekends, beating Hohenfels 44-42 on Jan. 12 and Brussels 40-38 on Jan. 20. Such tight finishes can easily swing in the other direction, something the Bucs will need to guard against this weekend against Ansbach, next weekend at Alconbury and in the unpredictable small-school tournament.
Twitter: @broomestripes