European softball preview
Can anyone stop the Ramstein juggernaut?
by
Gregory Broome
May 23, 2017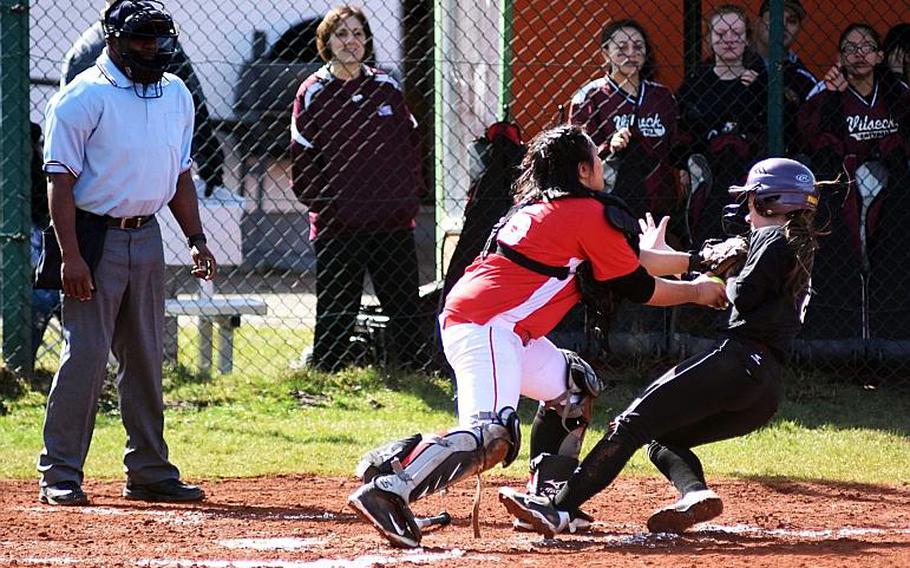 It's not a high bar to clear, but the 2017 DODEA-Europe softball championships can improve upon the 2016 edition by simply playing out its three-day schedule.
Last year's tournament didn't manage to hit that mark, as both of its Saturday championship games were canceled due to inclement weather and its attendant field conditions. Division I Stuttgart and Division II/III Aviano were awarded the titles based on victories over their title-game opponents during the tournament's preliminary round.
Teams left unsatisfied by that resolution get another chance Thursday through Saturday as the tournament, weather permitting, plays out at Kaiserslautern and Ramstein, Germany.
Division I Last year's softball tournament was remarkably evenly matched. The Ramstein Royals and Stuttgart Panthers edged the Kaiserslautern Raiders and Vilseck Falcons, respectively, in hard-fought semifinals decided by a single run. But the highly anticipated championship clash was, quite literally, a washout.
It's hard to imagine this year's bracket being nearly so dramatic. Ramstein has crushed all comers in its undefeated regular season. Among its victims are 2016 champion Stuttgart, by scores of 20-0 and 18-2; 2016 semifinal opponent Kaiserslautern, by scores of 17-2 and 13-5, and Vilseck, the team the Royals beat in the 2015 European championship game, by scores of 12-1 and 11-1.
All told, Ramstein has won its 14 games this year by a combined margin of 200 runs. The Royals have won every game by at least eight runs and have produced four shutouts of four different teams.
Vilseck is perhaps the most plausible spoiler for the Royals' projected romp. The Falcons competed respectably in a 12-1 and 11-1 sweep against Ramstein in the final weekend of the regular season, and the Bavarian squad has traditionally fared well against Ramstein in the postseason. Vilseck also swept the other 10 of its Division I games, including a combined 24-point margin of victory in a mid-May doubleheader sweep of Stuttgart.
Kaiserslautern and Lakenheath, meanwhile, managed to finish with winning divisional records despite their substantial losses to the Royals.
Italian squads Naples and Vicenza managed to avoid the Royals' wrath this spring by staying off their schedules, and either team might leverage that mystery for success against Ramstein this week. Naples is the stronger candidate with a 3-3 divisional record, though it lost three out of four games when Stuttgart and Vilseck visited Italy this spring.
Division II/III The list of teams playing for the small-school championship is smaller than years past, but the teams that are participating look set to produce a very competitive bracket.
The list of contenders starts with two-time defending champion Aviano. The revamped Saints didn't look like a threat to repeat early this spring as they opened their schedule with six consecutive losses. But they seem to have corrected course in time for the postseason, and will bring a four-game winning streak into the tournament.
Italian rival Sigonella matched Aviano's regular-season performance with a 2-2 divisional record and 4-6 overall mark. But the Jaguars achieved it in the opposite direction, winning their first four games before sliding into a six-game losing streak to end the season.
Hohenfels, the 2016 runner-up that was denied its proper title shot, and 2016 semifinalist Bitburg are solid candidates to return to the elimination round.
But it's the Rota Admirals that enter the tournament with the only unbeaten record in Division II/III. The Admirals swept Bitburg and AFNORTH in their late-April cameo appearance in the DODEA-Europe regular season, but they'll need to at least double that win total to cap their spring with a European title.
Twitter: @broomestripes