Girls track AOY
Callier turned setback into double triumph
by
Dave Ornauer
May 31, 2018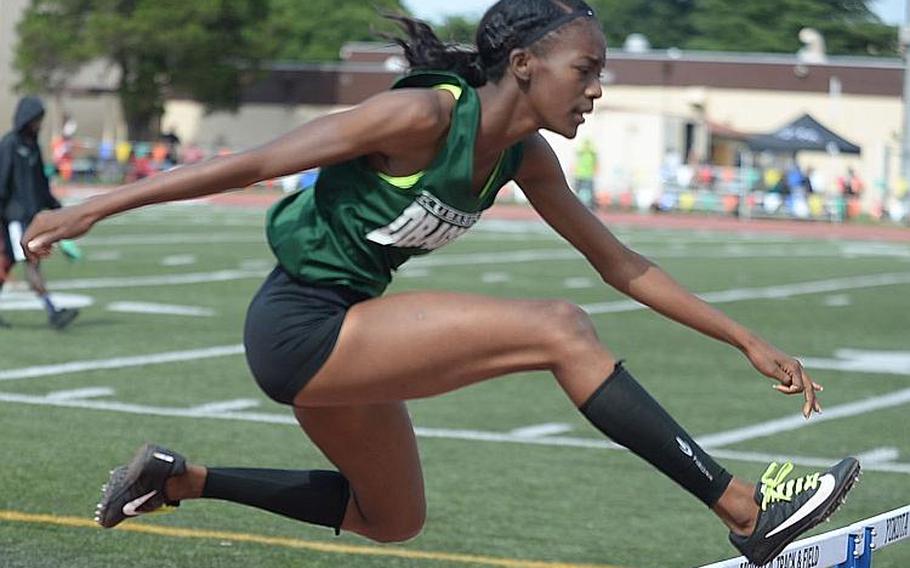 CAMP FOSTER, Okinawa – For most students, learning that a Far East event in a sport or an activity they like has been postponed would result in disappointment.
Ja'Tavia Callier saw the four-month postponement of Far East cheerleading from late October to early March as an opportunity. A chance to keep in shape for the track and field season that would follow cheer, and to shine in the hurdles, her favorite track event.
The Kubasaki senior took every last advantage. She broke and then twice reset the northwest Pacific record in the 100 hurdles and became the first ever to break the 15-second mark during last month's Far East meet preliminaries.
She went unbeaten this season in the 100 and 300 hurdles and won Division I gold in both at the Far East meet at Yokota. On the way, she trimmed her times from her junior to senior seasons by 3-plus seconds in the 300 and 2-plus in the 100.
"It was a surprise," Callier said of how much she improved from one season to the next. "I always try to do better, but I didn't expect to cut my times that much."
The biggest surprise, Callier said, was gazing at the clock at the finish line to see the time of 14.96 and the name Callier next to it following her preliminary run on May 22.
"At first, I was like, 'Are you sure that's the right time?'" Callier said she remembered asking. As the time got recorded in the meet's fully-automated timing system and confirmed, she burst into tears and dissolved in her father Gregory's arms.
"I didn't expect it," Callier said. "But it was nice to know that I was the first to go under 15 seconds."
Her time was .7 seconds faster than the closest overseas runner, Maira Gauges of Frankfurt International. The next fastest DODEA runners were Vicenza's Brandy James (15.63) and Yokota's Britney Bailey (15.86).
Callier's best 300 hurdles time was 46.79, just behind Bailey's northwest Pacific-record 46.38, also set during Far East. Callier also took second place in Division I in the Far East high jump.
For all that, Callier has been named Pacific high school girls track and field Athlete of the Year.
She beats out a crowded field including Bailey, a senior, the Kanto Plain and DODEA-Japan record holder in the 100 and 300 hurdles; and Exotica Hall, a Nile C. Kinnick senior who broke her own Far East meet high jump record at 1.65 meters and also went unbeaten in the 100.
All of that might not have happened, Callier said, if Far East cheer had gone on as scheduled in late October. Callier is a four-time National Cheerleading Association All-American and seven-time Top Gun winner, twice each in stunts and tumble and three times in jumps.
"It kept me in shape," Callier said. "Because the (cheer) season didn't end until early March, I still had to work out hard and stay in shape. And I was able to go right into track already fit rather than push myself and condition harder in the preseason."
Her father ran track in high school in their hometown of Houston, and though cheer was her natural sport, her father "encouraged me to run track and when I did, my interest grew," Callier said.
Despite all that success and attention, Callier always "remained herself," Dragons coach Kenneth Gipson said. "She was never arrogant, never egocentric, no taunting opponents, always humble and grounded," he said. "I am truly going to miss that kid."
Twitter: @ornauer_stripes