Home Team
Cadavos turns sideline toss into weapon
---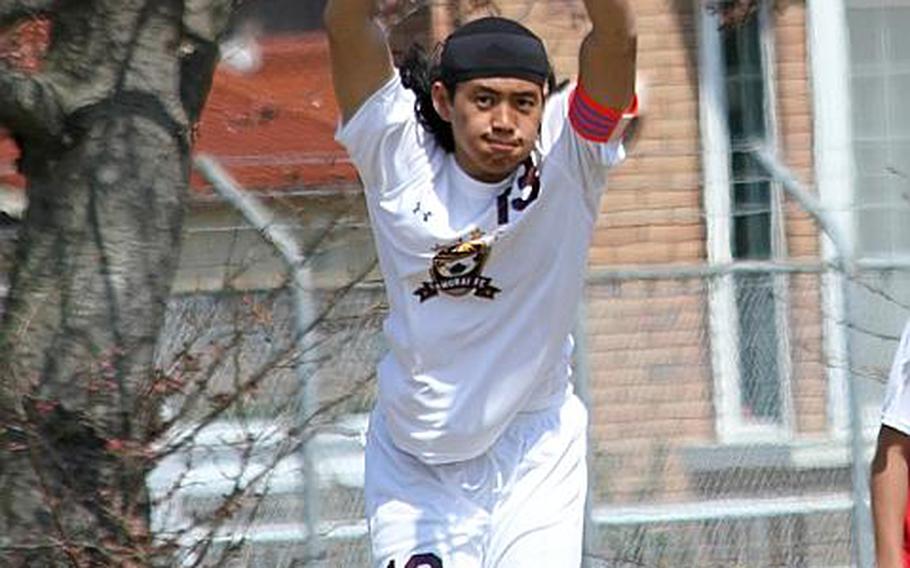 More times than not, the throw-in in soccer is just a way to put the ball back in play after it goes out of bounds.
But not where Jon Cadavos is concerned. The senior defender is known for his ability to make long, accurate throw-ins of 30 to 35 yards. That has resulted in 14 of his assists coming off long throw-ins, a valuable asset, coach Mark Lange said.
"Every time we have the ball in their (opponents') half of the pitch, it's a scoring opportunity, basically," Lange said. "And also defensively, if we're locked up in the back, he can throw the ball into the other half."
It's one reason the Samurai own the best record in DODDS Japan, at 12-1-2, and have lost just once in 32 matches dating back to last season.
In years past, Lange says he's had players who could throw long, but "of all the players we've had, he (Cadavos) has the strongest throw we've had of any player."
From midfield, he can throw into the box, Lange said; at midfield, all the way to the far post. "It's pretty hard to defend," he said. "He has the ability to control where he throws, so it's pinpoint. We use that as an offensive weapon and attack different parts."
The long throw-in was something Cadavos says he began doing as a sophomore during the Far East tournament; the winning goal in the championship match – the only one he's scored as a Samurai – came off a long throw-in, which went off an Osan defender into the net.
They've been treating it almost like a set piece ever since. Cadavos said he never did any form of training or weight-lifting to improve the distance on his throws. "This came naturally," he said, likening the throws to an overhead pass in basketball, another sport he plays.
It's not something they work on in practice, Cadavos said, only in games. "It depends on what the defense gives us," he said. "I have good chemistry with my mids and strikers, so it's worked out for everybody. Throw it to an open area and see if one of my teammates gets it."
He credits his teammates for lending him support and encouragement, especially in the wake of a goal off a throw-in. The ball goes out of bounds and invariably a teammate will hold it while Cadavos dashes upfield from his defensive position to throw it.
"They give me praise and make me feel good about it," Cadavos said. "Everybody sees it coming, then comes a long throw and they (opponents) just can't stop it. Throw it right at somebody. It doesn't necessarily have to be a teammate" but it can result in a goal.
Perry leads the Pacific with 75 goals. Of striker Justin Hill's 20 goals, three have come off Cadavos throws, and he says Cadavos is the team's ultimate difference-maker.
"If we don't have him, we don't have 15 goals, but more than that, if we don't have him, we aren't winning all these games," Hill said.
In the run-up to an April 17-18 visit to Perry, which resulted in 3-0 and 2-0 wins by the Samurai with Cadavos picking up an assist, Zama coach Marc Norton said he'd realized it was "something we had to prepare for."
"It's unconventional soccer, but it works," Norton said, noting that Perry's second goal in the first match came off a Cadavos throw-in. "Anything from the 30 to the 35, he puts in the box. Almost anything on the sideline becomes an opportunity, much like a corner kick."
The next week without Cadavos, who was at Far East music, Zama beat Perry 4-3 in a penalty-kick shootout to win the DODDS Japan tournament. "Very conspicuous by his absence," Hill said. The Samurai were without three-fourths of their back line in that tournament.
The 5-foot-10-inch Cadavos plays bigger than his size would indicate at his normal right-back position, Nile C. Kinnick coach Robert Tiffany said. "It's also nice to be able to depend on his throw-ins. They're usually pretty accurate and where they need to be."
Other Samurai of the past, including Pacific single-season goal-scorer Tyelor Apple (79 in 2012) were "very, very good, but he (Cadavos) is at a different level," Lange said. "Very effective; 15 of 17 assists off long throws. That's just amazing. This many in a season, we haven't had before at Perry."
It makes the Samurai a strong threat to make a deep run at their fourth straight Far East Division II Tournament title and fifth in six years. "We're in the running, no question about it," Lange said.
Twitter: @ornauer_stripes
---
---
---
---