Byrd began to learn game in Russian Little League
---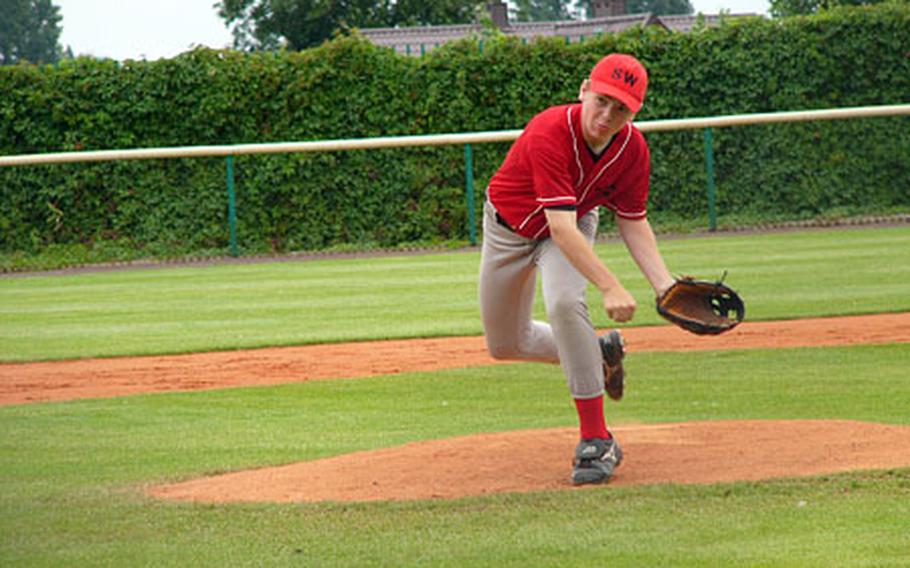 European edition, Sunday, July 29, 2007
KUTNO, Poland — The all-American boys who make up the teams in Little League Baseball's Transatlantic Regional learned their country's national pastime in some non-American locales: London; Stuttgart, Germany; Naples, Italy; Dharan, Saudi Arabia; and Dubai, United Arab Emirates.
But only Chris Byrd can say one of his previous teams was the incongruously named Moscow Yankees.
Byrd, 12, lived in Moscow from 2001-05 while his father, Tim, worked at the U.S. Embassy. While there, young Chris, a catcher, pitcher, infielder and dead-line-drive hitter, joined the Russian Little League baseball program.
"It was cool," said Byrd, who now lives in Wiesbaden, Germany, and plays on the Stuttgart-Wiesbaden Little League team. "We won two Russian national championships."
Like other sports in Russia, youth baseball is a serious business. "They have paid, year-round coaches," said father Tim. "They coach each age level."
Year-round? In Russia?
"We played a lot of indoor tournaments. We played in an arena. If you hit the ceiling, it was an out, but if you hit it into this balcony, it was a homer," Byrd said, giving a clue about where his line-drive stroke came from.
If they can play baseball in the Metrodome in Minneapolis, maybe an arena in Moscow isn't that much of a stretch. But how does an American kid, attending the Anglo-American school in Moscow, cope with the language barrier? What's Russian for "ball," "strike" and "out," for example?
" 'Ball' is 'ball,' and 'strike' is 'strike.' They just use the English words," he said.
Byrd, who played above his age group every season in Russia and again when he joined a German league after moving to Wiesbaden, said he was delighted to get a chance to play with other Americans at last. He was back with his age group and the pitches were easier to catch up to.
"The pitching was slower than the pitching machines we had," he said.
Byrd caught on with his present team when the Stuttgart Area Little League got permission to consolidate with Wiesbaden for postseason play this year. Byrd and two other players from Wiesbaden — Ben Carson and Jack Smith — joined the team after tryouts, and all three have made marked contributions to the team's tournament success.
Byrd will get a bigger taste of American baseball when he moves to Florida this August, but he said he values his European baseball experience — even though his team's loss Saturday means he won't get to go to the Little League World Series in Williamsport, Pa.
No matter, says his mother, Elizabeth. Making the regional is accomplishment enough.
"This is it," she said. "Chris has waited his whole life for this."
---
---
---
---