Girls soccer roundup
Burden scores four times for unbeaten SHAPE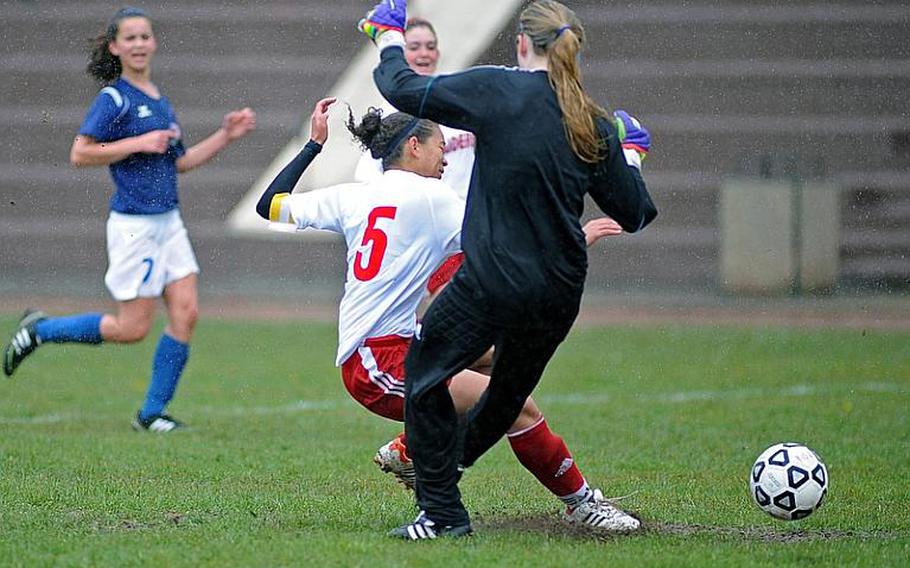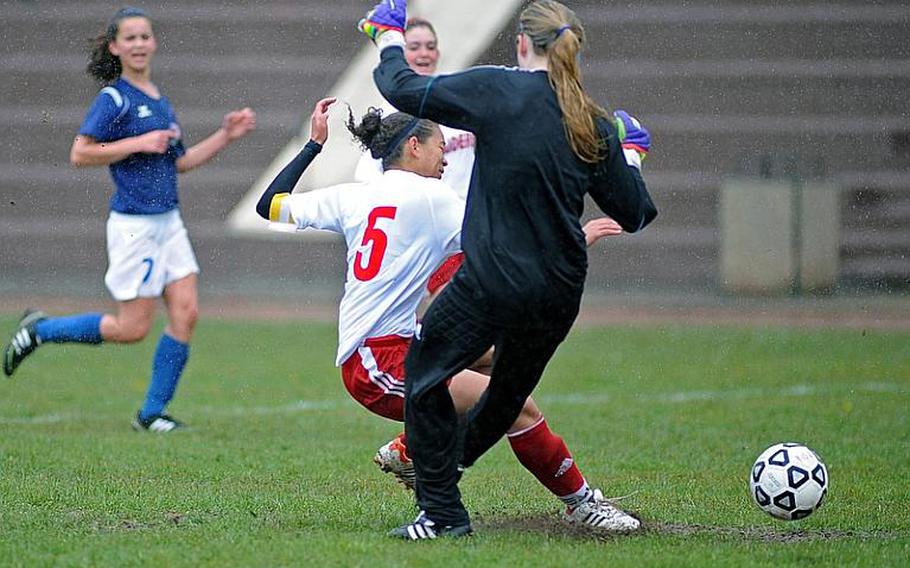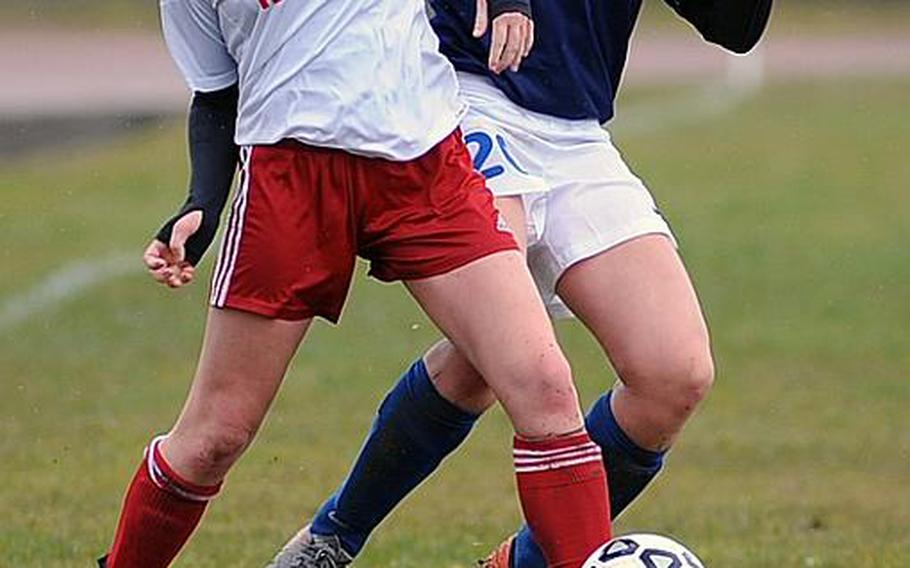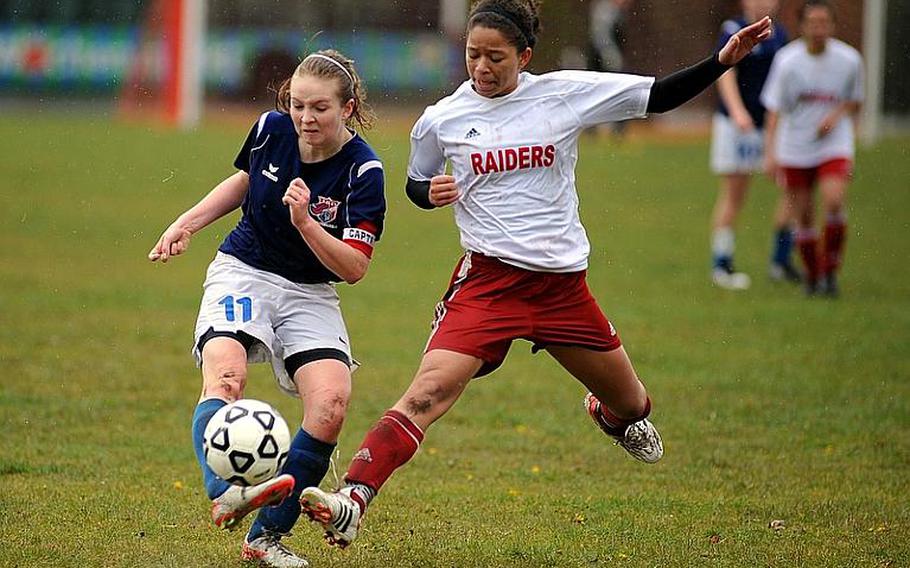 SHAPE's Liz Burden was too heavy a load for the visiting Brussels Lady Brigands to handle on Saturday. Burden, a senior, scored four goals and served up a corner kick that Teresa Muldoon headed into the net.
"…Burden was on fire, scoring on hard shots from both feet outside the 18-yard line," SHAPE coach Shawn Whitehurst wrote in a Saturday email reporting the 5-0 victory which upped his team's overall record to 3-1 and evened its Region I mark at 1-1. "She controlled the offense and was unbeatable."
Although SHAPE, a Division II school, was matched against a much smaller school on Saturday, the Lady Spartans weren't exactly in cruise control on Saturday.
"(Brussels) is a quality team, and we never really had the opportunity to take them lightly," Whitehurst reported. "They pressed our goal more than once."
Brussels fell to 1-2 overall and in the region despite 12 saves by keeper Dominique Poitier.
Next up for SHAPE is a Friday test at unbeaten AFNORTH. Brussels next travels to Alconbury on Friday and Saturday for the annual Region I Small Schools gathering with Rota, Alconbury and Menwith Hill.
In other girls' games of note on Saturday:
Kaiserslautern 3, International School of Brussels 2: At Kaiserslautern. Arianna Osmari scored the game-winning goal in the 70th minute to keep the Lady Raiders all-victorious for 2012.
The two Division I contenders went into halftime tied 2-2 on two goals each from ISB's Ali Galetti and Kaiserslautern's Ally Murphy to set the stage for Osmari's strike. It came, according to K-town coach Brian Daly, after his team had pressured their guests for most of the second half.
ISB, which fell 3-1 to Ramstein on Friday, will take a 1-2 record into its next game, a visit from Lakenheath on Saturday. Kaiserslautern, which is 4-0, is scheduled to host Black Forest Academy in a Region II contest on Saturday.
Vicenza 2, Marymount International School of Rome 2: At Vicenza, All-European Alex Frank scored both goals that allowed the Lady Cougars (2-1-1) to tie unbeaten Marymount (2-0-1).
Vilseck 2, Ansbach 1: At Vilseck, Katie Copper and Sarianna Jones scored second-half goals to lift the Lady Falcons to season- and Region III records of 3-0.
Cassidy Fritts assisted on Cooper's tally and Hannah Collins set up Jones' strike, which were just enough to overcome a 14-save performance by Ansbach keeper Alyssa Solis.
Jasmine Rodriquez, off an assist from Danny Miller, gave the Lady Cougars a 1-0 halftime lead.
Next up for Vilseck is a regional test Saturday at Heidelberg, a fellow D-I school. Ansbach, arguably the strongest winless team in Europe at 0-3, finally gets to play a fellow D-II school when it travels to Hohenfels on Saturday. All three Ansbach losses have come at the hands of D-I teams.
Ramstein 6, Black Forest Academy 0: Saturday in rainy Ramstein, six different players found the net, including freshman sweeper Kat Seebeck, who posted a goal and an assist.
Moreover, according to Ramstein coach Ricardo Buitrago, Seebeck and her back-line mates Karin Mol and Lexi Vermeer, "did a phenomenal job of keeping BFA at bay."
In his email report of the game, Buitrago also praised the play of midfielders Mackenzie Crews and Becca and Tori Coleman. Both Colemans scored goals.
The three, Buitrago wrote, "were instrumental in making sure that shape and space were maintained in the midfield. They also were influential in the pace and tempo of the game."
The victory left Ramstein at 4-0 overall and 2-0 in the league going into Saturday's game at regional foe Bitburg. BFA (0-2-1, 0-1-1) is to play the same day at Kaiserslautern.
Heidelberg 6, Hohenfels 0: Saturday at Heidelberg, All-European Layna Lowe scored three times and Melissa Fry twice to fuel the Region III victory.
Fry also added an assist as Heidelberg, which is scheduled to host unbeaten Vilseck on Saturday, improved to 2-1 overall and 1-1 in the league. Hohenfels is 0-3, 0-3 and entertains Ansbach on Saturday.
AFNORTH 7, Bitburg 0: Saturday at Bitburg, sisters Cassidy and Kaley Harless each scored twice to keep the Lady Lions unbeaten.
Kaley handed out two assists and Cassidy one in the non-regional, courtesy-rule victory, which ended with about four minutes to play.
AFNORTH will take a 3-0 overall record into Friday's regional game against visiting SHAPE. Bitburg (1-2-1 overall) is scheduled to invade Ramstein on Saturday.
---
---
---
---