Brown stays in stride after transfer from Naples to Hanau
by
Rusty Bryan
March 30, 2006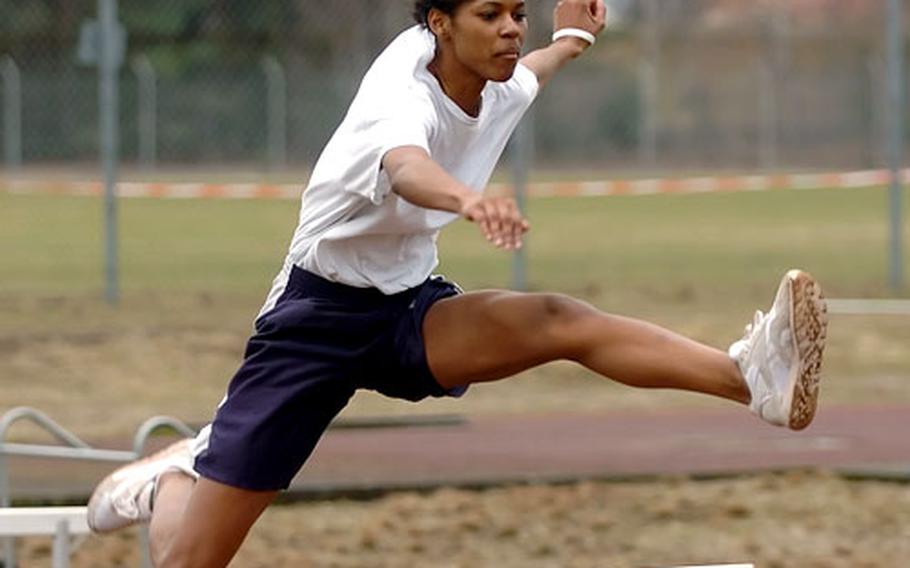 To two-time defending European champion Michelle Brown of Hanau, a hurdle's a hurdle, no matter where it is.
"It's the same three steps between each hurdle," Brown, a Georgian who won the 100-meter intermediate hurdles championship in 2004 and 2005 while running for Naples High School, said with a shrug.
She transferred to Hanau last fall, but in some ways is still treading familiar ground.
"The weather's better in Naples, but it's the same event," she said. "Three steps for everyone."
But "everyone" has changed. After two years of competing every week against Italy-based schools, Brown, a senior, found herself in a new mix in last Saturday's season-opening track and field meet at Wiesbaden.
"It felt weird running against all those different people," she said.
Brown was able to take comfort in her usual results, no matter the opposition.
The reigning European long-jump champion, Brown won that event Saturday, and triumphed in her strongest event, the hurdles. She also placed third in the triple jump, in which she struck European gold in '04.
While the damp, early-season conditions limited her long jump to 14 feet 11 inches, more than 2 feet short of her 2005 European-winning mark of 17-2, and her triple jump to 31-5, more than a yard less than her 2004 championship leap of 34-11¼, she was already right on target in the hurdles.
She ran 16.20 seconds in her favorite track event, .06 off her winning mark last May and only .80 off the European record of 15.40 run in 1993 by Drisana McDaniel of now-closed Hahn.
What will it take to make up that eight-tenths of a second?
"Hard work, discipline and dedication," the 5-10 Brown answered promptly. "Breaking that record is one of my goals this season."
Brown is the kind of transfer student coaches send limousines to collect — an all-Italy center who made the all-Europe second team for the European Division II basketball champion Hanau Lady Panthers this year, and a runner-jumper who scored 24 of the 88 points accumulated by DODDS girls champion Naples' last spring.
"It was nice," Hanau track coach Theo Jones said of having an athlete of Brown's caliber enroll last fall. "We had just lost our high jumper to Heidelberg, but over the summer kids were telling me she was coming in."
Brown lost little time adapting to her new environment, Jones said at practice Monday.
"She fit right in," he said. "We have a lot of good athletes."
Jones will need them to extend to the track the run of success Hanau has enjoyed so far this school year: European championships in football and in boys and girls basketball.
"It puts pressure on us more than anything," Jones said when asked whether Hanau's title-town status motivated his team.
Brown, 18, plans to continue her athletic and academic career next year at her hometown school, Columbus (Ga.) State University. In the meantime, there are records to chase and titles to defend, and motivation to be drawn from defending-champion status.
"Everyone's out to beat you," Brown said.
"You can't let up."