Break's over for just about everyone this weekend
---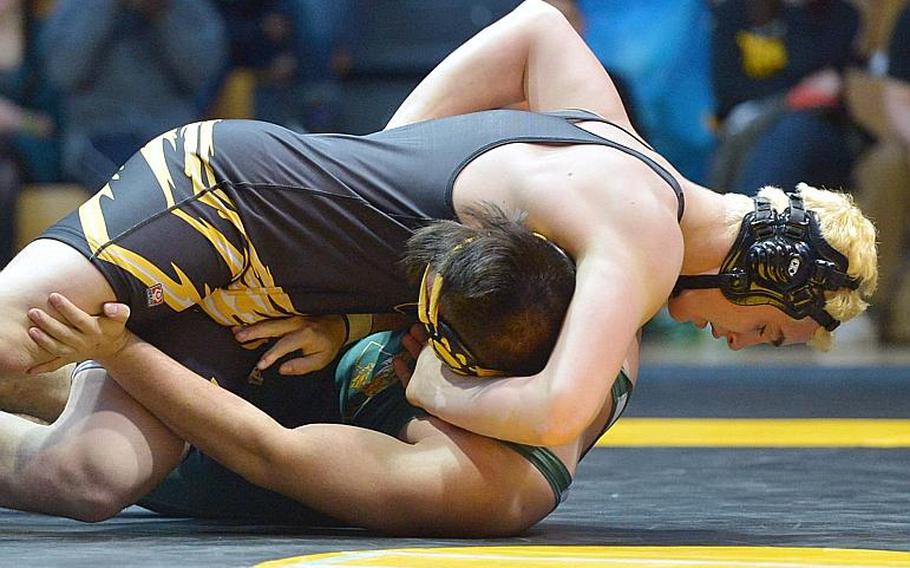 A winter break that extended well after the new year for most DODDS-Europe athletes will finally meet its demise in the form of a full-fledged three-sport schedule this weekend.
On the basketball court, boys and girls teams from 20 DODDS-Europe schools will collide for Friday and Saturday action across Belgium, Germany, Italy and Netherlands. Wrestling returns to the mats for crowded, competitive meets at Ramstein, Vicenza and Wiesbaden. Marksmanship, which became the first DODDS-Europe sport to emerge from its holiday shell with two meets last weekend, continues its march to the calendar year's first European championship event with its annual postal meet, in which all 10 schools compete at home and compare results remotely.
The end of DODDS-Europe's month of relative inactivity would be enough to define this weekend's action. But the schedule also holds a marquee matchup - on two fronts - between DODDS-Europe's two primary powerhouses.
Ramstein and Stuttgart rank first and second, respectively, among DODDS-Europe high schools in terms of student population. The two schools have lived up to their raw size by dominating recent Division I sports seasons. This weekend, they'll meet on the wrestling mats and basketball court.
Stuttgart is the team to beat in wrestling, a program rich in weight-class depth, championship-level individual talent and tournament experience. The Panthers appear to be pointed squarely at a third straight European title, having cruised to big team victories in both of the meets they competed in before the holiday intermission.
But the Panthers haven't seen Ramstein yet in this regular season. The Royals, who ended the Panthers' previous championship run with a breakout tournament win in 2013, might have the roster to disrupt the reigning champs again.
The two will tangle on Ramstein turf, where they'll be joined by three other very solid DODDS-Europe programs. Lakenheath is looking to retain its spot among the Division I elite after finishing second to Stuttgart in last year's tournament. Kaiserslautern is on the fringe of reaching similar status. Small-school favorite Alconbury will gear up for a run at the Division III title by locking up with the biggest and baddest DODDS-Europe can offer.
Stuttgart is off to typically strong starts in wrestling and marksmanship, continuing the momentum created by the Panthers' stirring fall title runs in football and volleyball. But the Panther basketball teams, thanks largely to a slight early schedule, have yet to take a seat on that speeding train. A Dec. 11-12 set with Division II Hohenfels makes up the whole of Stuttgart's DODDS-Europe work to date; the girls easily swept the Tigers while the boys played to a split.
The Panther pace picks up now, starting with a Friday-Saturday doubleheader against Ramstein, an undefeated favorite in both the boys and girls standings, After facing the Royals, the Panthers will continue a tough Division I swing with a set against Kaiserslautern, a trip to Italy to take on Vicenza and Naples and an early-February home-and-home series with Wiesbaden.
Twitter: @broomestripes
---
---
---
---