Boys soccer roundup: Heidelberg now 3-0; hasn't allowed goal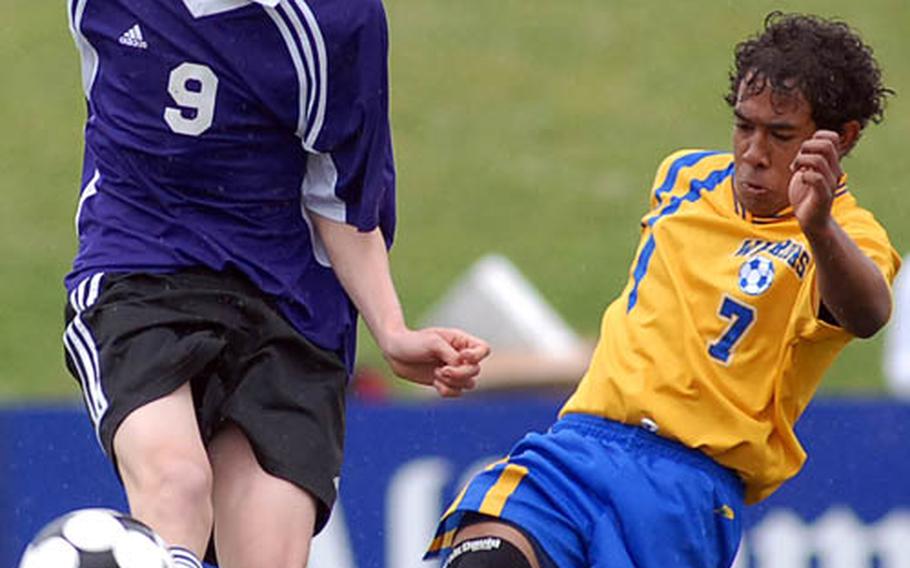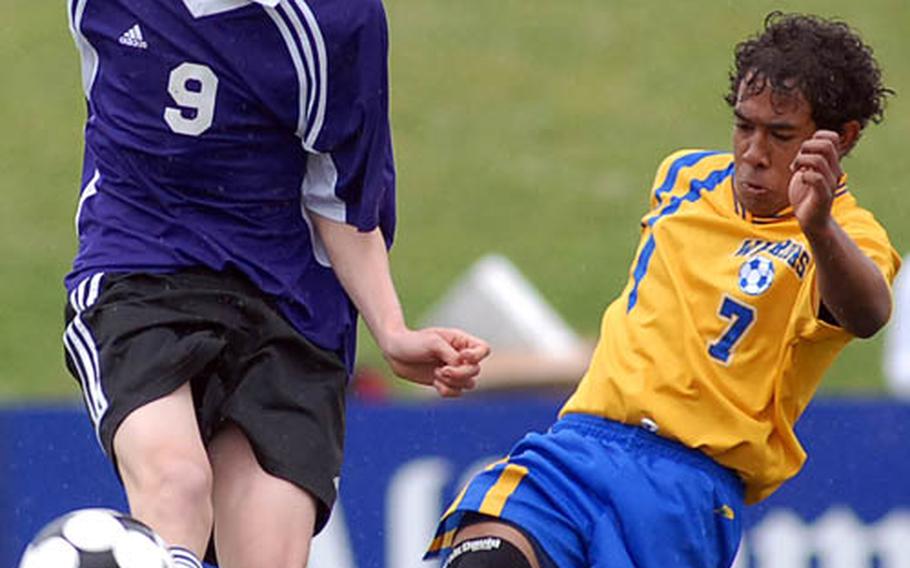 Division I power Heidelberg, playing a Division III team just three days after blanking Hanau of Division IV, remained unbeaten without giving up a goal in its first three games with a 7-0 courtesy-rule victory over Würzburg.
Marvin Sibley, who scored once in Wednesday's 4-0 victory at Hanau, tallied twice Saturday in a game which reached the courtesy-rule margin in the first half.
Kevin Beerman, Nate Joyner, Blake Langford, Kyle Turner and Mario Villegas completed the official scoring with one goal each.
Heidelberg was equally dominant defensively. Neither goalkeeper, Zach Harrington nor James Key, was called upon to make a save.
Next up for the Lions, who shut out D-II Patch to start the season, is a home game Saturday against D-I Kaiserslautern. The Lions then close out the regular season with Region III games against Mannheim, Black Forest Academy and Wiesbaden, all Division II teams.
In other boys games of note:
Ankara 4, Incirlik 1: On Saturday at Incirlik, the Trojans got a goal from Lucca Santini for the third straight game to complete a three-day sweep.
Santini's goal opened the scoring in the game's sixth minute. He scored once in each of Ankara's two earlier 5-0 victories.
Zach Angel broke Incirlik's scoring drought in the 29th minute of Saturday's game.
ISB 9, Kaiserslautern 2: On Saturday at Kaisersalutern, Lucas Lanwehr scored three times to lead International School of Brussels (1-0-1) to a victory over K-town (1-2-0).
Kim Suh-hoon and Majed Al-Shweidi each scored twice for ISB.
Vicenza 1, Marymount International School of Rome 1:On Saturday at Vicenza, the Cougars rode Kyle Kaus' goal to a tie against the defending European Division III champions.
The effort kept Vicenza unbeaten at 2-0-2. Marymount is 1-0-1.
Naples 1, Sigonella 1: On Saturday at Sigonella, both defenses proved unyielding in the game's final 40 minutes after Peter Lawson, assisted by Paul Dennision, scored for Naples (1-1-1) and Alec Herb scored Sigonella's (0-1-1) goal off a feed from Dave Rice in the first half.
AFNORTH 4, Bitburg 2: On Saturday at Bitburg, James Perea scored all four of AFNORTH's goals as the Lions (1-0-1 overall) claimed the Region II victory.
SHAPE 6, Brussels 1: At Brussels, Robertino Rugina scored three times and Daniele Coccia had three assists as the Spartans (1-0-2) got their first victory of the season.
Patch 7, Ansbach 2: On Saturday at Stuttgart, Phillip LaBrake scored three times to lift the Panthers to victory. Samet Yueksekgonvel, a transfer from Naples, had a goal and two assists for Patch (1-1-0, 1-0-0 Region IV).
BFA 8, Hanau 1: On Saturday at Hanau, the defending European D-II champions got goals from eight players in their romp over their hosts from D-IV.
The victory was the first of the season for Black Forest Academy. The Falcons were held to ties on the road against AFNORTH and SHAPE on April 11-12.