Boys soccer roundup: Ansbach hands Giessen first defeat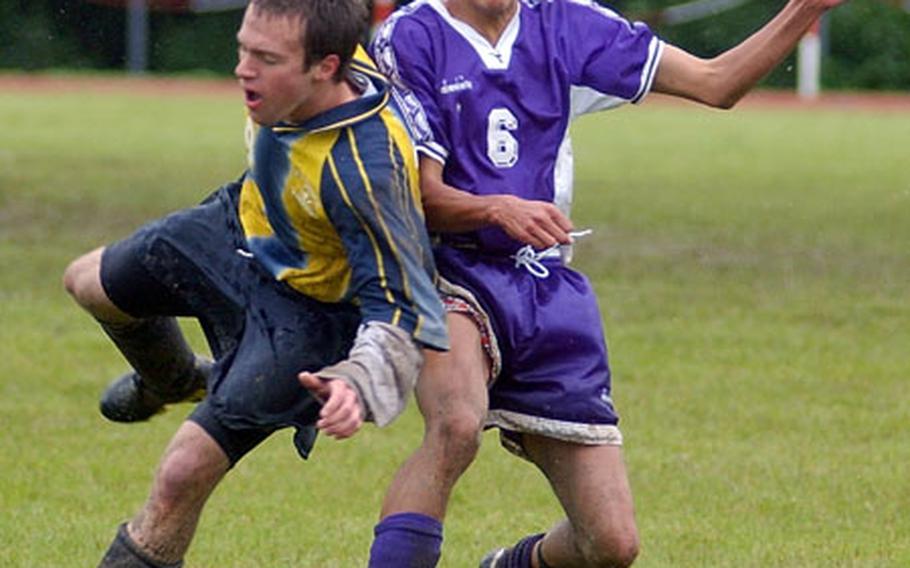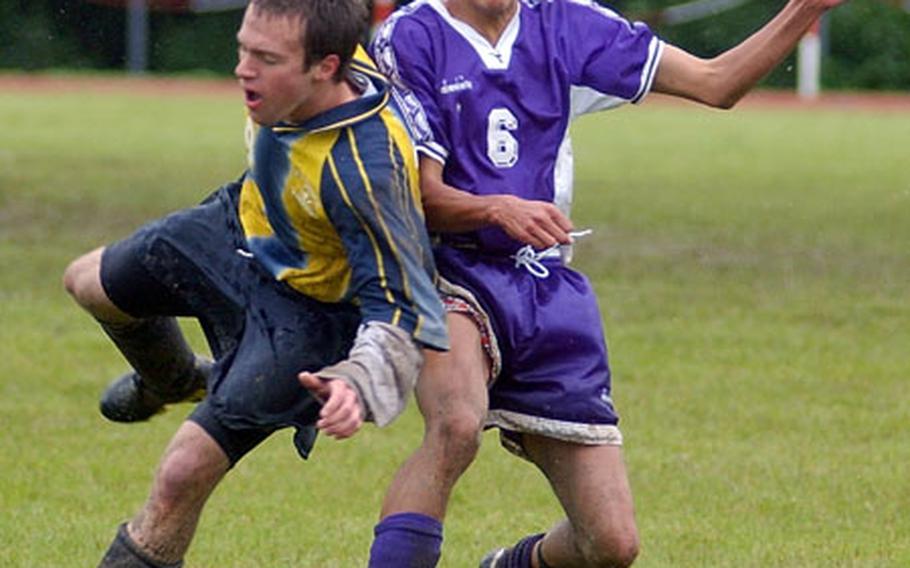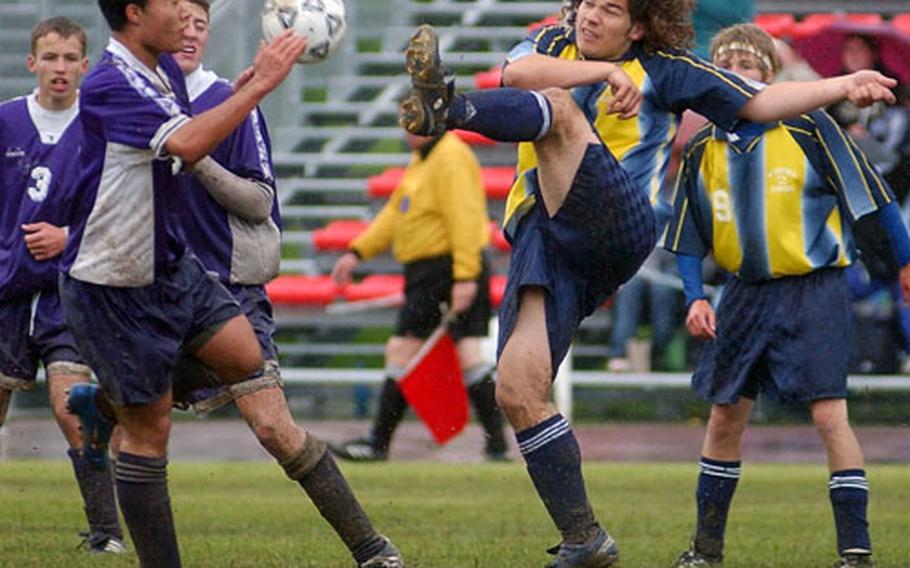 GIESSEN, Germany — Garrett Eichhorn assisted on goals by David Herold and McCarthy Anum-Addo as Ansbach handed Giessen its first defeat of the season Saturday with a 2-0 victory.
Giessen's loss, which came in its final regular-season game, had no effect on the Division III-South race. Giessen (5-1 overall and 4-1 in III-South) had clinched the league crown and the automatic berth in the European Division III tournament, which will be played May 20-22.
Goalkeeper Tyler Sherman turned away 11 shots by the Griffins, who were averaging 3.4 goals per game.
The victory allowed Ansbach (4-2; 3-2 III-South) to finish third in the league race, behind Giessen and Baumholder.
Five III-South teams will gather Thursday-Saturday at the III-South Regional qualifying tournament in Giessen to see which team will accompany Giessen to the European tournament.
Bad Aibling, which has several of its 12 players transferring this week, will not participate in the tournament.
Bobcats stay perfect
MENWITH HILL, England — A goal and two assists by Colin Lineberger fueled a 6-0 London Central victory over Menwith Hill.
The Bobcats will carry a 7-0 record into this week's Division III-North regional qualifying tournament.
Jonathan Stemmell added a goal and an assist for London Central.
Menwith Hill finished its regular season 0-5-1 overall and in III-North in spite of goalkeeper Mike Bailey, who made 20 saves and stopped a penalty kick by London Central's Erica Tibbetts.
AFNORTH rolls on
HANAU, Germany — Pal Skangen scored three goals and Mike Kincaid had a pair of assists as the Lions stayed unbeaten with a 4-2 victory over Hanau.
AFNORTH broke away from a 1-1 halftime tie against Hanau (1-3-2) to improve its overall and Division II record to 5-0-1 and remain assured of at least a tie for the league lead.
Warriors rally for tie
WIESBADEN, Germany — Cooper Bryant scored a pair of second-half goals as Wiesbaden salvaged a 2-2 tie against visiting Würzburg in Division I play.
Würzburg led 2-0 at the half on a pair of goals from Chris Purdin, but Bryant converted feeds from Daniel Lohmer and Lones Seiber after intermission.
The tie eliminated Wiesbaden (3-1-1) from the Division I title chase. The Warriors play at Heidelberg (4-0-1) on Saturday in the regular-season finale.
Würzburg fell to 1-4-1 overall and 1-3-1 in D-I.
Lions move into tie for lead
HEIDELBERG, Germany — Behind Christoph Ascherl's three goals, the Heidelberg Lions moved into a tie for first in Division I with idle Ramstein after an 8-1 mercy-rule victory over visiting Kaiserslautern on Friday.
The victory left Heidelberg at 4-0-1 in league play.
Patch romps to first win
STUTTGART, Germany — Josh Anderson scored two goals and Jeff Jones added a goal and an assist as Patch routed Bitburg 5-1.
Patch improved to 1-5 overall and in the league. Bitburg fell to 0-6.