Boys fields have grown tighter during season
by
Gregory Broome
February 21, 2016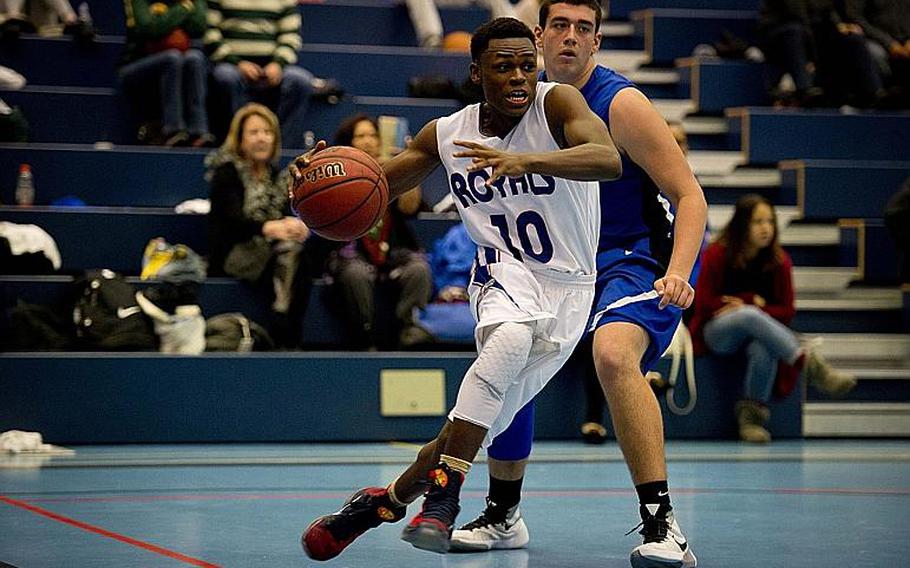 Fresh faces and familiar powers will collide this week as the DODDS-Europe boys basketball tournament plays out at Kaiserslautern and Wiesbaden, Germany. The four-day event starts with preliminary play Wednesday, leading to three divisional championship games Saturday at Clay Kaserne Fitness Center in Wiesbaden.
Division I There's a strong defending champion headlining the large-school field. Just not quite as strong as it was a couple of weeks ago.
The Ramstein Royals saw their season-long undefeated streak end Feb. 13 in the second half of a doubleheader with the Wiesbaden Warriors. The 40-36 loss, even in the context of the previous night's 69-59 defeat of the Warriors, brought the rolling Royals back into the Division I pack. The Warriors, led by standouts John McKoy and Isiah Washington, have fully emerged as a legitimate contender after a slow start to their season.
The Ramstein-Wiesbaden split also left Naples as the only team to enter the Division I tournament without a loss, though the Wildcats have had just four opportunities against fellow large-school opponents.
Still, the Wildcats did all they could in the regular season in sweeping a December doubleheader from Vicenza, edging Stuttgart and Vilseck in January.and pushing around smaller Italian schools in the meantime. High-scoring guard Terrell Staten is one of the most prolific scorers in DODDS-Europe, and he's got plenty of firepower around him to help Naples live up to its unbeaten billing and improve on its fourth-place 2015 finish.
The SHAPE Spartans, though overshadowed by the rampaging Royals, unbeaten Wildcats and streaking Warriors, nonetheless rank as a team opponents aren't looking forward to encountering this week due to the explosive backcourt duo of Austin Stephens and Cameron Little.
Speaking of overshadowed, mainstay contenders Kaiserslautern, last year's runner-up, and Stuttgart, a 2015 semifinalist, are struggling to maintain their usual prominent place in the large-school title picture after middling regular seasons. The two traditional powers, along with Vilseck, have defined the border this winter between the above-mentioned contenders and the division's lower tier of winless Lakenheath and Vicenza.
Division II This DODDS-Europe championship is almost certain to change hands this week. But it might not have to travel very far.
Last year's breakout star, Otis Reale, has headed stateside since leading an upstart American Overseas School of Rome squad to the program's first-ever hoops title. But Reale's role has been capably filled by a new phenom, freshman Dominic Laffitte of AOSR's crosstown rival Marymount.
A veteran of high-level Italian youth leagues, Laffitte has been dominant from the start of his DODDS-Europe career, routinely posting double-doubles and scoring in the 30s. His arrival, along with some capable help from teammates such as Lotanna Mba, has the Royals perched atop the Division II standings after years looking up from the bottom.
The primary obstacle to Marymount's coronation is the same team that nearly prevented AOSR's long-awaited title a year ago: the Rota Admirals.
Rota returns much of the talent that fueled its run to the European title game last year, deploying a small squadron of outside shooters around post anchor Andy Drake. Rota's body of DODDS-Europe work has been limited this winter, as per usual, but the Admirals are always a handful at tournament time.
The same applies to Black Forest Academy, which has sharpened its skills against higher-level competition this winter in a sweep of Stuttgart and a split with Wiesbaden. The Falcons finished third last year, and some high-scoring performances from the duo of Jonah and Noah Greathouse could seal the deal this season.
Aviano's high-scoring backcourt and Bitburg's all-around grit could make those squads tough outs in the tournament, while Marshal Eddie of Hohenfels rivals Laffitte for the title of most dynamic talent in this bracket.
Division III There's reason to believe that any team in this most unpredictable of DODDS-Europe tournament brackets is capable of celebrating a title on Saturday.
Reigning champion Sigonella has been tuning up for a title defense exclusively against upper-division schools in Italy, and has a lead guard, Jason Berlin, able to keep the squad settled when adversity invariably hits.
Baumholder, the team that came within a few key plays of beating Sigonella in last year's European title game, has stepped up its pursuit of a title this winter behind a strong sophomore campaign by Nathaniel Horton.
Returning semifinalists Alconbury and Brussels have traded wins and losses as they jockey for seeding in the evenly-matched bracket, while new arrival Ansbach jumped squarely into the fray with a February split with Baumholder.
Twitter: @broomestripes
---
---
---