Bowling is all about fun for national champion Wallace
---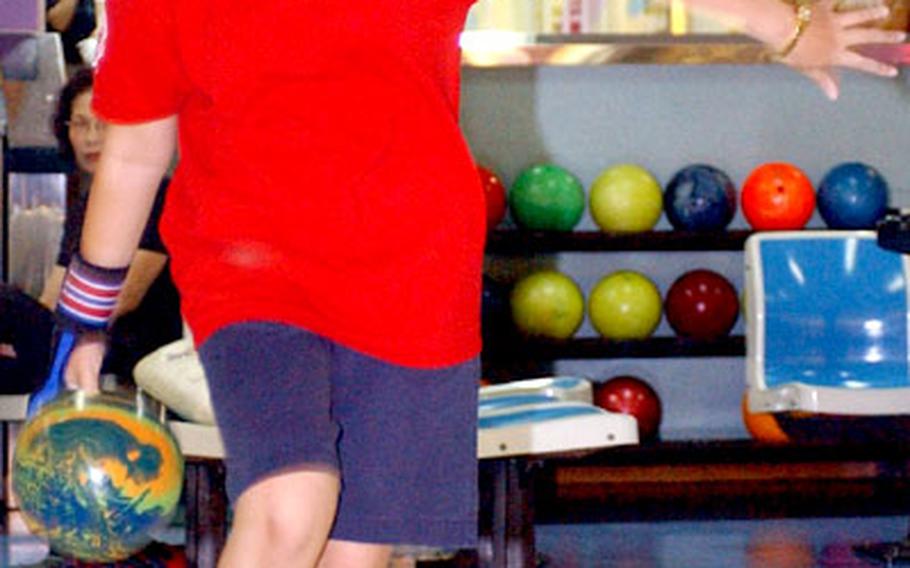 Victoria Wallace says when she first set foot on a Yongsan Garrison bowling lane, she just wanted to have fun.
Now she's a national champion, winner of her division in the Young American Bowling Alliance's Pepsi Championships last week in Dallas.
Her reaction to her 187-184 triumph over Lisa Howard of Stoney Creek, Ontario, in the Pepsi Handicap I Division finals?
"I was so shocked I cried," said Victoria, soon to be a junior at Seoul American High School.
The shock might have been understandable: It was the 15-year-old's first appearance in a YABA championship, and only three years since she first followed her father, avid bowler Ronnie Wallace, to Yongsan Lanes to try the game for the first time.
"I wanted to enjoy it," said Victoria. "That's what it's about. Not necessarily to win, but to enjoy bowling."
She enjoys it to the tune of eight games per day on Saturdays and Sundays, league bowling on Tuesdays and Thursdays and eight games per day every day during summer vacation.
Bowling is hardly her only accomplishment. She has a 4.0 grade-point average and counts world history as her favorite subject. She passed Honors English as a sophomore and plays the saxophone, piano and flute.
But she continue to bowl and improve — averaging more than than 160 a game in her second year.
That's when she and her father discussed entering the Korea and Far East youth masters tournaments — the first step toward a YABA tournament.
"Vicki's a competitive person," said her father, a retired Army master sergeant who works as chief of the manpower branch for the Army's Installation Management Agency, Korea Region Office, on Yongsan.
"Even though she bowls to have fun, even though she smiles and laughs, she's very competitive by nature. She hates to lose a match, even against others in the bowling alley."
She and three other Yongsan bowlers, including eight-time Far East military zone champion Jio Bruce, who earned a bowling scholarship to Central Missouri State, qualified for the trip to Dallas.
Victoria and Sam Wilson bowled in the Pepsi championships for handicap competitors; Far East military zone champion Bruce and Chris Baker qualified for the YABA Junior Gold tournament, for scratch division winners.
Victoria said her father played a big role in keeping her focused in Dallas.
"He told me to keep my cool, don't look at the score, do my best and enjoy bowling," she said. "I had to overcome nervousness and keep my cool. That's very hard to do when you're trying to compete for first place against the best of the best.
"I really didn't think I was going to win the whole thing until the championship match."
"I can't explain it," said her father, who rushed to her for hugs and congratulations. "It was just great. When she actually won it, and how close it was, it was just the thrill of my life."
Accompanying the gold medal was a scholarship award of $2,000; YABA is a service-oriented sports membership organization for youth bowlers, ranging in age from pre-school to college.
Victoria also took home from the tournament a desire to try again next year.
"I'm still thinking whether I should go Pepsi (handicap) or Junior Gold (scratch)," she said. "But I'm planning on going back. And having fun, all the way."
Might she possibly make bowling part of her future, like Bruce?
"If I had the chance to go on scholarship, if I had the chance to bowl as a pro, I'd take that, most likely, yes," she said.
Even if that doesn't happen, "I would like to keep bowling as a fun thing to do."
---
---
---
---