Bolden's play earns attention from a host of college towns
by
Greg Tyler
January 19, 2003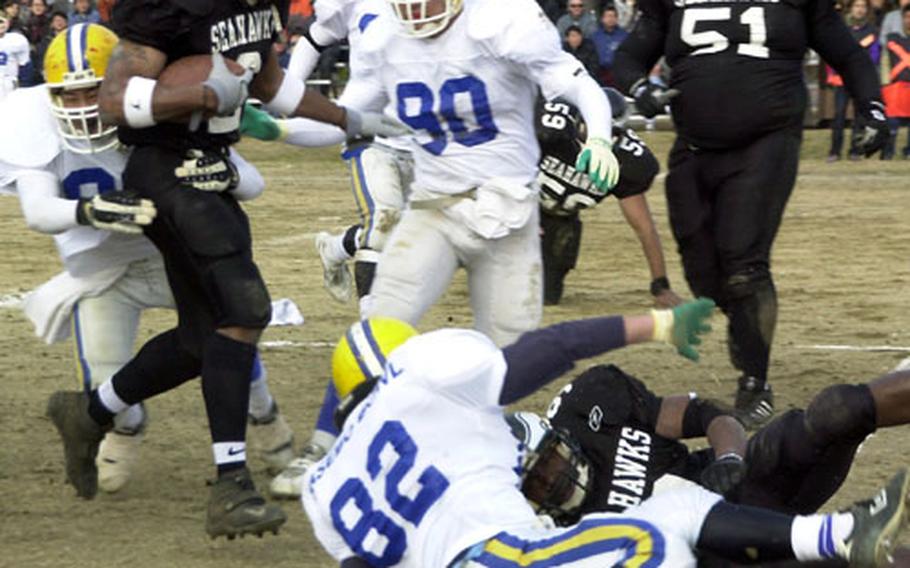 SASEBO NAVAL BASE, Japan — Yokosuka Seahawks tailback Chris Bolden made quite a spectacle of himself in the inaugural Sasebo Bowl last weekend. And now, he's getting some really interesting looks.
The 22-year-old petty officer 2nd class, slated to leave the Navy later this year, hopes to take his game to the college level. And that's turned the heads of Notre Dame, Alabama, South Florida, Iowa State and Fresno State.
As a preliminary step toward offering Bolden a scholarship, the five schools requested film highlights of the 6-foot, 205-pound tailback, according to Tim Buck, commissioner of the U.S. Forces Japan-American Football League.
In the Sasebo Bowl, Bolden slashed and dashed his way for 175 yards, leading Yokosuka to a 30-13 victory over the Kyushu All-Stars, a team comprised of top Japanese players from two universities. He carried the ball 21 times for an average of 8.3 yards, and also snagged an interception.
Surprisingly, Bolden, an information systems technician with Carrier Group Five at Yokosuka Naval Base, played just one year of prep football at Hephzibah High School in Augusta, Ga., strictly as a defensive back.
"Last year, I made the league all-star team as a defensive back," Bolden said. "We had quite a few people leave before this season, and I asked coach if I could play tailback. He hesitated at first because I was needed on defense, but then he decided to let me run the ball."
It was a profitable decision.
Bolden played tailback in five games, carrying 85 times for 835 yards, a healthy 9.8 yards per carry. Some 30 percent of his runs were for 20 yards or more.
"So far, we've sent out 24 letters to colleges about Chris, and one went to Kent Baer, Notre Dame defensive coordinator and a former coach of the Yokosuka team," Buck said. "He's familiar with the quality of play in the military football league and wants to see what Chris can do."
Those credentials appear impressive.
For starters, he runs a 40-yard dash in 4.45 seconds, bench presses 300 pounds, squats 500 and has a 37-inch vertical leap. And there is precedent for young players moving on to the college, semipro and pro football levels from military teams.
During the Vietnam era, when the draft was still active, colleges scouted the military leagues regularly, Buck said. However, that's a rarity now.
"Just a few years ago, running back Mike Anderson of the Denver Broncos played on a military team in Okinawa, and then went on to play in college at Utah State and then the NFL," Bolden said.
"I think I have a realistic chance, and it has always been a dream of mine. If I got to play in college, then I'd ride it out as far as I could, and if that means the NFL, I'd be living my dream."
The son of Christopher and Gloria Bolden of Augusta, he completed high school with a grade-point average of 3.89 and was accepted to Marshall University. But he decided to join the Navy instead.
He arrived for duty in Japan about three years ago. In 2001, he and girlfriend Akiko married, and the couple had a son, Shamere, who's almost 2.
Bolden is scheduled to leave the Navy in September, but with accumulated leave time, he could be out as soon as July, Buck said. "That's cutting it close, but it's a workable time frame.
"He's a really good kid. I hope he gets in somewhere."