Blue-chip center on U.S. team for Schweitzer tournament
by
Rusty Bryan
March 25, 2010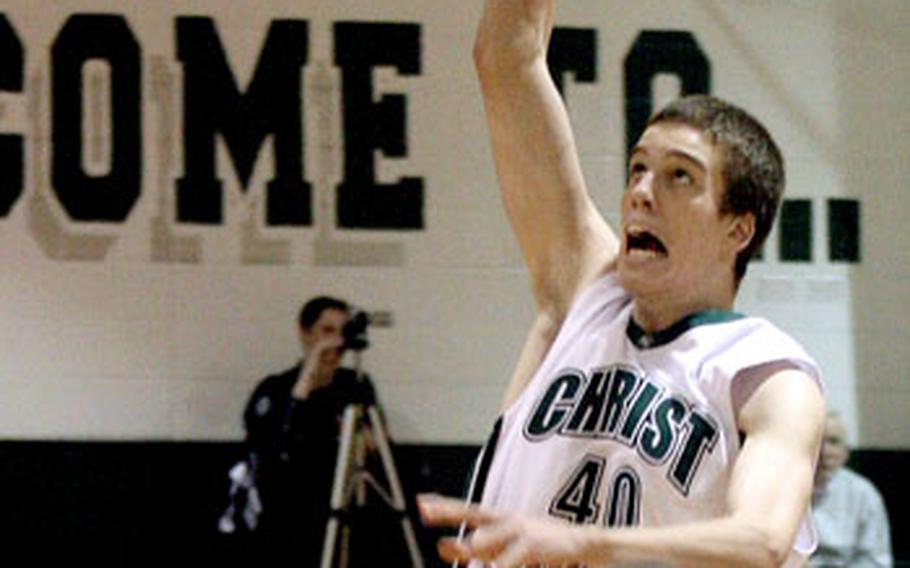 A blue-chipper with the bluest of basketball bloodlines towers over the U.S. team that will compete in next month's Albert Schweitzer International Youth Basketball Tournament.
Marshall Plumlee, a 6-foot-11, 195-pound center who plays for nationally ranked Christ School of Arden, N.C., is one of 10 teens selected last week to the U.S. team that will take on the national junior squads from 14 other nations April 3-10 in Mannheim, Germany.
Plumlee, a junior, is rated the No. 3 center prospect nationally by scouts.com and rivals.com. for the high school Class of 2011. So far, he has received offers from 11 NCAA Division I powers, including Duke, where his two older brothers play.
Plumlee, who averaged nine points, nine rebounds and 2.6 blocks per game in helping Christ School to a 37-1 record and a fourth straight state championship, should excel in the rough and tumble international game he'll encounter here, according to his coach, David Gaines.
"It's right up his alley," Gaines said by telephone Monday. "He's a very aggressive, physical player. It's perfect for him."
Gaines added that Plumlee, who won't arrive in Germany until April 4 because of his commitment to play in the Carolina Challenge, a showcase tournament, is better right now on the defensive end of the floor, the part of the international game that usually gives the Americans the most trouble.
"In the state championship game, he blocked nine shots," Gaines said. "He's got a great nose for the ball and he's a great communicator under the basket."
Gaines also asserted that Plumlee, who'll miss the Americans' opener April 3 against Croatia, should have none of the movement troubles that often afflict U.S. big men in international ball. International post players often drift outside to shoot the three-ball, forcing their defenders to run in and out with them.
"He runs the floor like a guard," Gaines said. "He can run all day. In fact, we run a 1-2-2 zone and put him at the top of it. He'll feel quite at home moving around."
Plumlee isn't the only blue chipper on the 2010 U.S. roster. Royce Woolridge of Sunnyslope High School in Phoenix, a 6-3 senior shooting guard, has signed to play with the University of Kansas this November, and junior Ryan Boatright of East Aurora High School in Aurora, Ill., is a 5-10 point guard who's considering six D-I schools. Boatright, who averaged 24 points per game, scored more than 40 points in each of his team's two playoff victories this season.
Largest of the blue-chippers is junior power forward Michael Chandler, a 6-10, 220-pounder from Indianapolis who's verbally committed to the University of Louisville. Called a low-post presence who's effective with his back to the basket by Scouts.com, he'll be counted on to take up some of the slack for the late-arriving Plumlee in the U.S. team's first two games.
With the exception of Plumlee, the 10 stateside players who'll be joined by DODDS-Europe selectees Jamal Tuck of Aviano and Dillon Wadsack of Ramstein are expected to arrive this weekend and scrimmage at the Mannheim's BFV Sports Arena on April 1.
The first Schweitzer pool games for the Americans are scheduled for 8 p.m. each day April 3-5 at the Sports Arena. The Americans will face Croatia on April 3, France on April 4 and Argentina on April 5. Department of Defense ID cardholders can purchase advance tickets at the Rhein-Neckar USO. Call DSN 385-3668 or 385-3195 or 0621-730-3668 or 0621-730-3195 for details.
Tourney information in English is available at www.ast-basketball.de.
2010 U.S. Albert Schweitzer teamNo. Player School Pos. Ht.4 Dillon Wadsack Ramstein HS, Germany PG 6-15 Jamal Tuck Aviano HS, Italy SG 6-36 Farooq Muhammad Lawrence North HS, Indianapolis PG 6-17 Andrew White Thomas Dale HS, Chester, Va. SG 6-38 Damian Leonard J.L. Mann HS, Greenville, S.C. W 6-49 Royce Woolridge Sunnyslope HS, Phoenix SG 6-310 Kevin Ware Rockdale County HS, Conyers, Ga. SG 6-411 Ryan Boatright Aurora East HS, Aurora, Ill. PG 6-012 Joshua Henderson Cave Spring HS, Roanoke, Va. PF 6-1113 Marshall Plumlee Christ School, Arden, N.C. C 6-1114 Michael Chandler Lawrence North HS, Indianapolis PF 6-1015 Christopher Manherz Cardinal Spellman HS, NYC C 6-8Head coach: Larry KrystkowiakAssociate head coach: Scott WillardAssistant coaches: Willie Holliday and Francis Williams