Bitburg, Würzburg start strong in volleyball finals
by
Rusty Bryan
October 31, 2003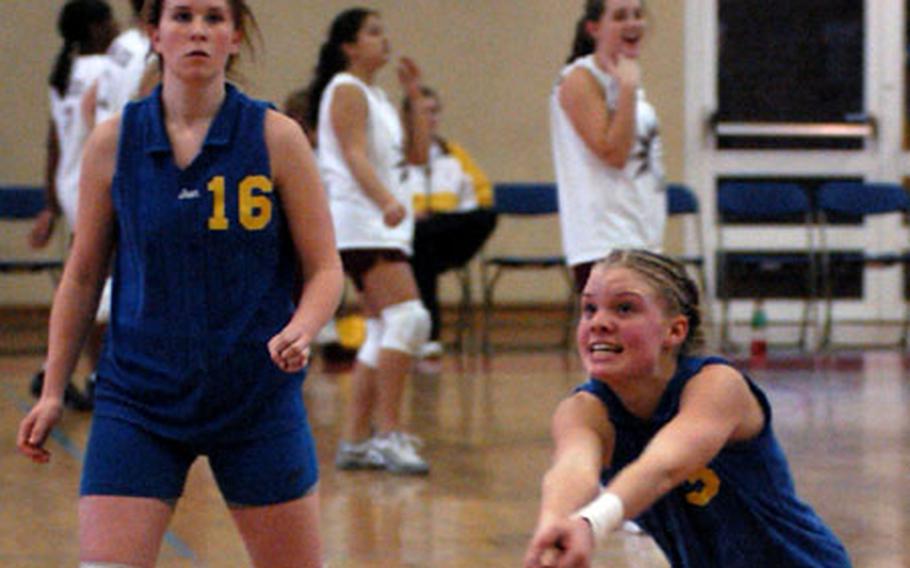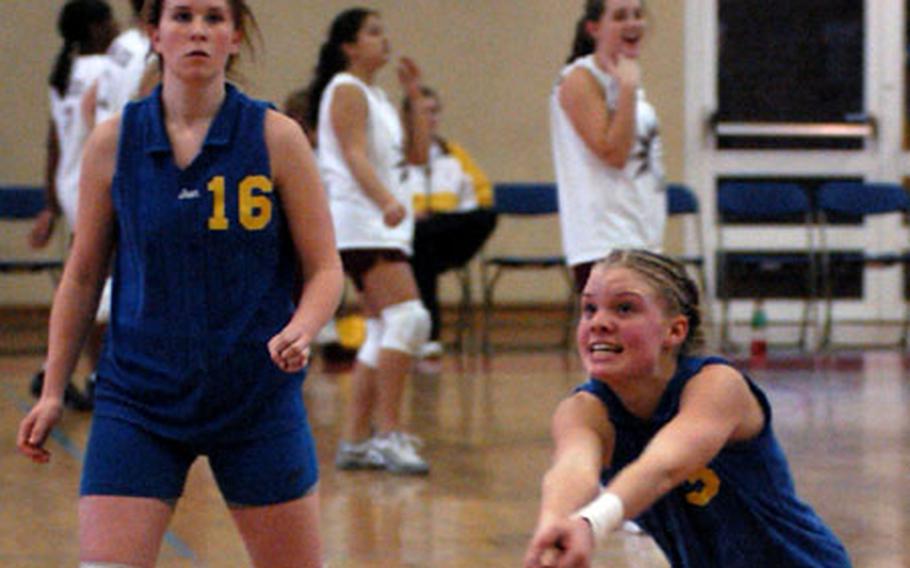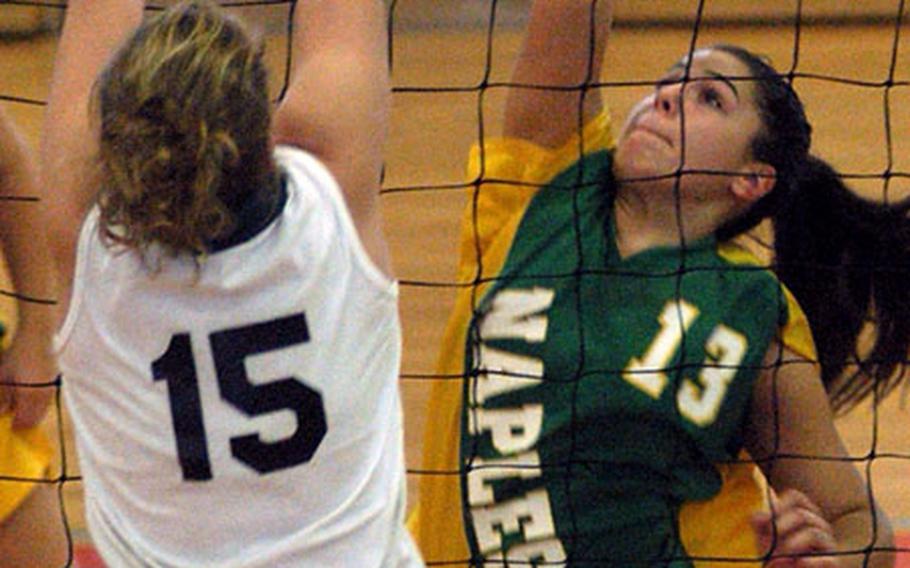 MANNHEIM, Germany — The top seeds rolled through the competition at the start of the 2003 European Division I and II high school girls volleyball tournaments on Thursday.
"We came here to get the job done," Bitburg hitter Amanda Bussmeyer said after her Lady Barons, the top seed in the eight team Division II field, claimed their third victory of the day in straight sets, 25-18 and 25-7 over sixth-seeded AFNORTH. "We want to win for our seniors."
Also taking care of business in the early going was defending Division I champion and No. 1 seed Würzburg.
The Lady Wolves won their first three matches, although they were taken to the decisive third game in two of those victories — 22-25, 25-20, 15-13 over sixth-seeded Lakenheath and 25-19, 14-25, 15-8 over third-seeded Heidelberg.
Würzburg (6-0) and Bitburg (7-0) came into the tourney unbeaten in conference play.
But there's unbeaten ... and then there's unbeaten!
"We've only lost one game all season," said Bitburg hitter Bethany Poese, who like her linemate, Bussmeyer, transferred from the States to the Lady Barons this season. "We needed four games to beat BFA."
BFA, or Black Forest Academy, is the four-time defending European Division II champion. But the Falcons are seeded seventh this year and couldn't duplicate their regular season accomplishment on Thursday.
Bitburg thumped BFA 25-11 in the first game, behind four kills from Poese and seven service points from Nadia Parker. The Lady Barons finished the match with a 25-15 victory, thanks to 11 service points by Chelsea Gavagan and two kills each by Parker and Bussmeyer.
Parker and Poese also combined to do most of the damage in the deciding game against AFNORTH, at least until Bitburg coach Dick McWilliams decided to clear the bench.
Bitburg jumped out to a 10-0 lead behind three Parker kills, set up by Katie Castro.
Parker amassed five kills before she left with the score 19-5 and watched from the bench as sub Ashley Kazimer served out the match with five straight points.
"I think we're pretty comfortable with each other," Bussmeyer said as the Lady Barons awaited their fourth and last match of the day, a showdown against second-seeded Patch.
The Panthers won their first two matches against BFA and Hanau, but needed three games to get the job done in each.
Round-robin play in the Division I and Division II events continues Friday at the Benjamin Franklin Village Sports Arena and Sullivan Barracks gym, starting at 9 a.m. In addition, the six-team, two-day Division III tournament opens at 9 a.m. at both venues.
The Division III teams wrap up their round-robin at 9 a.m. Saturday. Consolation play in all three divisions follows, with the best-of-five championship matches scheduled for 1 and 2:30 p.m. Admission to any and all games is $5 for adults and $3 for students.