Bitburg resurgence earns Laue award
---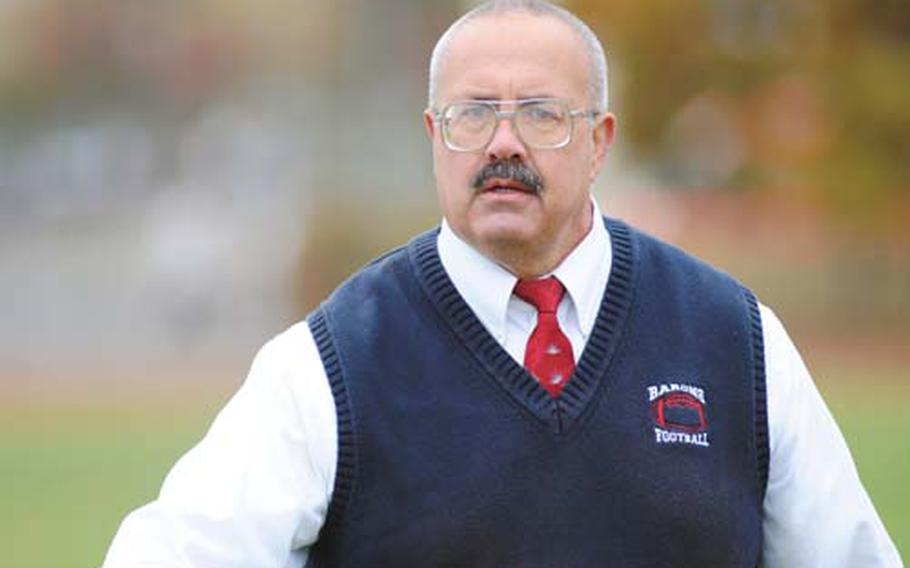 After his team lost its first two games, the last thing on Bitburg football coach Mike Laue's mind was a Division II title, but neither Laue nor his team was ready to give up.
"We had a good bunch of kids," Laue said last week. "They knew they had to make adjustments."
Laue moved some people around on the line and went "back to basics" — adjustments that led to the Barons reeling off six straight victories, culminating with a Division II title over mighty Ansbach.
"It's always good to beat good teams," said Laue, "because it's good to know the kids can progress to become the players they can be."
For his part, Laue was named the European Football Coaches' Association 2009 coach of the year.
ISB coach Wil Vreudenhil noticed the steps the Barons made between the Raiders' Sept. 26 victory at Bitburg and the rematch in the Division II semifinal, won 28-12 by the Barons.
"I think the difference … was they had the size and they learned how to use it," he said in an e-mail. "Their big boys [e.g. linemen Darian Billups and Pat Williams, both 275-pounders, and Adam Smith, a 295-pounder] definitely came out to play in the semifinal game."
The Barons were a different team on defense, too, holding ISB running back Gino Culotta, who was averaging more than 200 rushing yards per game, to 110 yards on 21 attempts.
"Their defense did a great job overall," Vreudenhil continued, "… it was definitely a team effort that stopped our offense."
As always, Laue's 2009 Barons lined up in Laue's ground-hugging wishbone and emphasized the use of muscle on both sides of the ball.
"We run the wishbone mainly for personnel reasons," Laue said. "In DODDS, lots of people come and go each year. Some of them have never played before and few of them have much experience playing together."
Climate, particularly as exemplified by the dreary rain-slick conditions at Baumholder on Super Six championship Saturday, also plays a part in Laue's choice of offense.
"In the Eifel (mountains, where Bitburg is located), we practice in the rain almost every day" said Laue, who capped his sixth season at Bitburg with his second D-II crown in the past four years.
It also doesn't hurt to have talent.
"We're fortunate to have the athletes we have," he said, "and fortunate that we got stronger than we were at the beginning of the year."
The coach noticed something special about his 2009 Barons.
"Every team has its own character," he said, "but the thing that really jumps out to me about this team is how really unselfish they were. They were willing to do anything to help us get better."
They also were in the perfect system, according to Marcus George of Ansbach, whose team fell to the Barons 19-6 in the title game.
"The wisest coach gives his kids something they can do," George said. "They did a fantastic job in the championship game, and that's why he's coach of the year."
Laue succeeds Brad Shahan of Heidelberg as the EFCA's fifth coach of the year. The selection, however, is far from being all his doing, Laue said.
"Anytime you're voted an honor by your peers, it's a big deal," he said. "But you don't get there without others – players, coaches, volunteers, the community. This is something for the program, not just me."
---
---
---
---