Softball preview
Big-school race appears wide open; Sigonella is small-school favorite
by
Gregory Broome
March 21, 2019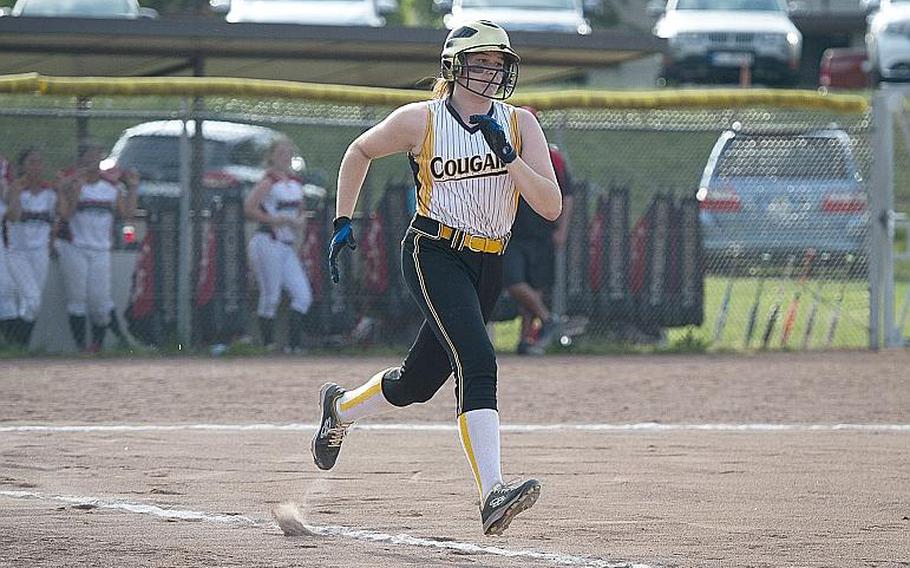 Opportunities abound in Division I as the 2019 DODEA-Europe softball season opens this weekend, while a dominant defending Division II/III champion looks to continue its small-school reign.
Division I The Kaiserslautern Raiders edged the Lakenheath Lancers 9-8 in last year's large-school championship game, a departure from years of dominance by the Ramstein Royals and Stuttgart Panthers. The Raiders' dramatic title run included a 5-4 semifinal defeat of Ramstein, its neighboring rival and longtime nemesis.
While that 2018 team will feature prominently in Kaiserslautern's athletic lore, not much of it remains to take the field in 2019. Head coach Jesse Costa has just six returning players, most notably standout pitcher/infielders Abby Young and Catherine SanMiguel, in what she characterized as a "rebuilding year" for the defending champs.
Perhaps a team on a similar trajectory will step into the breakout role. Like Kaiserslautern before its 2018 title, the Vilseck Falcons have lingered on the cusp of a championship for years, taking a one-run loss to Ramstein in the 2015 title game and bowing out in the semifinals the three years since.
This year's team might be the group that ends that trend. Coach Jim Hall returns 11 varsity players from last year's strong roster, including eight starters that will give the Falcons a head start on team-building in an already short season further disjointed by a week-long spring break in April. Hard-hitting senior outfielders Cecelia Jackson and Joanne Baker and junior catcher Cooper Lazo headline a lineup that boasts experience, offensive punch and defensive acumen across the board.
Ramstein and Stuttgart, meanwhile, will be determined to regain their places in Saturday's final after being deposed in 2018. Ramstein routed Stuttgart for the 2017 crown, while Stuttgart collected the 2016 crown when that year's championship game was called off by rain. The Panthers field a deep and talented roster around the battery of Rachel Johnson, a junior catcher, and her sister, freshman pitcher Rebekah Johnson.
Returning runner-up Lakenheath faces an even starker version of Kaiserslautern's challenge with just five returning players and a pair of incumbent starters.
Naples, Vicenza, SHAPE and Wiesbaden round out the Division I field. The Wildcats lurk as a particular threat as head coach Amy Driscoll reports several promising new arrivals in support of All-Europe catcher Mia Rawlins and senior Marissa Dye. Rival Vicenza will challenge the Wildcats with 11 returning players, including All-Europe selection Chenoa Gragg. Senior pitcher Allison Urick is the All-Europe foundation for a new-look Wiesbaden team.
Division II/III Most small-school softball teams are searching for solutions to lineup vacancies in the early stages of the spring season. But the Sigonella Jaguars aren't most small-school softball teams.
The two-time defending Division II/III champions have far more answers than questions on their roster. The Jaguars return nine players from last year's championship squad, among them senior standouts Hannah Davis and Jessica Jacobs and returning tournament MVP Averi Chandler, to form a 2019 team with a deep pitching staff, solid defense and an offense capable of huge innings.
Among the contenders in line to challenge the Jaguars' title reign are returning runner-up Hohenfels, which impressed in a 4-2 title-game loss to a Sigonella team that had previously overwhelmed all opponents, and 2018 semifinalists Rota and Spangdahlem. Rota welcomes stateside transfer Sydney Carroll, a versatile junior, to a strong core of nine returning varsity players led by All-Europe infielder Elizabeth Lamb.
Twitter: @broomestripes