Big-hitting senior Austin seeks last title with Royals
by
Rusty Bryan
October 28, 2009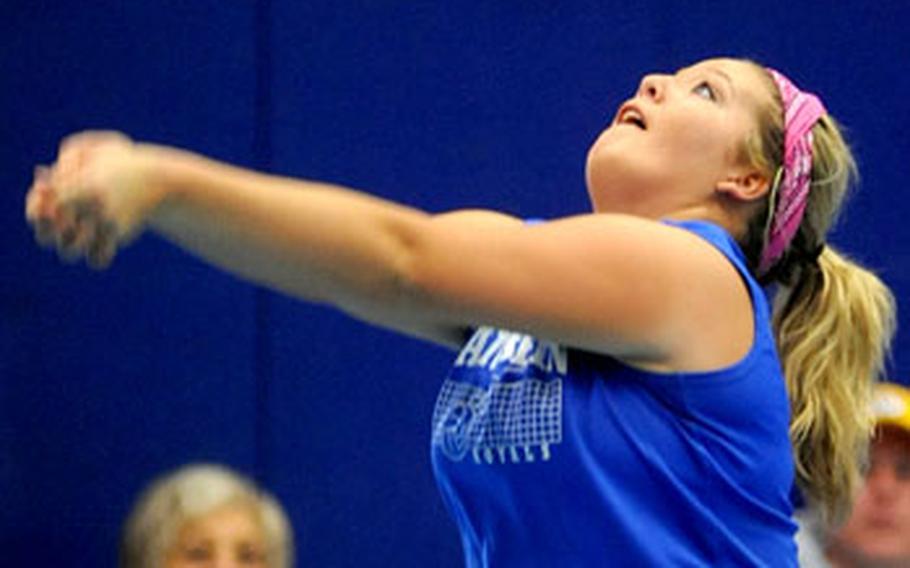 RAMSTEIN AIR BASE, Germany — Leave it to two-time All-Europe setter-outside hitter Charnel Austin to accomplish a school first in her last season at Ramstein. Austin, according to Ramstein coach Hia Sebastian, is the first in Ramstein volleyball history to play on the varsity squad for four years.
Austin hasn't just been passing time, either. She has contributed to two European championship teams, and is looking to make it three next week. Ramstein is unbeaten this season and looking to avenge last year's epic five-set loss to Heidelberg in the championship game.
"We lost last year," Austin said Monday about the end of Ramstein's streak of three consecutive European Division I titles.
"That makes motivation for me."
Austin's statistics provide a glimpse into the strength of that motivation. With six games left in the regular season, the senior has matched last season's total kills, 93, and has 104 assists so far, just one fewer than last year. Those numbers have helped the Lady Royals to a 10-0 season and Austin to a conclusion that might give pause to other schools chasing that D-I crown.
"This is the best team I've been on in my four years at Ramstein," she said.
Austin is a key cog in that team's quality, as are her classmates, middle blocker Nadia Booker and All-Europe outside hitter Mackenzie Bannister.
"I'm very comfortable with them," Austin said. "We're like sisters on the court. We know what each of us is going to do."
Austin's stats tell part of the story of what she's going to do in any given match, but just a part. Her leadership and floor generalship provide more than mere marks in the scorebook, unless you count the final score.
"Her intuitiveness on the court," Sebastian said Monday when asked about her team captain and floor leader's greatest strength. "She can see what's happening on the other side of the net with one eye, then do the opposite on our side to counter it."
Austin developed her on-court intuition through a lifetime of volleyball.
"Volleyball's been my whole life," she said. "My mother (Gabriele Austin) played for the German national team, and my father (Gary Austin) has always played base volleyball. He's 43, but he gets to the height of a 20-year-old."
Austin said the intense concentration and communication her game requires is volleyball's biggest appeal to her.
"You have to be mentally focused all the time," she said. "You can't daydream out there even for a second."
Austin added that there's another reward to all that intensity, one which comes when the point is put away.
"Adrenaline rush," she smiled.
Austin, who's put her German-league career on hold this year while she graduates, attended summer camps at Texas State in San Marcos and the University of Texas in Austin as well as the DODDS-Europe camp at Aviano. Each paid dividends, she said.
"I loved them," she said, "especially San Marcos. You can't be shy out on the court, and at San Marcos, in addition to volleyball, they did a lot of skits to bring out your personality."
Beyond her last go at Europeans next week, Austin said she's 90 percent sure she'll accept an offer from Mount Olive College in Greensboro, N.C., an NCAA Division II school where former Aviano coach Hans Hillestad is an assistant.
There may, however, be other options.
"Coaches are knocking," Sebastian said.
Wherever she goes, Austin's prepared for both sides of the moving-on process.
"I'm looking forward to starting something new," she said, "but I'm going to miss the girls and the environment here."