From the Stars and Stripes archives
Big cheese Favre pleases faithful followers
by
Harry F. THompson
April 6, 1998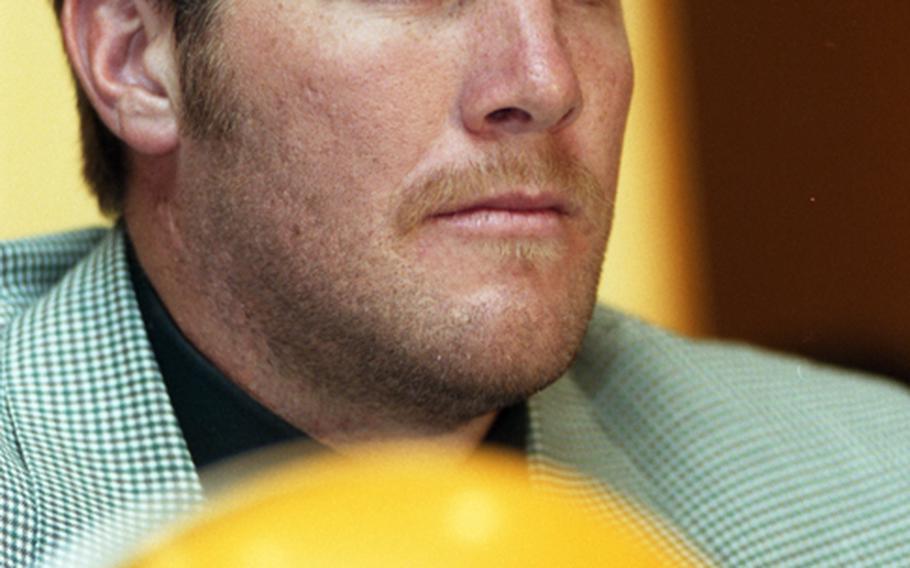 TAMA HILLS, Japan — Cheeseheads of the world unite.
After a long season of fleeing from bloodthirsty linebackers on the football field, Green Bay Packers quarterback Brett Favre couldn't escape a group of autograph hounds who tracked him down at this military-owned golf course west of Tokyo.
Faithful Packer fans, better known as Cheeseheads, waited patiently for their favorite big cheese to take a break during a marathon round of golf Friday to sign autographs and meet some of his most loyal overseas admirers.
Favre, who has led the Packers to the last two Super Bowls, is among the most popular players in the National Football League. His trip toTama was proof, attracting more than 40 fans from nearby Yokota Air Base on short notice.
"I tried to sneak away to play golf today and you see how it turned out. But it's fun," said Favre, who is in town to promote the American Bowl preseason contest against the Kansas City Chiefs.
"I wish I could do more things with not just the military but with different charities and stuff. I'm really so busy. It's hard but this is a time in my life where I might as well enjoy it and travel and see the world."
Negotiating Favre's next contract may take less time than it took Capt. Ben Ward to organize the day on the links. Base representatives spent the last three weeks talking with the NFL, the Tokyo Dome corporation and of course Favre, to iron out the arrangements. The final details were not firmed up until Ward met with Favre after Wednesday's press conference in Tokyo.
"It took a while to get everything organized, but once we locked and loaded a date, we were there," said Ward, the deputy chief of the 374th Services Division. "This was a great opportunity to bring someone like Brett Favre out to meet the military."
In addition to providing a military gallery, Ward also arranged for one Yokota golfer to tee off with Favre's foursome.
Dirk Nyland, a staff sergeant with the 315th Intelligence Squadron at Yokota, was picked from a pack of eager golfers to round out the f ivesome that included Favre, his agent and another friend and Tama golf pro Phil Denham. Four more Yokota airmen played in a foursome behind Favre.
"I was shocked when they called yesterday afternoon," said Nyland, a 16-handicap golfer. "When they called I thought they were calling to say I didn't make it."
After a sleepless night, Nyland hit the links early Friday morning to get in six practice holes before his playing partners arrived from Tokyo.
"I'm so nervous, I'll probably shank the first one," Nyland said prior to teeing off.
A long-time Detroit Lions fan, Nyland thought about wearing his Barry Sanders jersey, but decided it was better to use a little pigskin diplomacywith the Packers star. After all, they don't call it the "Black and Blue division" for nothing.
"He did ask me who my favorite team was and I told him the Lions," said the Comstock Park, Mich., native. "He said that's OK, everyone has to have a team."
The Packers were definitely the team of choice among those who waited for a chance to meet the three-time Most Valuable Player in the NFL. The cheeseheads were out in force, with Justin Mayer of Oshkosh, Wis., sporting a plastic wedge of cheese on his head.
"My friend called me last night to tell me Favre was going be out at Tama and I almost dropped the phone. Luckily I switched my days off," said the senior airman assigned to the 374th Transportation Squadron.
After missing the last American Bowl two years ago, Mayer guaranteed he and his cheesehead will be in the Tokyo Dome on Aug. 2 for the game.
"This will be the first Packers game I've ever been to," said Mayer
There was even a baby cheesehead, seven-month-old Wyatt Berdinner. His parents Rhonda and Cory Berdinner are from Iron Mountain, Mich., about 90 miles north of Green Bay. Cory is a member of the 374th Security Forces Squadron.
Ward hopes to see more players from the Packers and Chiefs come back to Tama when they return this summer, and maybe even get a few to visit some of the local bases.
"We invited him back out in August with some of his teammates," said Ward. "Brett said he'd love to come back out, if his coach says yes."
No doubt the cheeseheads will be waiting for him.