Baumholder girls hand Ramstein first loss of season
---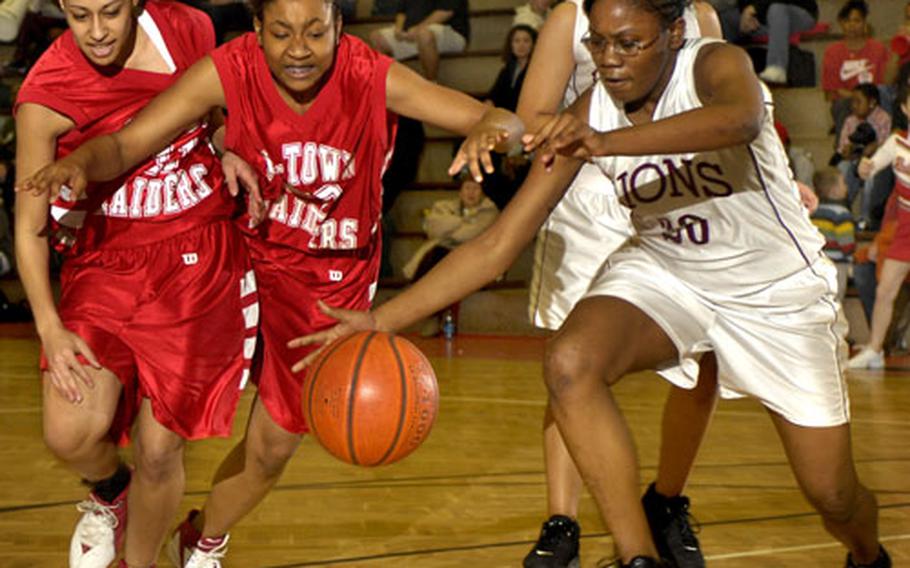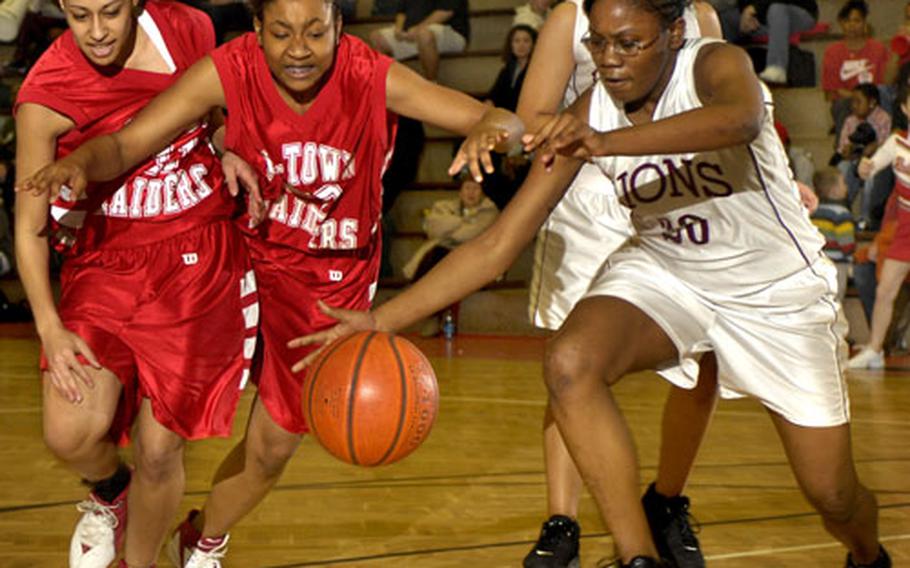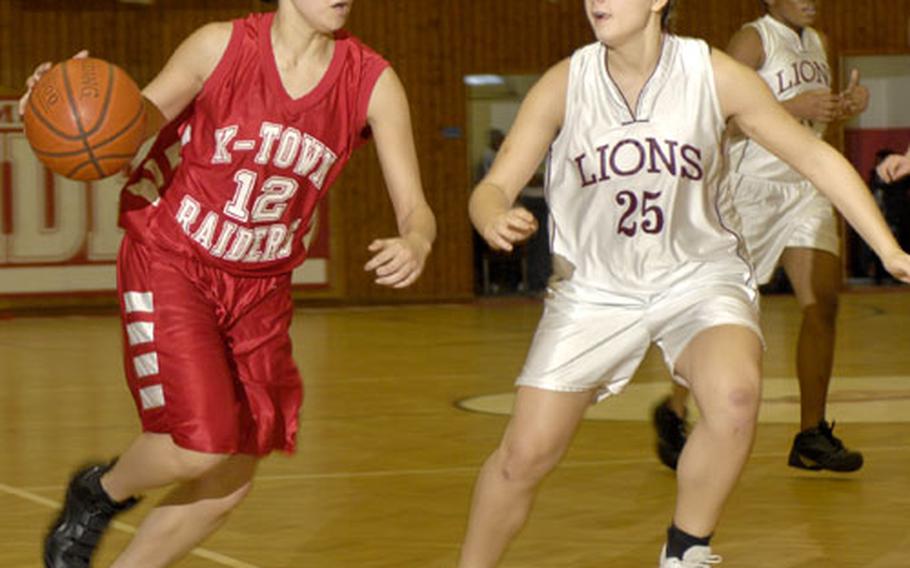 The Baumholder Lady Bucs, behind an intense effort on the glass and the defensive end of the floor, knocked the Ramstein girls basketball team from the ranks of the unbeaten on Friday with a 56-49 victory.
"Our main focus was defense," Baumholder coach Carter Hollenbeck said Saturday by telephone.
"We had a game-mode scrimmage during the week, but instead of counting baskets, we counted rebounds as points."
Freshman Elizabeth Styles scored the traditional way Friday night, registering a season-high 35 points. She also had five steals, while fellow freshman Veronne Clark posted 12 points and four steals.
Baumholder's effort in the paint made the difference, Hollenbeck said. Jasmin Thompson had eight rebounds, Katrina Alsup had six to go with four steals, and Alexi Velazquez chipped in with five rebounds and five blocked shots.
Latiya Harrison led Ramstein with 23 points. Sierra Stayberg, who had nine assists, added eight points and Christina Checotah seven.
"This is Baumholder's first victory over a D-I team since we beat Kaiserslautern in 2001," said Hollenbeck, whose Division III Lady Bucs (4-3, 2-3 Region II) dropped a 62-57 verdict to Ramstein in overtime to open the season on Dec. 4.
"It was a game to remember."
In other girls games of note over the weekend:
SHAPE 36, ISB 22: On Saturday at SHAPE, Belgium, Ebonee De Vos followed Friday night's 24-point, 10-rebound effort with 15 points and 10 rebounds for the Lady Spartans (8-0).
SHAPE won 50-22 on Friday. The sweep gave SHAPE a 4-0 Region I record heading into this weekend's regional games at Menwith Hill.
ISB (4-4 overall, in Region I) plays next at Ramstein.
Vicenza 45, Ansbach 26: On Saturday at Vicenza, Italy, Chakeira Gilbert scored 20 points and had five steals as the Lady Cougars (8-0) completed an inter-regional sweep of their Division II guests.
Gilbert scored 19 points in Friday's 38-15 victory.
Aviano 52, Milan 14: At Aviano, Italy, the Saints opened the 2008 portion of their season by completing a sweep of Milan and improving their record to 8-0. Aviano is 3-0 in American Schols in Italy League play.
Alyssa Lane led the way Saturday with 21 points, eight rebounds and eight steals. She also topped the stat sheet in Friday's 47-10 romp with 17 points, 13 rebounds and five steals.
Vilseck 50, Mannheim 46 (2OT): On Friday at Mannheim, Ashley Hicks scored 17 points and snared 17 rebounds in a game that saw the Falcons erase a five-point fourth-quarter deficit in a non-regional battle between D-II contenders.
Stevi Hood scored 13 points and Shamyra Coleman had 12 points and five steals for Vilseck.
Mannheim (4-2) came back on Saturday, claiming a 30-26 victory over Vilseck (5-3) as Veronica Sasa scored 13 points.
Menwith Hill 20, Brussels 17: On Saturday at Brussels, Menwith Hill held Brussels to four second-half points to claim its first victory of the season and snap Brussels' six-game winning streak.
Desiree Moore, who scored 10 points in Friday 31-27 loss, had eight on Saturday to lead the Lady Mustangs.
Naples 43, Marymount 13: On Saturday at Rome, Valentina Lee scored 22 points and Darien Moon 11 to lead Naples (6-0, 3-0 ASIL) to a road sweep of Marymount (2-4, 1-2).
Domingo, Hendrix lead K-town girls over AFNORTH
KAISERSLAUTERN, Germany — Lisa Domingo and Tylisa Hendrix each scored 13 points to lead Kaiserslautern to a 47-18 DODDS-Europe girls basketball victory Saturday against Region II foe AFNORTH.
The victory completed a weekend sweep for the D-I powerhouse Lady Raiders (7-1), who beat D-III AFNORTH 39-5 Friday.
The only consolation for AFNORTH (0-9) was that Jessica Stadler scored the first two points of the game. After that, Kaiserslautern went on a 12-0 run while holding AFNORTH scoreless for the rest of the quarter.
Kaiserslautern padded its advantage to 32-12 at halftime, using crisp passing to set up several easy looks under the basket.
Hendrix contributed three straight baskets from her low-post position.
"They played very well, very unselfishly," Lady Raiders coach Corey Sullivan said of her team. "They're never afraid to find the open woman.We always like to attack the basket."
The Lady Raiders scored only three points in the third quarter, but that hardly mattered as AFNORTH was limited to four.
"Here at Kaiserslautern, we've said for years that defense wins games, defense wins championships," Sullivan said. "It's one of the goals of our team, and our team buys into it."
—Steve Mraz
---
---
---
---