Baumholder girls down AFNORTH to win Division III championship
---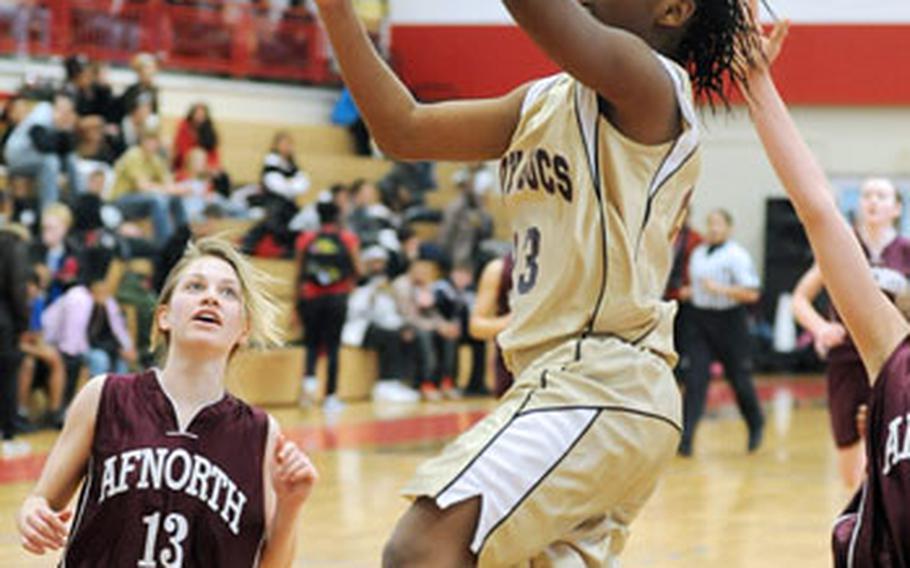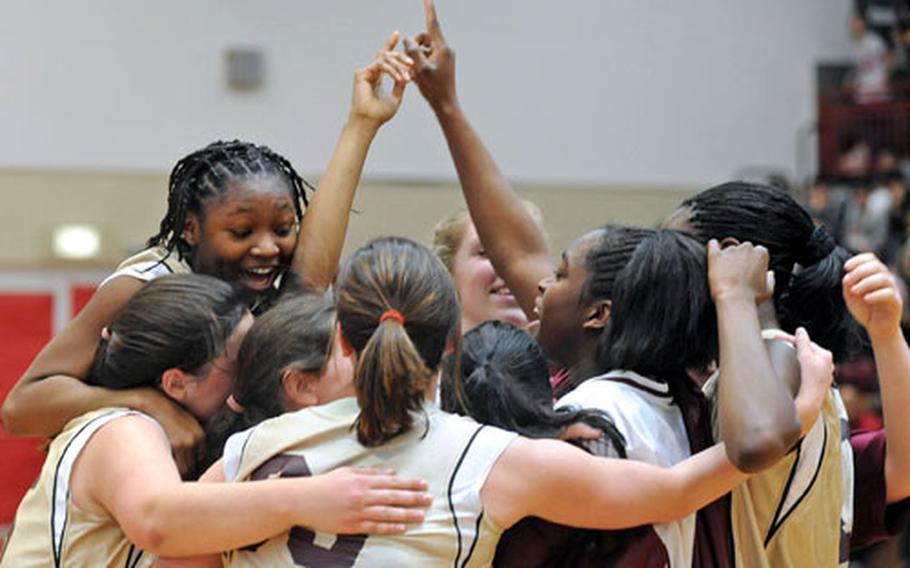 Photo gallery: Div. II and III championships
MANNHEIM, Germany — The Baumholder Lady Bucs finished an undefeated season Saturday by beating AFNORTH 56-47 to claim the DODDS-Europe Division III girls basketball crown.
Sophomore Elizabeth Styles led the way with 16 points and senior Katrina Alsup added 13 as the top-seeded Lady Bucs won their second consecutive championship. According to their coach, Carter Hollenbeck, the team is 31-0 dating to January 2008.
"We worked together as a team," Veronne Clark, the other half of the sophomore All-Europe duo with Styles, said after the game. "It's a big accomplishment."
Added Styles, who was selected the tournament MVP: "This was one of our goals when we started the season."
AFNORTH, the tournament's No. 2 seed, started strong, playing tough defense against the much quicker Baumholder squad. But the Lady Bucs can score in bunches, and they did, going on an 8-0 run late in the first quarter and moving to a 23-17 halftime lead.
AFNORTH hung tight, and was within five points in the third quarter before Baumholder redoubled its efforts and turned up its full-court press.
The press bothered the Lions, who began to cough up the ball. Several steals led to fast breaks with Clark, who finished with six points of her own, streaking down court and dishing out easy layups to Styles and Alsup.
Meanwhile senior Jasmine Thompson was coming up big on the boards, gathering in missed shots and putting them back up for two points. She finished the game with nine points.
By the fourth quarter, Baumholder had stretched its lead to 52-35. AFNORTH added several late buckets, but it could not catch the defending champs.
As the clock was winding down, Hollenbeck, who said after the game this is his final year coaching the team, gathered his starters on the sideline and spoke about what it meant to have a perfect season.
"It wasn't the best win," he told them. "But you just completed an undefeated season and that is pretty special."
He stressed that it was a team effort, and the girls showed it: When the game ended they gathered at the center of the court and lifted their hands together in victory.
Baumholder 56, AFNORTH 47(Saturday at Mannheim)
AFNORTH..........9 8 11 19—47Baumholder..........13 10 15 18—56Scoring—AFNORTH: Brenda Broadwater 12, Natalie Everingham 11, Kylee Winstead 8, Sara Sawyer 4, Kierra Tobiere 4, Nyekiah Deshazor 3, Jasmine Reedom 3, Angel Worth 2; Baumholder: Elizabeth Styles 16, Katrina Alsup 13, Jasmine Thompson 9, Veronne Clark 6, Megan White 6, Kendall Ladrillono 3, Chelsea Hall 2, Dontaya Powers 1.
---
---
---
---