Wrestler of the Year
Battle's experience showed in 135-pound title
---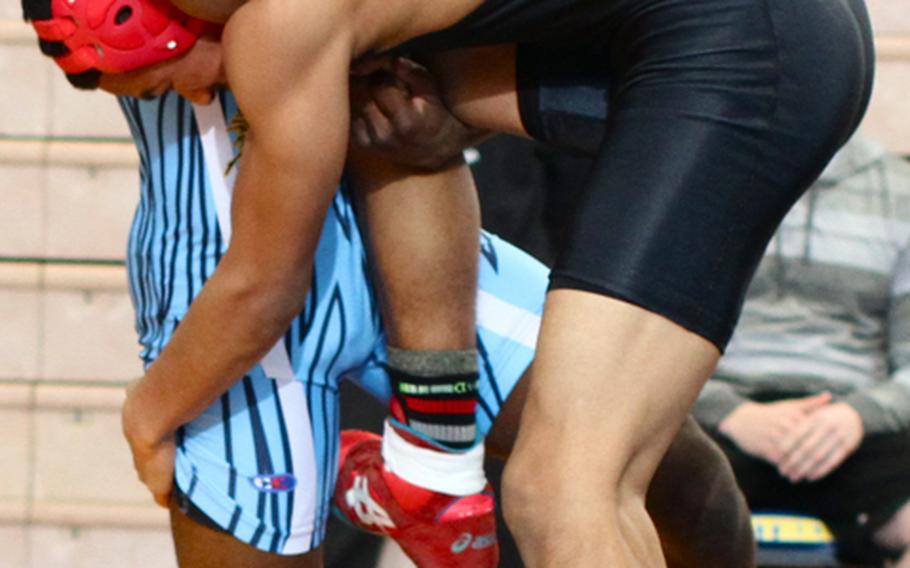 He'd arrived over the summer a seasoned veteran of the high school and invitational freestyle tournament wars, complete with a bronze medal from the 2012 state finals in North Dakota, and the promise of even bigger things in Panthers blue and gold.
Kalik Battle certainly did not disappoint, as the junior 135-pounder carved up the opposition in the just-completed 2012-13 season.
Battle went 32-0 and gave up just 12 technical points all season, didn't lose a period all season, winning golds in all five tournaments he entered, including Outstanding Wrestler honors in last month's Kanto Plain Association of Secondary Schools and again in the Far East tournament finals.
"He's unarguably the best I've had and one of the best we've seen over here," said Yokota coach Brian Kitts, who's helmed the team for nine seasons and worked as JV coach under Mark Hanssen prior to that.
For his efforts, Battle has been named Stars and Stripes' Pacific high school Wrestler of the Year for 2012-13.
Possessing a winning edge even before stepping on the mat Dec. 1 for the first time in the Robert D. Edgren Invitational was a product of his stateside background, Kitts said.
"The mentality there is different than for the kids groomed here," Kitts said. "There's a different level of competition. You have to have that work ethic already. Any piece of that missing and it's not going to happen for him."
Capturing all his honors out of the 135-pound weight class was not easy for Battle. He faced stern opposition within Kanto from Nile C. Kinnick's Alex Banks and Christian Academy Japan's Sam Johnson, and Vao Mustafa of Kadena, Brian Smith of Kubasaki and John Haas of Guam High from outside of Kanto.
Battle beat Johnson by two-period decision to win Kinnick "Beast of the Far East" gold in January, and beat him again in the Far East semifinals before outlasting Newbins for a two-period decision in the Far East championship. That's in addition to running the Kanto Plain regular-season table.
"How many wrestlers do you see go unbeaten like that?" Kitts said.
Unlike some who might beat their chests and proclaim greatness in different manners when accomplishing such things, Kitts said Battle is one of the most grounded wrestler's he's ever known.
"He's humble, hard-working and down-to-Earth," Kitts said. "It's his attitude. Any coach would love to have somebody like that."
All-Far East team101 pounds — Eddie Sheridan, Nile C. Kinnick; 108 — Daniel Mora, Kubasaki; 115 — Steven Walter, Kubasaki; 122 — Ryan Vasconcellos, St. Mary's International; 129 — Eric Overton, Christian Academy Japan; 135 — Kalik Battle, Yokota; 141 — Alex Rojas, Kadena; 148 — Austin Cyr, Kubasaki; 158 — Chad Wilder, Zama American; 168 — Jeffrey Koo, St. Mary's International; 180 — Mitchell Harrison, Zama American; 215 — Fred Suniga, Kubasaki; Heavyweight — Jesse Hogan, Yokota.
---
---
---
---