Boys Division III final
Bamberg too much for Bucs, everyone else
---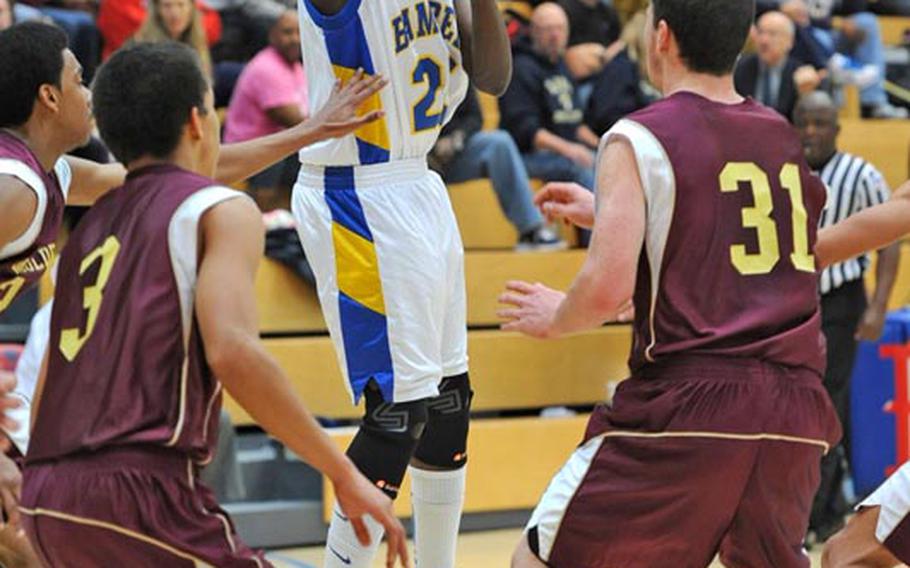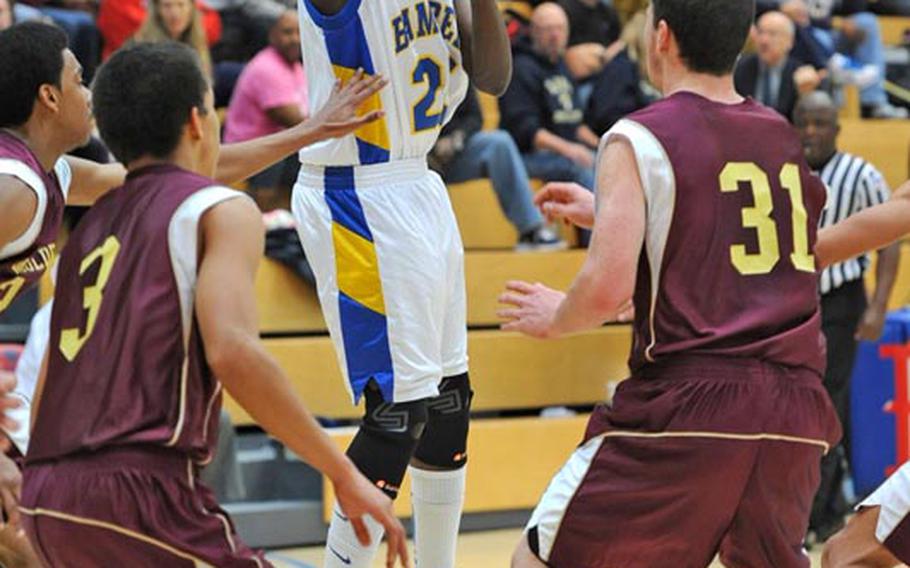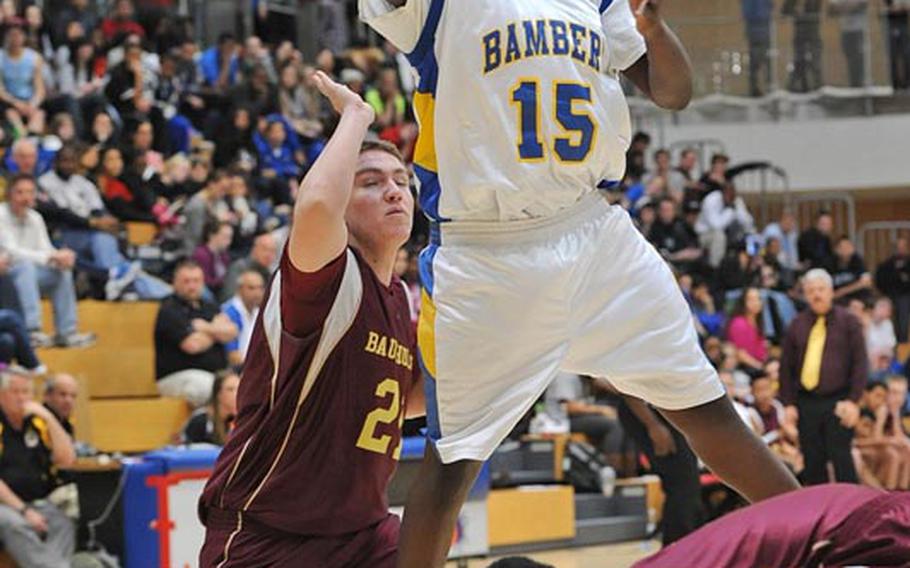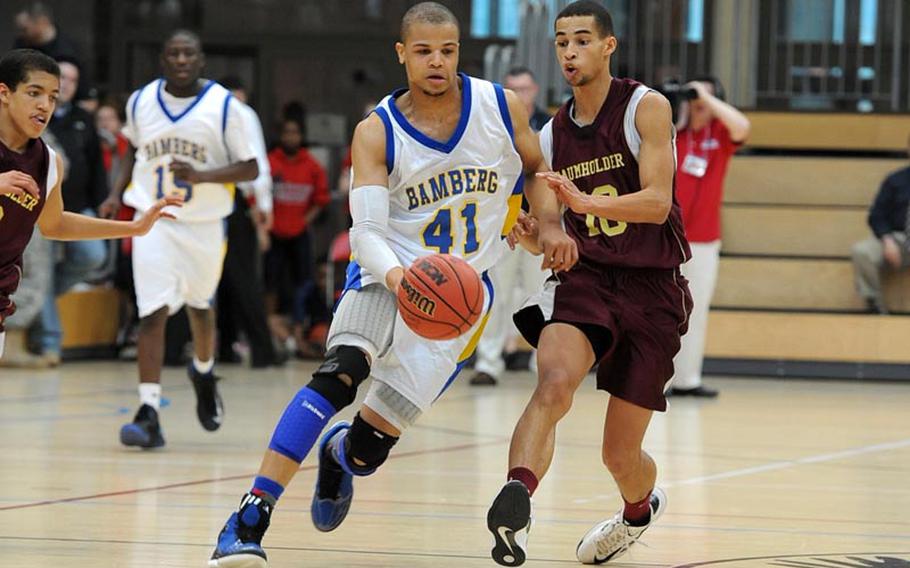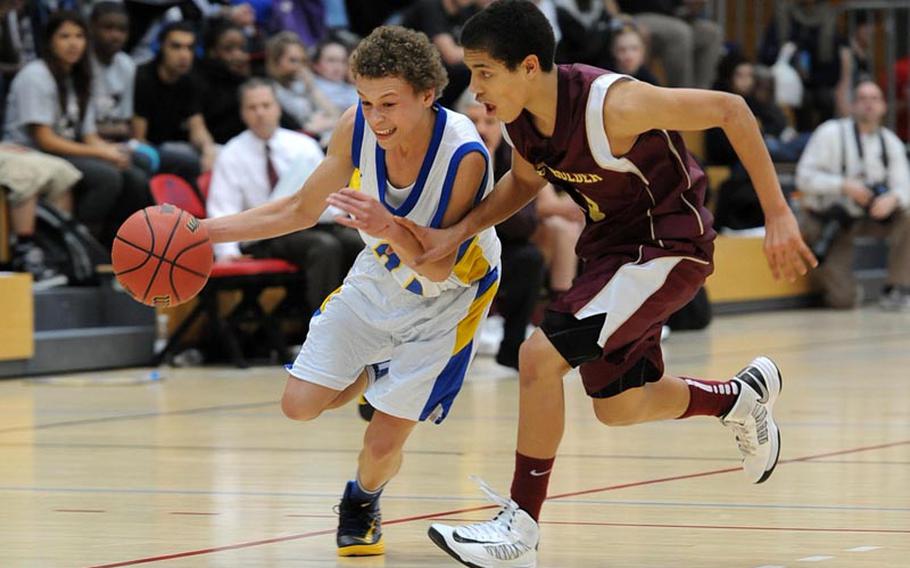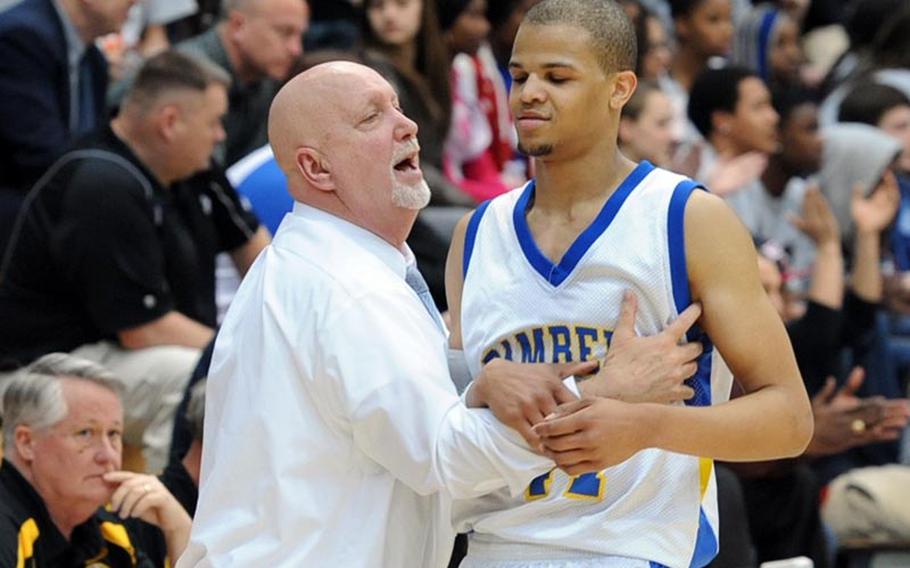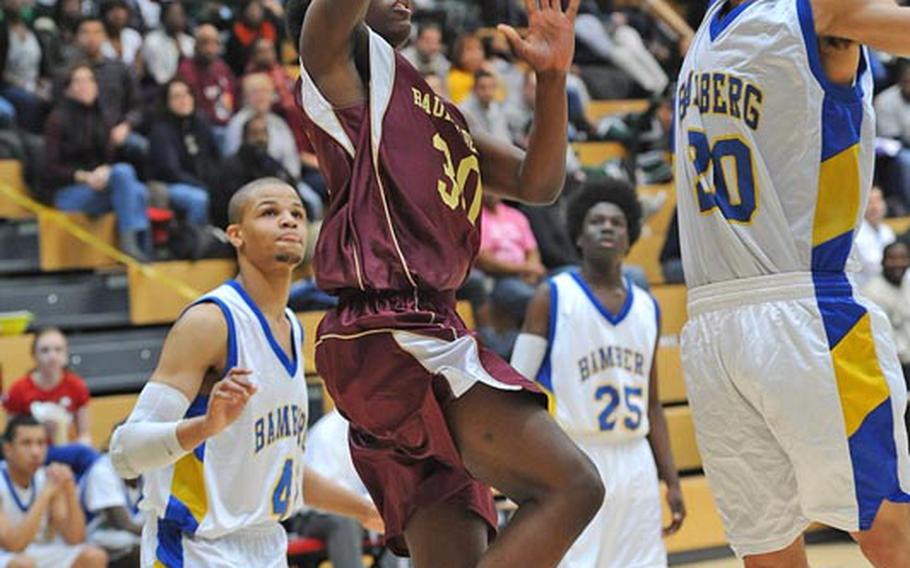 WIESBADEN, Germany – Bamberg took its seemingly pre-destined place atop DODDS-Europe Division III boys basketball Saturday.
But Baumholder sure made the Barons earn it.
A valiant Bucs effort forced the immensely talented top seeds into their toughest game of the postseason before Baumholder finally succumbed 59-43.
The Barons settled for a runner-up finish last year, bowing to a Rota team led by future Division I signee Tre'von Owens. But with Owens graduating and Bamberg returning its gifted core, a Baron takeover of the small-school ranks was all but assured.
The determined Bucs kept the question open as long as they could manage.
Bamberg shook off a sloppy start with a quick four-point sequence. Forward Andray Gibson lofted in a high-arcing jumper, and guard Jeremy Morgan piled on 20 seconds later with an acrobatic layup on a fast break. The scores put the Barons up 10-2 with 3 minutes, 50 seconds to play in the first quarter and prompted a Bucs timeout.
The break had the desired impact, halting the Baron momentum as the Bucs trimmed the lead to three with 3:29 to play before halftime. Freshman point guard Joseph Gouty punctuated the run with a three-pointer and a driving layup, prompting a timeout from the Bamberg bench as a jubilant Gouty pumped his fist.
"They did a good job. They took away some outside shooting. We started making some bad passes, we missed a few shots, and we got a little down on ourselves," Bamberg head coach Tim Smith said.
The Barons battled through the brief crisis of confidence. They restored their lead to 29-18 at halftime and sustained it by at least five points for the duration despite the Bucs' constant resistance.
"Let me tell you something about these guys," Baumholder coach Chris Clark said of his squad. "They don't quit."
The lone two seniors on the eight-man Barons squad were central in finally earning the title that had long eluded them. Terry Williams scored 17 and Gibson 16, while sophomore wing Andrew Reed also had 17 for the Barons.
With Williams and Reed absorbing the lion's share of Baron touches, Gibson embraced his role as the team's unassuming but irreplaceable workhorse.
"Whatever they need me to do, I'm gonna do," Gibson said.
The Barons, 11-3 in the regular season, were never seriously tested en route to the championship. They won their six games in Wiesbaden by an average margin of 31 points, with Saturday's 16-point margin representing their closest brush with defeat.
Bamberg's last DODDS title came in 2008, when the Barons edged Baumholder 44-42 for the Division III crown. DODDS-Europe was split into four divisions at the time.
But Division III foes may not have to worry about a Rota-style dynasty dominating their division. Gibson and Williams will move on, and the Barons may lose the skilled Reed to a stateside return.
Baumholder will move forward without the services of Ben McDaniels, a senior leader and multiple-sport standout who scored 14 on Saturday. Fortunately, the Bucs have Gouty as the centerpiece of a new era.
The smooth 5-foot-9 playmaker enjoyed a star-making turn on DODDS-Europe's biggest stage, pouring in a game-high 22 points that included 13 in the third quarter. The soft-spoken Gouty – the rare exception to Clark's stated disdain for freshmen in his rotation – hinted at more and better things to follow.
"Next year, I'm going to be way better," Gouty said.
Twitter: @broomestripes
---
---
---
---