Home Team
Bailey back with new perspective after health scare
by
Dave Ornauer
January 11, 2018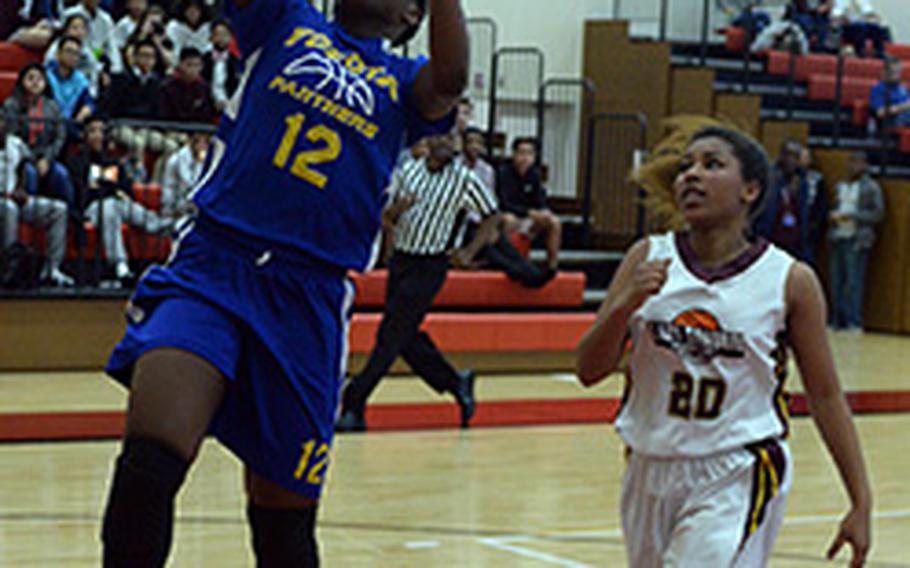 Things were tracking quite nicely for Jamia Bailey two months ago.
In her senior season as a Yokota guard, she was averaging 13.2 points. 3.7 assists and 5.8 steals per game as her Panthers won their first six games by an average of 24.7 points.
Her goal of winning four straight Far East Division II Tournament titles seemed well within reach.
But along came December, a couple of sub-par games … then the diagnosis that not only appeared to threaten her final season, but made Jamia and her family wonder if her life might be in danger.
Bailey was diagnosed with a collapsed vein and blood clot in her left pelvic region, which required a journey to Tripler Army Medical Center in Hawaii, the place of her birth, for two emergency procedures and a long while spent reflecting over the holiday period.
"It was shocking at first," Bailey said. "When I first heard 'blood clot,' I thought there goes the season and my goal, and I was scared because I want to play in college. It made me look at my future and everything I want to do, I'm probably not going to be able to do."
A three-sport star, Bailey has seven Far East D-II titles to her credit, two each in volleyball and soccer and three in basketball. Bailey calls herself a physical player, no matter what sport, and says the whole episode made her wonder how or when it happened.
"That's just how I play," Bailey said. That she'd had a clot made her question "the amount of times I dove saving balls, jumping, leaping, playing teams like Kadena and (American School In Japan), I was thinking how lucky I was that it (clot) didn't dislodge and move where it doesn't need to be."
According to healthline.com, a blood clot is dangerous in that no matter where it forms, it can break loose and move to other parts of the body, including the lungs, causing a pulmonary embolism.
"It's the most dangerous thing in the world," said Jamia's father, James, who coached her last season with the Panthers. It wasn't just basketball, but senior things, such as graduation, and her future that both he and his wife, Pia, a DODEA educator, were worried about.
"I was worried about her health. I would rather see her walking (at graduation) than to be wheeling anywhere," James Bailey said. "Mom was really upset, in tears when she first heard about it."
Even before Jamia said she'd noticed her leg swelling up, she'd been ill and saw limited action in Yokota's next two games, both wins. On Dec. 12, Jamia said, the swelling and pain "became too much for me."
A visit to Yokota hospital, a CT scan and Ultrasound revealed the clot. The family took her to Tripler on Dec. 17 and the first of two procedures took place on the 19th and the other on Christmas Eve.
By the time the family returned to Japan on New Year's Eve, "my leg was back to normal," Jamia said. "Definitely a happy New Year."
But with the new year came a new perspective. And there's a chance a clot could recur, she noted.
"Anything can happen at any time, no matter how careful you are," she said. "Knowing that I'm an athlete, it's common in athletes. People have gone through it, they bounce back and still play, but you have to be careful."
All the while, her Panthers team tried to soldier on without their point guard. They escaped with a one-point win on Jan. 5 at their chief rival the past two years, Robert D. Edgren, but then lost 51-39 the next day to the Eagles with Bailey unable to play.
"My first thought was for her safety and her livelihood, and my second thought was for her emotional stability, to make sure she was still grounded and understood what was taking place," first-year Yokota coach Byron Wrenn said.
"We talked to her about getting healthy first. Not to be so intently focused on returning to the floor, but to get healthy. Next thing was to be realistic and allow her to talk about the possibility of returning to the floor. It's a dream of hers and I didn't want to put a damper on her dream."
Moving forward, Jamia and her parents said they're looking for her to continue succeeding on the court, while taking precautions during something as innocuous as a long bus trip to Iwakuni or Misawa.
For example, a few minutes spent getting out of a seat during a highway bus stop can make a difference, since blood clots can occur when seated for a long time. "When the bus stops, the kids need to get off the bus, stretch those legs out," James Bailey said.
"It's an eye opener, not just for her, but for all athletes. I would hate to see that come down on another athlete. It might not be the same result," he said. "She has to ease back into it. You have to know when to rest the body. You have to know when to say when."
Jamia returned to the court on Thursday, with the Panthers winning 32-31 over Seisen. Bailey scored five points, including the game-winning basket, and had a key steal and in the final moments. Her father said she felt fine afterward, but that her legs were sore.
Jamia says she still plans to chase the D-II goal, but to also mind her body's signs. At this point, she doesn't plan to play soccer; her physicians warned her that playing the ball off the head could result in new clots.
"If you have a talent and you're good, don't let it go to waste," she said. "Something could happen and you might not be able to pursue that dream. You never know what could happen. Give it everything you've got. It can all go away."
Twitter: @ornauer_stripes