Aviano girls win Division II crown
---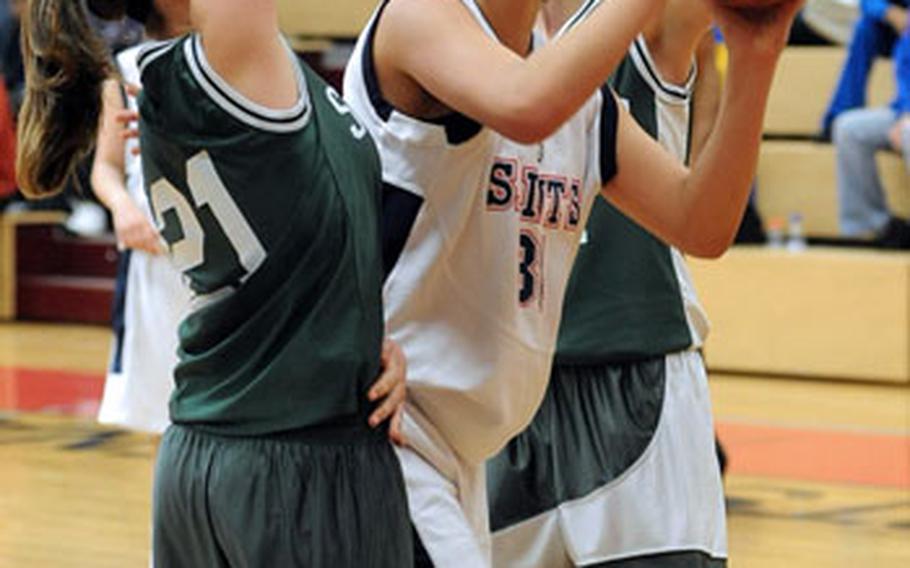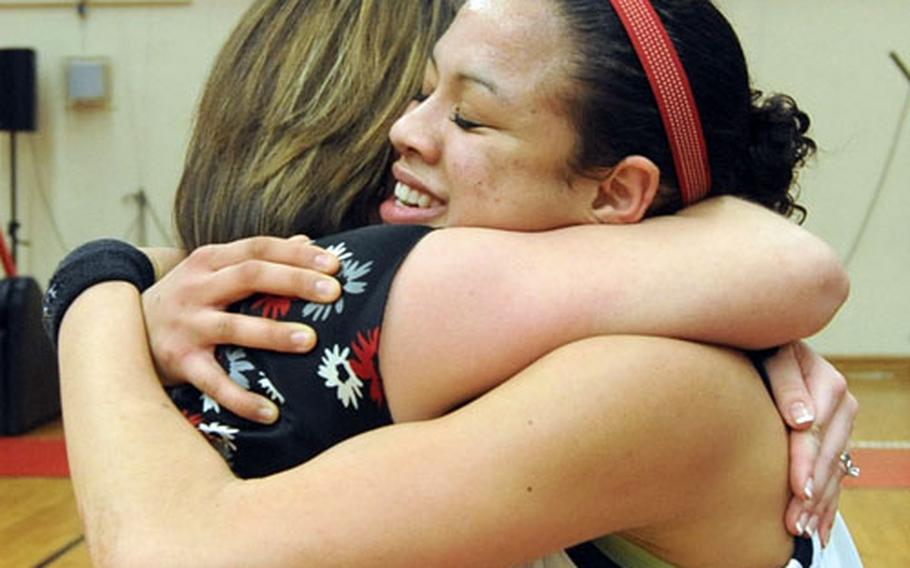 Photo gallery: Div. II and III championships
MANNHEIM, Germany — Aviano teammates Alyssa Lane and Jasmine Mailoto poured on the points as the Lady Saints toppled SHAPE 50-39 in the final of the DODDS-Europe Division II girls basketball tournament Saturday.
The victory enabled the Lady Saints, who finished the season undefeated and were seeded first in the tournament, to grab the crown that eluded them last year when they lost to Mannheim in the tournament final.
"I'm so proud of this team," coach Shari McGuire said. "They had a goal, and they took care of business both on and off the court."
Senior Lane, who had 19 points, and freshman Mailoto, who had 20, led the way for the Lady Saints, as they had much of the year. Senior Emily Cartwright also came up big, grabbing nine rebounds to go with six points.
"We all worked together as a team," said Lane. "We worked very hard all season and it paid off."
The game started as a see-saw match between the teams, and at the close of the first quarter Aviano led by three points.
Late in the second quarter, though, Aviano connected on two three-pointers, and that ignited ther offense.
The Lady Saints went on to score 18 points in the quarter for a 30-16 halftime lead.
In the third, Mailoto and Lane dominated down low, making strong passes to each other and streaking down the court to hit easy lay-ups.
The pair scored all but two of Aviano's 14 points in the quarter as the lead grew to 44-27 by the start of the fourth.
But just as it looked as though the Lady Saints were going to cruise to victory, Mailoto fouled out.
Without her inside, the Lady Spartans, led by sophomore Liene Bauska, who finished with 15 points, cut the lead to 10.
Aviano responded by slowing the tempo, passing the ball around the perimeter and keeping the ball out of SHAPE's hands.
The strategy worked: Aviano protected its lead as it ate up the final minutes on the clock.
When it became apparent the Lady Saints were going to be crowned champions, tears streamed down freshman Gabriella Dellick's face. Smiles and hugs were the more common reaction as teammates grabbed one another in celebration.
McGuire described the victory as sweet, and she wasn't referring to the fruit punch the players dumped on her after the game.
"This is awesome," she said. "We dreamt about this ever since we got beat by Mannheim last year."
Aviano 50, SHAPE 39(Saturday at Mannheim)
SHAPE..........7 9 11 12—39Aviano..........12 18 14 6—50Scoring—SHAPE: Liene Bauska 14, Samantha Saunders 13, Tammy Northshield 6, Emily DeVos 2, Michelle Schonberg 2, Amanda Shell 2; Aviano: Jasmine Mailoto 20, Alyssa Lane 18, Emily Cartwright 6, Gabbi Dellick 3, Audrey McGregor 3
---
---
---
---