Athletes deal with tough calls: Sports sometimes take back seat to Far East activities
by
Dave Ornauer Stars Stripes
October 22, 2009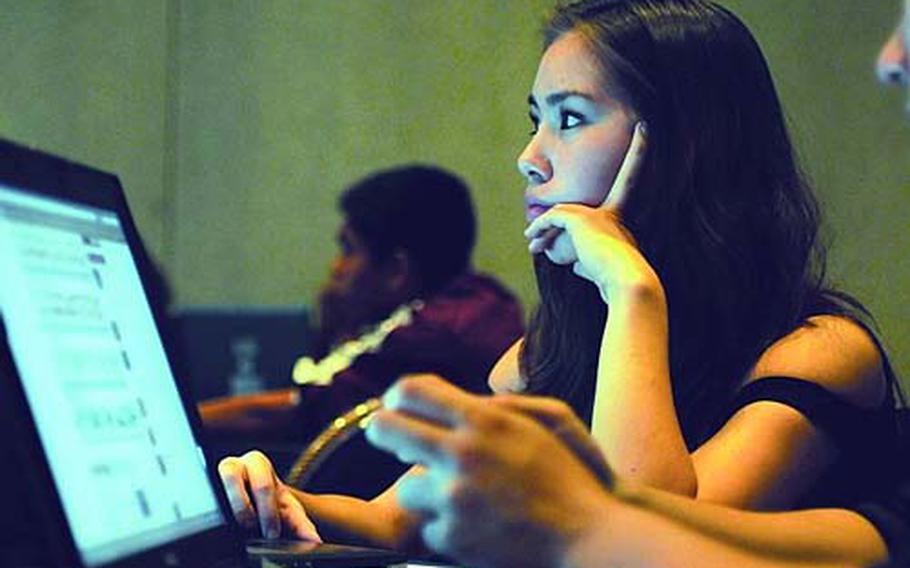 TOKYO — Darius Wyche listened attentively as Matthew C. Perry yearbook adviser Kevin Rossiter gave guidelines for the beginning photo and digital manipulation challenge to a group of DODDS-Pacific journalism and yearbook students at the New Sanno Hotel's Ambassador Room.
It was Day 1 of the three-day Far East Journalism Conference. And as it unfolded, Wyche, a sophomore yearbook staffer, found part of him was roughly 750 miles west, back at Daegu American, where his Warriors football team prepared for a crucial battle Saturday at Osan American.
"This is helping me out with my (yearbook) grade," said Wyche, a starting safety for the Warriors (5-0). They need only a victory to sweep the season series from Osan and secure host rights to the Far East Class A title game.
Part of Wyche would "rather be back home, getting ready," he said. "I know it's going to be hard work."
Wyche was not alone among students facing divided loyalties and tough decisions. Senior outside hitter Nicole Sparks of two-time defending Class A girls volleyball champion Osan was missing preparation for a Friday battle at Daegu.
Her coaches "weren't happy" at first about Sparks leaving. "It took a long time" for her to make up her mind, she said.
Sparks would not have come at all, she said, if Osan was playing a match. "Luckily, a Wednesday match was canceled, and I get back on Thursday so I'll be back in time for the game on Friday."
Nile C. Kinnick senior tennis player John Bogen missed Wednesday's matches with Christian Academy In Japan as well as preparing for Thursday's Kanto Plain Association of Secondary Schools tournament at Chiba, east of Tokyo.
"It's hard to balance two different hobbies," Bogen said, adding that Kinnick had to forfeit Bogen's No. 2 singles match with CAJ. Still, he said he appreciates the conference as a "learning experience" and that he "would have regretted not coming."
Such torn feelings are part of life within DODDS-Pacific's large variety of Far East activities — 19 total on the 2009-10 Far East Activities calendar.
Journalism leads that list. It welcomed 113 students, about 40 percent athletes, from 12 DODDS-Pacific schools to the New Sanno.
"I love it," new DODDS-Pacific director Diana Ohman said of the many activities. "Choices are good for kids, especially good choices."
DODDS students get far more choices than their stateside counterparts at larger schools, where they may be limited to one or two sports and maybe one or two activities. Sparks, for example, also does Junior ROTC, Model United Nations and National Honor Society.
"Here, everybody can participate in every single sport, and it's much easier to make a team here," Wyche said. "In the States, I might not have that opportunity."
With journalism going high-tech, "you take away this opportunity from the kids, they miss out on a lot of new things in the business," said Zama American yearbook adviser Richard Rodgers, who organized this year's conference. "And the kids still get the yearbook done."
Seven of the 19 activities are sports related. Some journalism team organizers felt there's a need for more non-sports activities.
"We need more on the academic and career side," said Seoul American journalism teacher David Clausen, who helped found the journalism conference in 1992 and has attended 13 since. "The more opportunities, the better. And it doesn't conflict with other Far East activities."
But it does mean missing out on other things. Aside from missing practice, senior backup quarterback Patrick Varner also missed homecoming week at Kubasaki.
"My last one, too," Varner said. "Not good."
Team chemistry also can become an issue. "We're trying to keep the team as solid as possible," Kadena junior cross-country runner Avery Lennard said. "Being in Tokyo, how is this going to affect me and the team?"
At least one athlete didn't hesitate. "I believe in my team and I know they're going to do well with or without me, so the choice was pretty simple," Perry senior tennis player Andre Bugawan said. His Samurai host E.J. King and Robert D. Edgren this weekend.
Once in Tokyo, there's also the problem of staying in game shape during the wide array of workshops, challenges and field trips.
Many spend time in the Sanno's gymnasium and swimming pool. "We're working out whenever we can," Wyche said of himself and teammates Jarett Waters and David Silva.
Kadena junior runner Andrea Grade says she's putting in "about 45 minutes to an hour" in the gym. Lennard said the team is considering making a run to a nearby park each day "and see how that goes. But that's difficult to do in Tokyo," she said.
Back home, coaches were carrying on without their scribes.
"We want kids to participate in as many activities as possible," Bogen's tennis coach Nico Hindie said.
While it's "tough," Hindie said, to play a strong CAJ team without a No. 2 singles, the journalism conference "is a once-in-a-lifetime opportunity. We wish we could have [Bogen], but there's more to life than tennis."