Wrestling Athlete of Year
Atchison set lofty goal and met it
---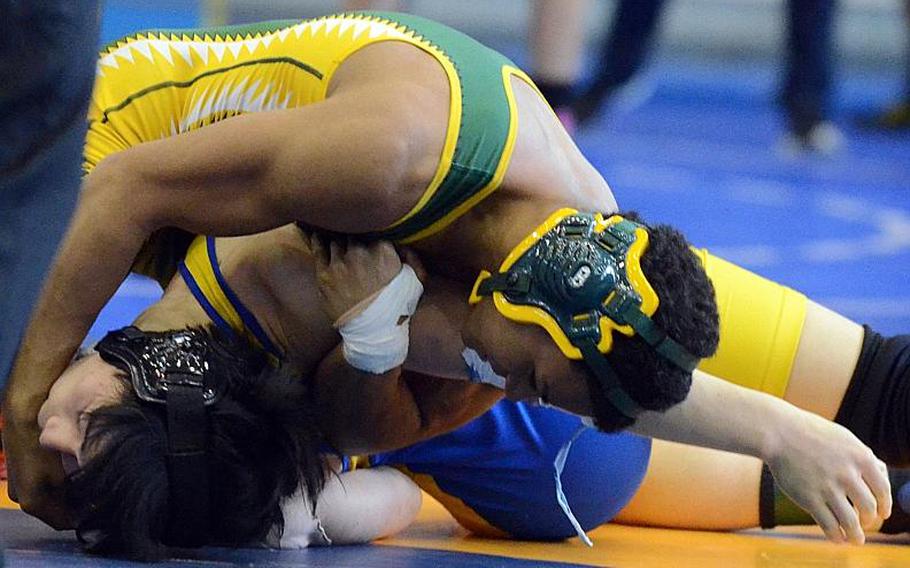 Kaleb Atchison could have been forgiven had he gone into full panic mode, trailing the 141-pound final bout on Feb. 13 6-0 to Kazuho Kawashima and just a two-point tilt away from losing for the first time all season, and by technical fall at that.
But he says he kept cool, waited for an opening, found one and took advantage, reversing into a chest press for a pin in 1 minute, 28 seconds that gave him a title and helped his Robert D. Edgren team to a sweep of both Far East High School Wrestling Tournament banners.
It was that same attitude, the same demeanor on the mat, that he says carried him to an unbeaten season and helped lead the Eagles to the best DODDS Japan Division II record as well as the Far East sweep.
"Before the start of the season, I told myself, I will be an undefeated Far East champion at 141, no matter what it takes, that is my goal," Atchison said.
"So, before every one of my matches, I thought to myself: 'You set this goal to be an undefeated Far East champion. Will you let this match take that achievement away from you?' Wrestling calm and under control was the key to all my matches, waiting for a move I was confident in."
That helped carry Atchison, a transfer from Texas who wrestled two years in Edgren green and gold, to a 19-0 record this season, with each win coming via pin. "I wanted a chance to get a (technical fall) but I never did," he said.
For his efforts, plus sharing Far East Tournament Outstanding Wrestler honors with three-time champion Jeffrey Koo of St. Mary's, Atchison has been named Stars and Stripes Pacific high school Athlete of the Year.
Opposing coaches saw the same qualities in Atchison, his ability to do whatever it takes to get the job done, whether in total command or fighting to come from behind.
"You see a confidence to come back, find some move to get into a pinning position," said Nile C. Kinnick coach Gary Wilson. "He looks just as confident whether he's four points down or four points ahead."
"His demeanor before or after a match, he always maintained a razor-sharp edge, always prepared for what was coming next," said Yokota coach Ty Gaume.
"Not only did he look like a wrestler, he acted like a wrestler. He always seemed to be mentally focused and aware of his surroundings and be ready to compete."
Atchison excels in other arenas besides athletics, his coach and athletics director said. Atchison maintains a 3.50 grade-point average and Edgren AD Andre Thibert said he serves as an "excellent" role model for his fellow students in and out of the classroom.
"He represents Edgren with pride," Thibert said.
"He's an outstanding leader and very supportive of his team and his coach," Eagles coach Justin Edmonds said. "And I like him."
Far East Wrestling Tournament champions 101 pounds — Chang Young Lee, St. Mary's International 108 — Zach Tyler, Kubasaki 115 — Kentaro Hayashi, St. Mary's 122 — Nate Abrenilla, Nile C. Kinnick 129 — Eric Overton, Christian Academy Japan 135 — Sam Johnson, CAJ 141 — Kaleb Atchison, Robert D. Edgren 148 — Austin Cyr, Kubasaki 158 — Tanner Stamper-Smith, Kubasaki 168 — James Alexander, Kadena 180 — Jeffrey Koo, St. Mary's 215 — Jack Barnes, Seoul American Heavyweight — Christian Fernandez, Kubasaki
---
---
---
---