Girls cross country AOY
ASIJ's Watanuki won it all again
---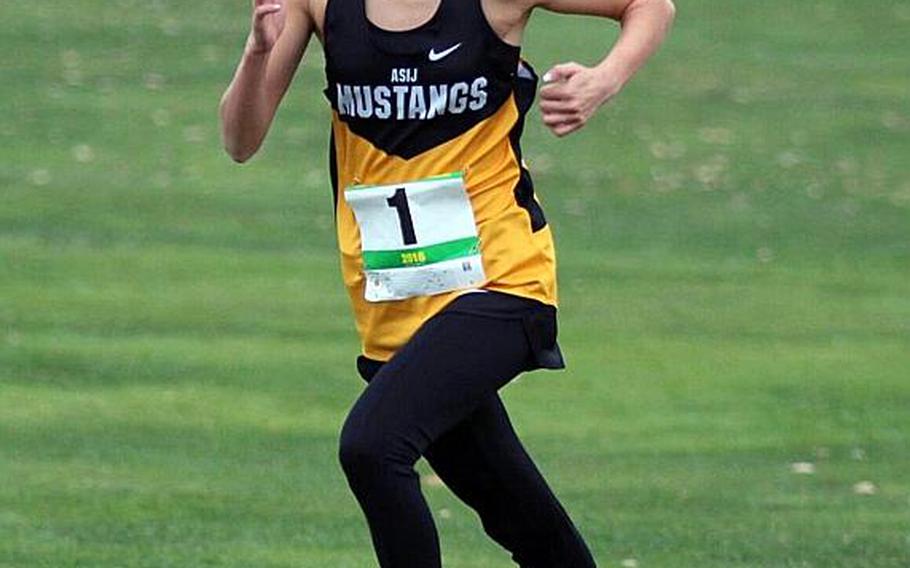 Lisa Watanuki has put her own personal spin on the term triple-double. Before 2014, no cross country runner had swept the Asia-Pacific Invitational, Kanto Plain finals and Far East meet titles even once.
But the past two seasons, Watanuki succeeded in completing the triple twice, and has repeated as Stars and Stripes' Pacific high school girls cross country Athlete of the Year in the process.
"I'm definitely super-elated that I was able to accomplish it all," said Watanuki, an American School In Japan senior.
Entering the 2015 season, "I didn't even think that I could win that triple crown until I did. All I had known then was I had to do as much as I could for my team," she said.
Coming into her final season last August, Watanuki said she set two goals: defending those titles and helping ensure her Mustangs would repeat as API, Kanto and Far East team champions.
"So, I trained hard over the summer and during the season with that in mind," Watanuki said, crediting her coaches Ryosuke Suzuki and Steve Welckle and teammates such as Emma Wingfield-Hayes for her success.
"Without my teammates and coaches, who always encouraged me to push myself up faster, whether it was by telling me to run with the boys or just cheering me on, I couldn't have done it without them," Watanuki said.
She went unbeaten in her final two seasons save for a Kanto Plain mid-week meet on Oct. 1 of her junior year, when she came in second.
The API-Kanto-Far East triple double had its genesis, Watanuki said, at the 2015 API on Oct. 16, at Upper Tumon, Guam.
It's what Watanuki says is her favorite race because it came unexpectedly and against a strong rival, Camden "Cricket" Richter of Hong Kong International, who led that race most of the way.
"I really do have 'Cricket' to thank for pushing me," Watanuki said. Richter led until the final lap, where Watanuki passed her going over a small makeshift hill.
"I remember how far 'Cricket' had been (ahead) in the beginning, but I hadn't given up my pursuit. It goes to show that is you don't give up, you'll make it."
During this season's sweep, Watanuki ran a personal best 19:32 in the Far East meet, took the API in 19:48.9 and in the Kanto finals broke the high school course record on the 2.1-mile girls course at Tama Hills Recreation Center in western Tokyo.
She was told by her coaches that her 12:36.5 in the Oct. 22 meet a week before Kanto finals was just shy of the Tama high-school record 12:34.1 set in 2014 by Brittani Shappell of Seisen.
"I was shocked but I also knew what to do then," Watanuki said. "I wanted to set that as a goal for myself" to end her career at Tama.
Watanuki shattered Shappell's mark by clocking 12:27.4. The overall course record remains 12:22.7 set by Shappell as an eighth-grader in 2013.
Twitter: @ornauer_stripes
Stars and Stripes' Pacific All-Far East girls cross country team Lisa Watanuki, American School In Japan, two-time Asia-Pacific Invitational, Far East Division I and Kanto Plain finals champion. Sarah Francis, Humphreys, Far East Division II and Korea district champion. Rissa Eilmes, Nile C. Kinnick, DODEA-Japan champion. Wren Renquist, Kadena, Okinawa district champion.
---
---
---
---