ASIJ denies Kinnick its first volleyball title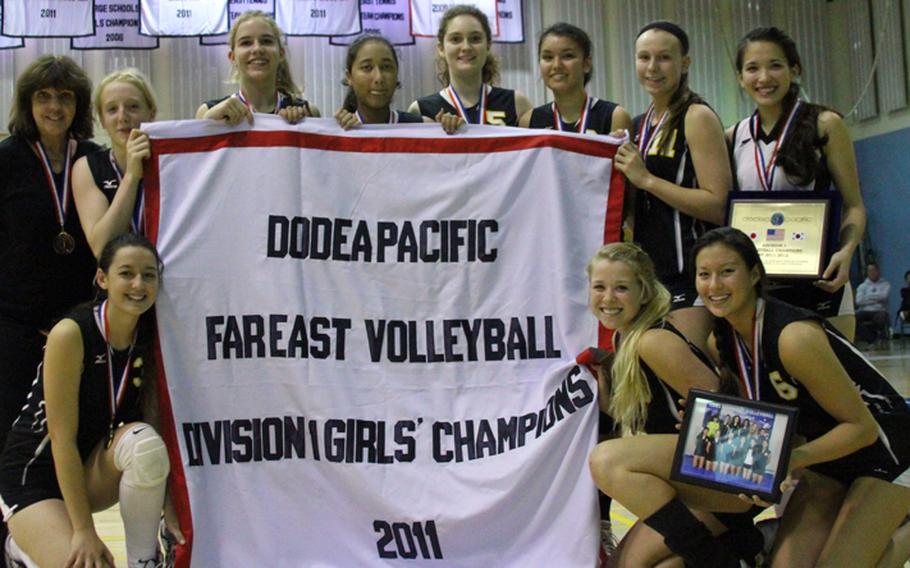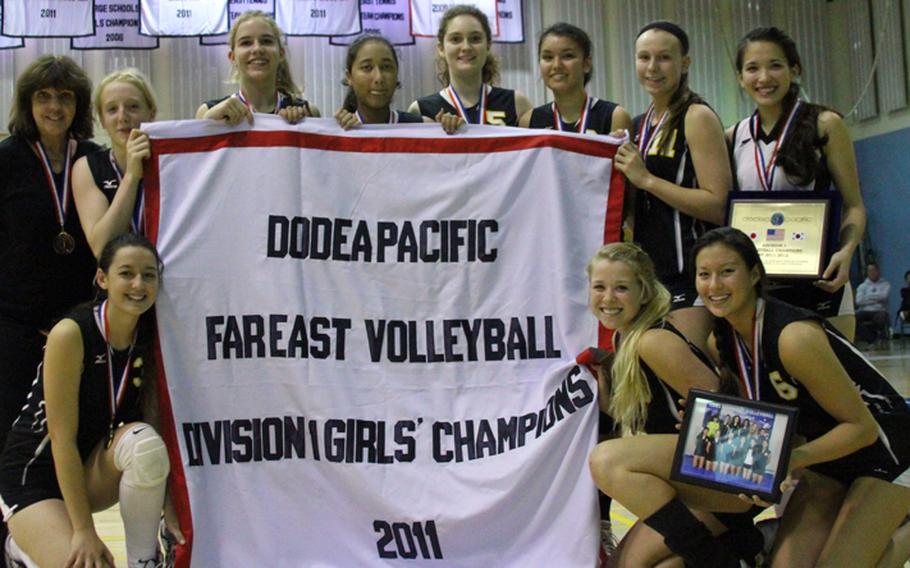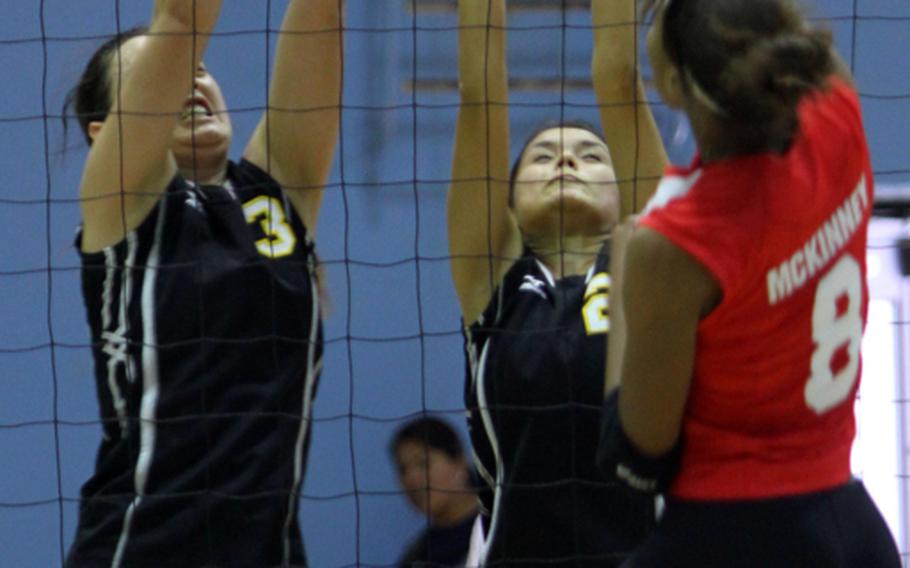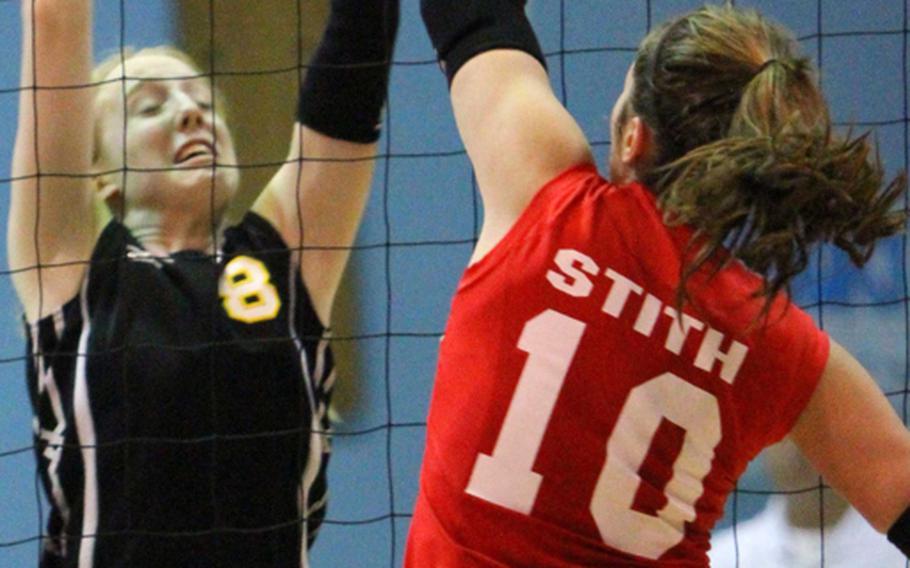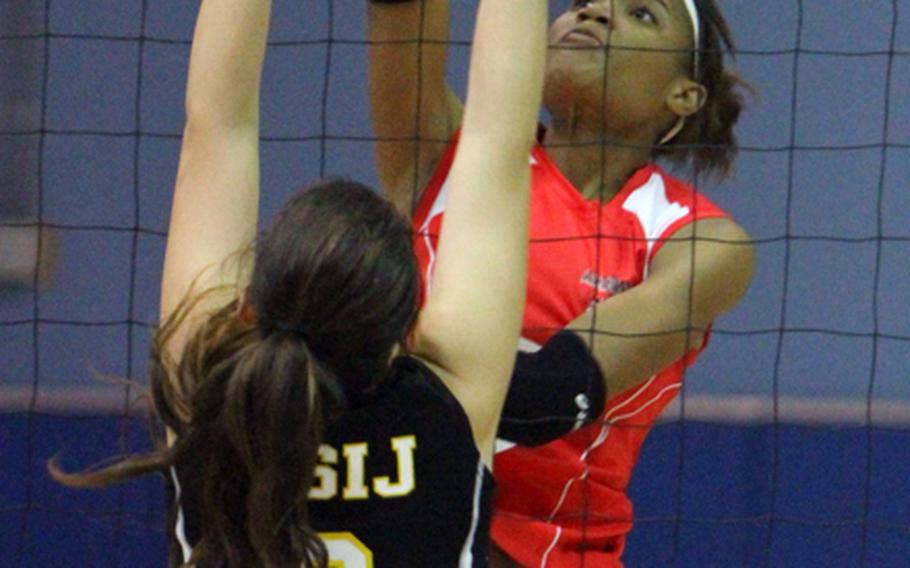 YONGSAN GARRISON, South Korea – Whenever somebody named Thornton plays middle blocker, Far East titles and MVP awards usually follow for American School In Japan girls volleyball.
That held true Saturday as Liz Thornton, a sophomore, pounded 15 spike kills in 34 attempts to power the Mustangs to their sixth Far East Girls Division I Volleyball Tournament title, sweeping Nile C. Kinnick 25-20, 25-12, 25-23 at Seoul American High School's Falcon Gym.
"I'm ecstatic," said coach Gail Lanier after ASIJ won its third gold medal in six years, each with a Thornton being named tournament MVP. In their previous two championship years, 2006 and '08, Thornton's sisters Catherine and Gwen were each named tournament MVP.
"These girls were awesome. They played great. We got down (in the third set), but they came back. An amazing group of young ladies. I couldn't be more thrilled. I'm so proud of them."
Elena Wadden added nine spike kills and Karan Zwaanstra six. Thornton added six service aces and setter Baileigh Gibson recorded 31 assists for ASIJ, which is expecting to return seven of the 10 players who suited up for Far East, Lanier said.
"It would be nice," she said, adding that all 10 players saw "substantial" playing time throughout the regular season and Far East, in which the Mustangs dropped just one set. "I'm very fortunate to have worked with them."
For the Red Devils, 76-2 in the last three regular seasons, this was as close as they came to the school's first championship, after finishing eighth, sixth and fourth in the last three Division I tournaments.
"We didn't end up playing the game that we wanted," coach Al Garrido said. "We worked hard, but ASIJ was the better team today. Our girls represented DODDS and Kinick very well. … It was a great tournament. I love this team, without a doubt."
Garrido is now 2-2 in Far East tournament finals, having won twice with Southern of Guam in 2000 and '02 and losing to Academy of Our Lady of Guam in 2003 before joining DODDS three years later.
Like the Mustangs, Garrido and the Red Devils are expecting to return a substantial number of players: six, four of them starters, including middle blocker Mashiya McKinney and setter Jerimae Capuyan.
"It looks pretty good," Garrido said of the future.
Emily Stith had 12 kills and McKinney eight, Capuyan had 16 assists and Kaile Johnson 10 defensive digs for Kinnick.
---
---
---