Army Ten-Miler elicits variety of emotions for runners
by
Lisa Burgess
October 9, 2006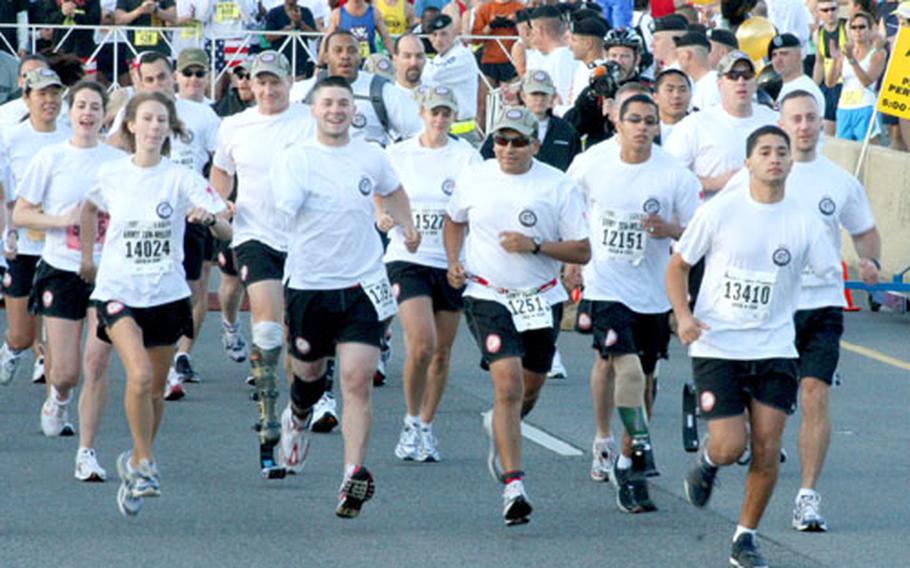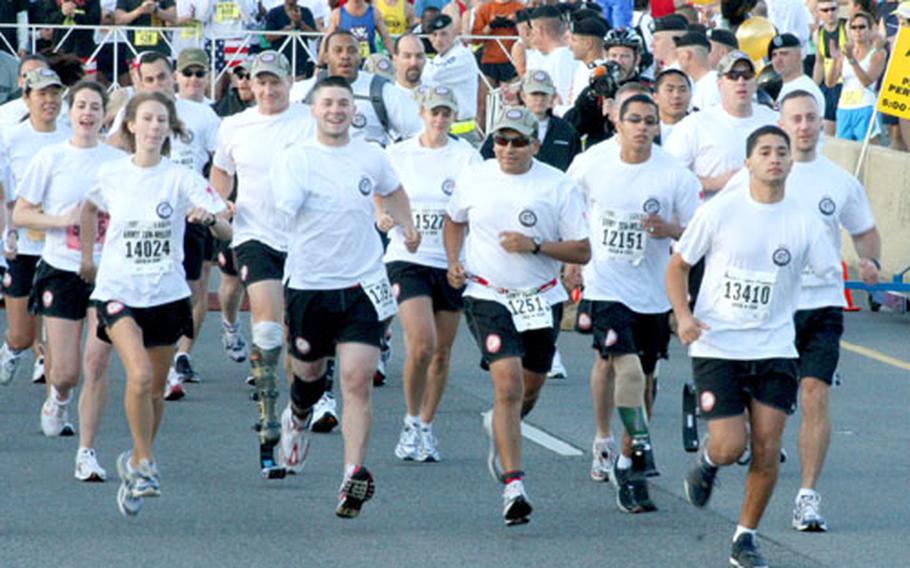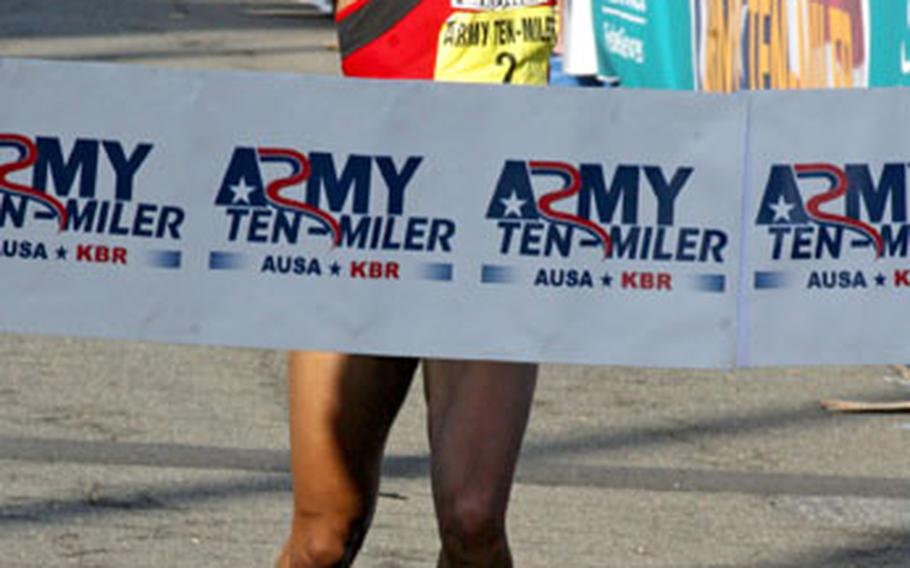 Click here for a photo gallery of the 2006 Army Ten-Miler.
ARLINGTON, Va. — The traditional cannon fire that marked the start of the 2006 Army Ten-Miler had a different meaning to many military participants this year.
For a split second, as the perfect, cool, clear fall morning air was ripped by the blast and smoke of the artillery, thousands of minds went backwards in time.
Back to places where that sound meant danger, not delight.
"It definitely caught my attention when the cannons went off," said Sgt. Benjamin Miller, 31, an Iraq veteran and member of Echo Company, 1-3 Infantry Battalion, (the "Old Guard") who was helping organize the race.
"The noise part, you probably never get over it," agreed fellow company member and Iraq veteran Sgt. Leon Currier. "Anybody who's been there, it brings back emotions."
Miller, who deployed with the 4th Infantry Division from March 2003 to May 2004, wanted to run Sunday's race.
Instead, his company was tapped to help organize the 24,000 registered runners, which makes the Ten-Miler the largest 10-mile race in the country.
So instead, he worked, watched – and remembered.
"We're not forgetting what's going on in Iraq," Miller said. "Of all the Army personnel running this race, I'm pretty sure 98 percent have Iraq in the backs of their minds."
"You can't help but think about it," agreed Maj. Gen. Frank Helmick, commander of the Southern European Task Force (Airborne) from Vincenza, Italy.
"We have friends who are buried here in Arlington (National Cemetery)," Helmick said after the race, pointing to the cemetery that is visible from the Pentagon parking lot where the race had its finish line.
"We have friends who are amputees, families whose lives have been changed forever, [all due to] selfless service to the 'nth' degree," Helmick said.
Some of those amputees were actually running the race, as part of a group calling itself Missing (Parts) in Action. The group fielded four teams of military amputees and their physical therapists.
The women's race was won in 59 minutes flat by odds-on favorite Alisa Harvey of Manassas, Va. Harvey, 41, is an American masters track and field title holder who has also taken the Army Ten-Miler women's gold medal home in 1998, 1999 and 2003.
Not everyone on a Ten-Miler team was running at Harvey's elite level, but that didn't mean they took the race any less seriously.
Warrant Officer Olga Elliott, 31, Bravo Detachment, 516th Personnel Services Battalion, Camp Humphreys, Korea, was bouncing with glee because her time of 68:55 chopped more than five minutes off her 1:14 qualifying time to join the 8th Army Team back in June.
"I don't know where the team placed, but I'm just so excited with my time," Elliot said. "My time exceeded expectations. I was shooting for 70:00, and that was pretty much wishful thinking. It was really more like 72:00."
An 8th Army running teammate, Spec. Corey Geisler, 32, with the 188 Military Police Company at Camp Walker, Korea, was slightly less thrilled with his time of 58:30.
"A 58:00 is what I wanted," Geisler said.
However, he admitted, "This is my personal best. I took four and half minutes off my original goal time."
Capt. Elizabeth Barnaby, 28, a runner with the U.S. Army Europe Team, was also very happy with her finishing time in "the 72-minute range," a personal record.
Barnaby, a physical therapist stationed with the 254th Combat Stress Control Detachment in Miesau, Germany, said she was relieved because this, her fifth Ten-Miler, is the first time her time has significantly improved since her maiden race, when she posted a time of 73:18.
"The first one was fantastic," she said. "I just kept getting slower, and slower, and slower."
It's normal for women runners to get faster as they approach their 30s, Barnaby said, and she is now happily contemplating a future filled with more personal bests.
The overall men's race was captured by Kenyan runner Jared Nyamboke, 29, who ran the race in 48:24.
Men's eighth-place finisher Justin Lutz, 26, finished the race in 51:38, a time he found "a little disappointing," although "I did finish strong."
But Lutz, who is a sergeant in the Marine Corps reserves with two Iraq rotations under his belt, said he had more on his mind during the race than just the run itself.
Lutz said he was thinking about a friend now serving in Al Asad, Iraq, Marine Lt. Jenny Ledford, a co-member of the Marine Corps running team.
Ledford was running one of the Army Ten-Miler satellite races organized in Iraq and Afghanistan, Lutz said.
"I feel so lucky, so blessed to be back here," Lutz said.
"When I was on the base in Ramadi [Iraq] and I would go running, I had to carry a pistol."
Lutz, who specializes in motor vehicle operations and spent much of his time in Iraq running convoys, said he that he now savors "every moment I am here and not there."
"Over there, it was like I was holding my breath the whole time," Lutz said. "When I finally got back, it was such a sigh a relief – I could just exhale and be safe again."
So as he ran, "I was thinking about [Ledford], and about the other people running the race in Iraq," Lutz said.
"I hope they will all stay safe," he said.
Note: Complete race results were not prepared in time for deadline. For a complete list of winners, including winning military and civilian teams, go to www.armytenmiler.com.
Army Ten-Miler results
(Unofficial)
Men's top 10 finishers: 1. Jared Nyamboki, Fayetteville, Ga. 48:24; 2. Belay Kassa, Fayetteville, Ga. 49:37; 3. Richard Ondimu, Peachtree City, Ga. 50:03; 4. Sandu Rebenciuc, Alexandria, Va. 50:18; 5. Tamrat Ayalew, Fayetteville, Ga. 50:19; 6. Brian Butzler, Beloit, Wisc. 51:14; 7. Fikadu Deme, Fayetteville, Ga. 51:36; 8. Justin Lutz, Framingham, Mass. 51:38; 9. Keith Matiskella, Fort Leavenworth, Ks. 51:57; 10. Ryan Carrara, Hudson, Mass. 52:29.
Women's top 10 finishers: 1. Alisa Harvey, Manassas, Va. 59:00; 2. Emily Brzozowski, Fort Carson, Colo. 59:26; 3. Erin Swain, Clifton, Va. 59:52; 4. Johanna Allen, Woodbridge, Va. 1:00:03; 5. Michelle Kelly, Fort Carson, Colo. 1:00:44; 6. Heidi Grimm, Steilacoom, Wash. 1:00:47; 7. Amanda Cooley, Fountain Inn, S.C. 1:00:54; 8. Trisha Stavinoha, San Antonio, Tx. 1:01:14; 9. Martha Merz, Annadale, Va. 1:01:35; 10. Lauren Manero, Alexandria, Va. 1:01:35.