Army goes 2-1 in flag football rivalry games on Pacific bases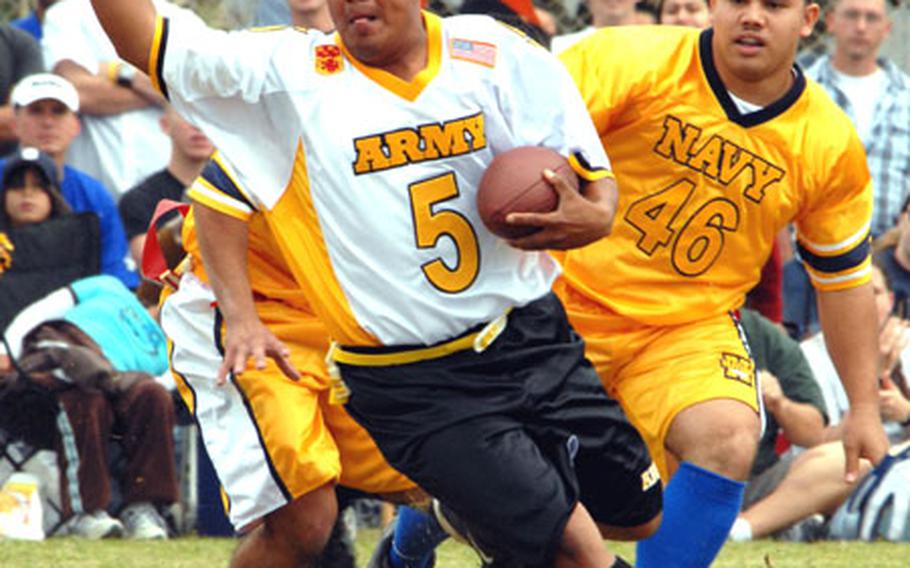 Allan Grinter is turning the annual Army-Navy flag football game at Okinawa's Torii Station into his personal showcase.
The strong-armed quarterback tossed six touchdown passes and the Army defense picked off six Navy aerials as the soldiers won the annual showdown 49-28 — the second-highest-scoring game in the contest's 17-year history.
Army also blanked Navy 28-0 at Yongsan Garrison in Seoul. Navy did come away with an 18-0 shutout of Army at Yokosuka Naval Base, Japan.
Saturday's first half was "the best I've seen Grinter throw," said A.J. Hickman, who caught one of those TD passes. he said Grinter's hot streak began with a flag football tournament two weeks ago at Camp Schwab and "he's been on fire ever since."
Said Grinter: "The weather was perfect, the line blocked well, the receivers ran their routes right; it was all good execution. I'm honored to be the quarterback of this team."
While the on-field action took center stage at Yongsan, Torii and Yokosuka, pomp and pageantry also featured as collar brass, cheerleaders and contests combined to make the gridiron galas even more festive.
Some 500 fans braved 28-degree weather at the 10 a.m. kickoff at Falcon Field on Yongsan's South Post as the Army won the Peninsula Commander's Trophy for the ninth time in 11 years. There, too, Navy had six passes intercepted. Only numerous penalties assessed on Army's offense kept the score from being even more lopsided.
Lt. Gen. David P. Balcourt, 8th U.S. Army commanding officer, and Naval Forces Korea commanding officer Rear Adm. James P. Wisecup did the coin toss. Navy's cheerleaders fielded a squad almost as large as its football counterpart.
Sunny, breezy skies and 40-degree temperatures greeted some 100 fans at Japan's fifth Army-Navy contest at Yokosuka's Berkey Field. Touchdowns by Leandre Aarndel, Nathan Pierce and Robert Thomas accounted for Navy's points.
Said Navy coach Robert Cole: "We're bringing the trophy back where it belongs."
Bands from the 7th Fleet and the Army at nearby Camp Zama provided the music. Naval Forces Japan command Master Chief Petty Officer Luis Cruz and Camp Zama's command Sgt. Maj. William Evans presided over the coin toss; CNJF commanding officer Rear Adm. James D. Kelly also made a brief appearance.
"We have a healthy rivalry — it's a professional one, based on respect," Cruz said.
"When we're working together as a joint force in Iraq," Evans added, "I think it's a great thing that we can sit here and have a good time playing football."
More than 1,000 fans thronged Torii Field to enjoy football, III Marine Expeditionary Force band music, a $10,000 football toss contest and an appearance by the Indianapolis Colts' cheerleaders, the latter perhaps drawing the loudest cheers.
Torii's 10th Area Support Group commander Col. Kenneth S. Lundgren and Naval Forces Okinawa commanding officer Capt. Robert D. Wilson Jr. oversaw the coin toss.
"It's all the tradition. This is our battlefield for one afternoon," Grinter said.
Wilson noted that the Pacific flag games mirror the Army-Navy college football battle played Saturday at Philadelphia. "This is a microcosm of that. And at the end of the day, we're all members of the military."
Stars and Stripes reporters Allison Batdorff and T.D. Flack contributed to this report.