Home Team
Are Kubasaki girls ready to return to glory days?
by
Dave Ornauer
January 12, 2017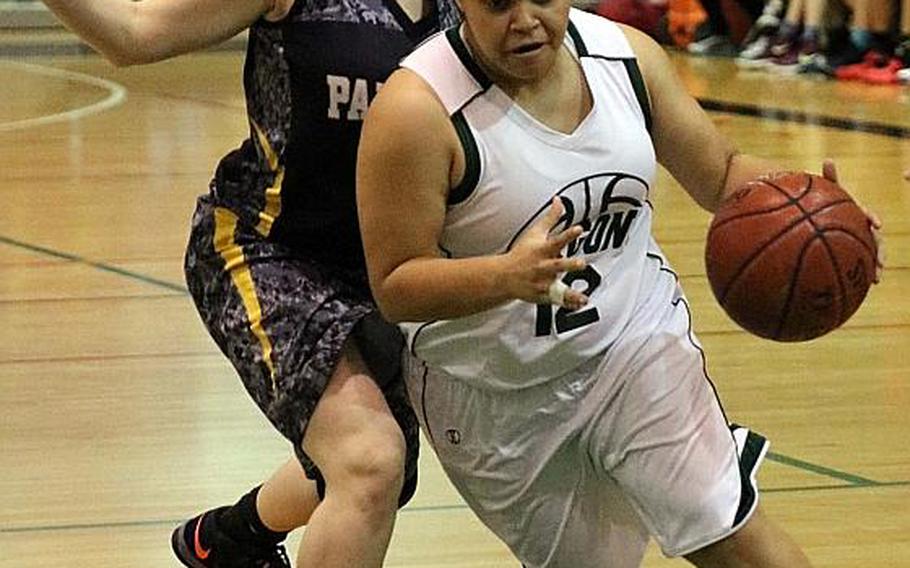 CAMP FOSTER, Okinawa – Some coaches and teams hate to use the term moral victory. For them, it's only the final tally on the scoreboard that matters.
But sometimes such losses – or wins, depending on your viewpoint – can offer a ray of sunlight in an otherwise gloomy picture.
For Kubasaki girls basketball, long a doormat to Okinawa neighbor Kadena, that moment may have come in last Friday's third game of the season between the two.
The Panthers won their first two meetings by an average of 25.5 points.
But this time, the victory margin was just six points, 31-25 for Kadena, the lowest point total for Kadena in Willie Ware's seven seasons as Panther coach.
The Dragons held the Panthers to just six third-quarter points and only five in the fourth quarter.
Signs of life, perhaps, in Dragon girls basketball land?
"I would really hope so," said Ceara King, a junior guard who uncharacteristically led the Dragons with 13 points; that's usually the province of fellow junior Chloe' Stevens, who was held to eight.
"We were just a couple of turnovers away from them beating us," said Willie Ware, Kadena's seventh-year coach who has lost just once to the Dragons in the regular season.
Ware has repeatedly said that this season will be much different from past years, when the Panthers seeming have held all the cards. This, despite the Dragons returning just two players, King and Stevens.
Kadena lost most of its front court, though, and Ware says the ones filling their shoes have potential, but need work.
But King says the Dragons' improvement involves more than just what's on the stat sheets. She averages 9 points, 3.5 assists and 3 steals; Stevens leads the team with a 15-point average.
Better camaraderie and chemistry, King says, is what led up to Friday's close call for the Panthers and the Dragons' gradual improvement.
"We're more connected as a team," King said. "We're family. Outside the court, we spend time together, we're always there for each other, on and off the court. We're not just building a team. We're building lifelong friendships."
On the court, "we're more focused on finding our own shots and better shots, scoring for the team and not just for ourselves," King said. "We're doing what we can to make each other better."
A district title can't come this year, but there's always next month's Far East Division I Tournament, Feb. 20-23 at Kubasaki. And even if it's just the start of the road back, "it goes beyond that," King said.
"We're building the future of this team and to look for more wins in years to come," said King, who says she'll return for her senior year, along with Stevens, whose parents are DODEA teachers and not leaving.
Stevens rated Friday's contest "the worst game I've ever played as a Dragon," but she said it was a "breakthrough moment" for King as well as first-time varsity players Reaven East – better known for softball pitching – and Da'Zha Loney, more attuned to soccer.
"Even if I had an off-game, the way Ceara, Reaven and Da'Zha played, it makes me really excited about the rest of the season."
That would be a dramatic change for a Kubasaki team that's the most decorated in Far East Division I Tournament history with nine titles - but none since 2004. And they've fallen on hard times since.
Since the 2008-09 season, Kubasaki girls basketball has gone 67-188, a .263 winning percentage. Their highest finish in a Far East D-I Tournament was fourth, two seasons ago.
It's not for lack of talent; the Dragons over that span had Josie Daffin at center; she now plays volleyball for Division I Alabama A&M. And a former Dragon, Gabby Falco, set the DODEA Pacific and Far East Division I Tournament single-game points records in 2009-10 with 44 and 42.
But they've gone through seven coaching changes in that span. Steven Casner, a guidance counselor at the school who used to coach at E.J. King, is the latest in that hot seat; the team also features a King transfer, senior Eliana Salinas.
For his part, Ware says he's noticed the changes, and feels that with no dominant team in Division I, the race is "wide open," even for Kubasaki to reclaim the long-lost throne.
"You can see in their eyes," Ware said. "They believe in themselves. Their confidence level is getting there. In years past, you'd question their shot selection and decisions on the court. Now, they're staying within themselves. It may take time, but they're not pushovers."
The Dragons visit the Panthers for their last regular-season meeting on Feb. 3. And Casner is hoping for an outcome similar to Kubasaki's 48-42 home win on Dec. 20, 2013.
"That's been the whole idea, the theme to this entire season: Get better with every practice, get better with every game," Casner said.
Twitter: @ornauer_stripes