Girls tennis AOY
AOSR's Rand has brief, but stellar stint in Europe
---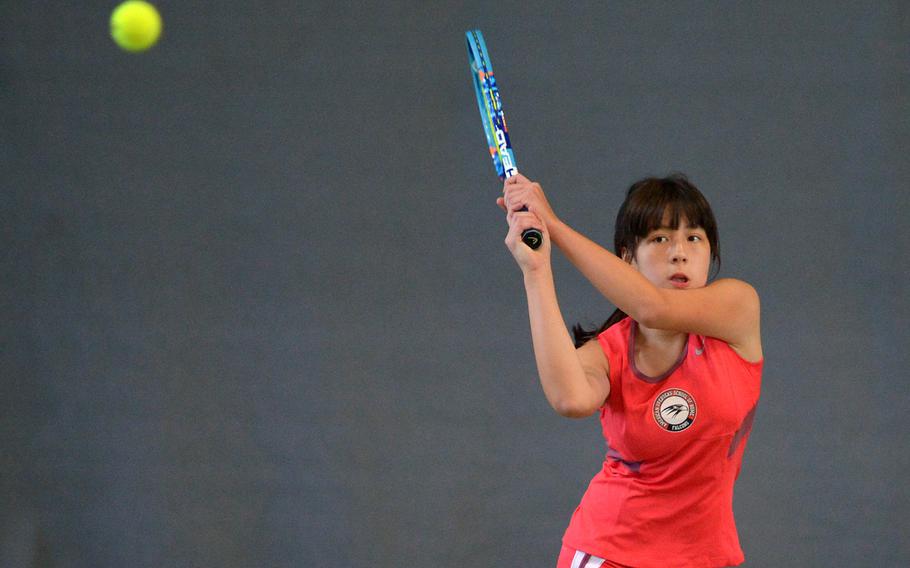 The tennis career of Kaya Rand has lasted more than a decade already, and is likely to extend at least that long into the future.
From that perspective, the portion of that career Rand will have spent playing high school tennis in Europe amounts to just a fleeting moment.
But what a moment it was.
Rand, a freshman at Overseas School of Rome, burst onto the DODEA-Europe scene this fall and won the European girls singles championships. As a result, she is the 2016 Stars and Stripes Athlete of the Year.
"I'm a freshman and this is my first year, but also my last," Rand said. "So I really wanted to win it."
She certainly played like it over three impressive days in Wiesbaden.
Rand entered the tournament as another unheralded face in the crowd, seeded squarely in the middle of the 12-player tournament bracket. Atop her half of the bracket was Vicenza rival Kiki Sibilla, who had beaten Rand in straight sets in a September regular season meeting.
But the tournament was a different story. On the event's first day, Rand bested Sibilla in an epic 4-6, 6-3, 10-4 rematch. After breezing through the next day's semifinals, Rand repeated the feat in a 3-6, 6-4, 6-1 defeat of Sibilla for the European title.
Playing with a poise far beyond the conventional ninth-grader, Rand strived in the title match to maintain a placid demeanor while provoking her opponent into missteps.
"I don't really think, I just hit the ball," said Rand, who began playing tennis at 3 years of age. "My main strategy was just to make her frustrated."
Rand is likely to similarly torment many more opponents as her promising prep tennis career proceeds. Luckily for anyone pursuing one of the next three DODEA-Europe titles, she won't be doing it overseas.
Twitter: @broomestripes
---
---
---
---