Ansbach's Jones scores biggest win of first day
---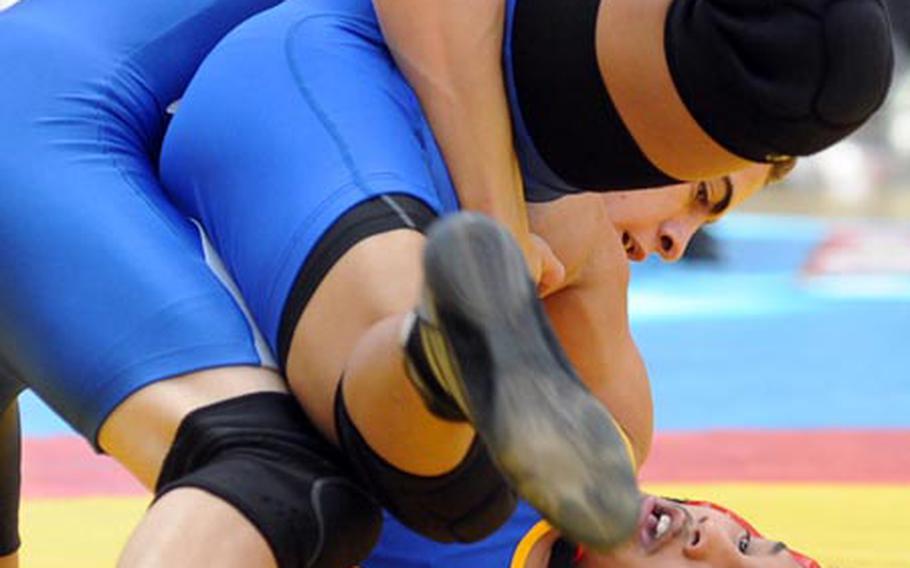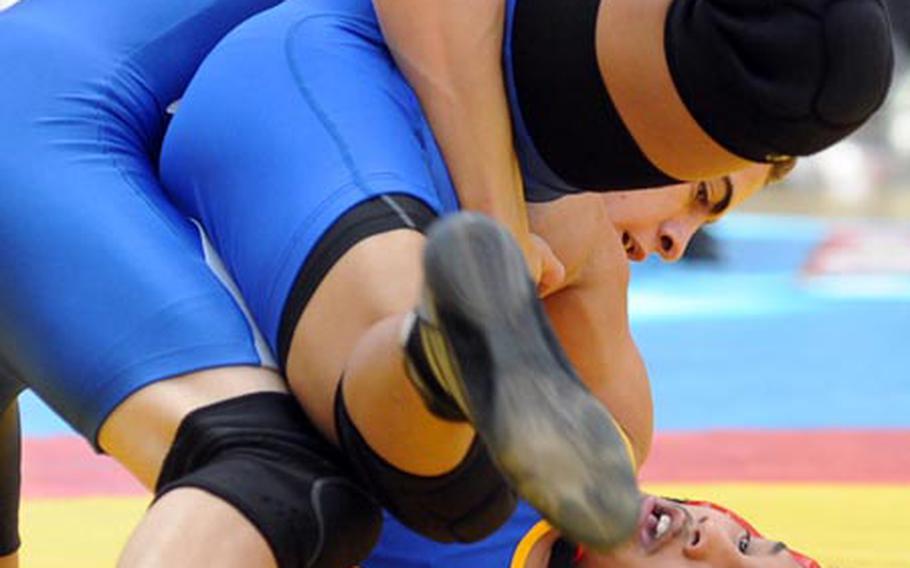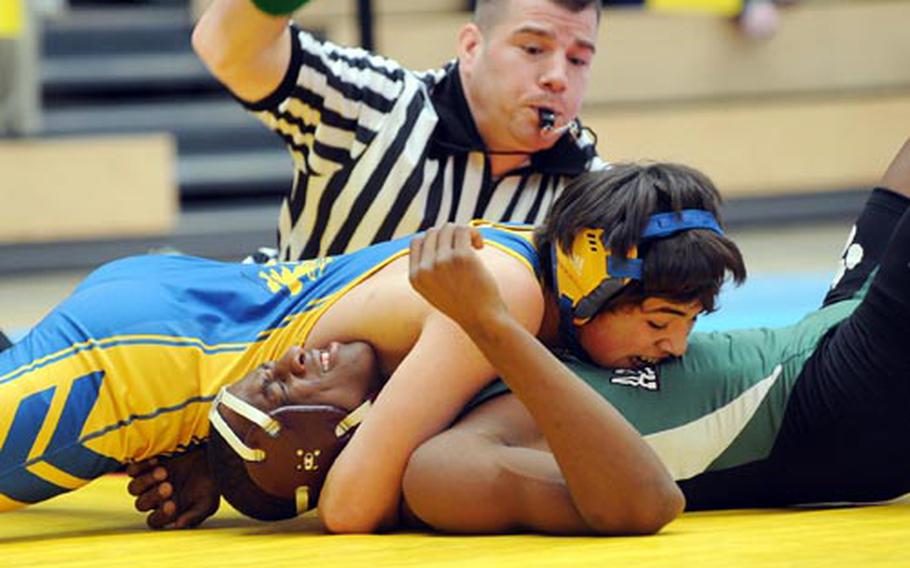 WIESBADEN ARMY AIRFIELD, Germany — Ansbach's Jarred Jones ignored the hype Friday and posted the biggest upset on the first day of the two-day DODDS-Europe high school wrestling championships — a 9-4 verdict over AFNORTH's previously unbeaten Brock Blankenship.
"I was nervous at first," Jones said of his second 189-pound bout of the day, "but that was just the buildup [to the match]. Buildup isn't everything."
In this case, it wasn't much of anything. Jones, who earlier had defeated Mike Niccoll of Patch 11-3, struck for a five-point takedown-into-near-fall sequence 1:40 into the bout and protected the margin the rest of the way.
The bout was the highlight of the tournament, in which 160 wrestlers are vying for the title of best in Europe in 14 weight classes. Second-day action begins Saturday at 9 a.m., with title matches set to start around 3:30 p.m.
"I was trying a high-crotch [takedown]," Blankenship, 19-0 going into the match, said of the ill-fated move that gave Jones his opening. "I used bad technique. You can't be a good wrestler if you have bad technique."
Jones didn't recognize the technique, but he knew an opening when he saw it.
"I don't know what he was trying," he said, "but after I took him down, the cradle was there and I locked it in."
Jones (18-2) kept Blankenship struggling in the cradle for the rest of the period, but was unable to finish the wrestler most observers saw as the toughest in the 189-pound class.
"I thought it was going to be over quickly," said Jones, "but he fought it off."
Instead of an early finish, Jones and Blankenship slugged it out for two more periods, a span that included nosebleeds for both wrestlers, smelling salts for Blankenship and a second period in which Jones endured the full Blankenship treatment.
"I couldn't breathe," Jones said about the two minutes he spent on bottom with Blankenship trying to turn him. "For a while, I felt like I was going to vomit. He's a very physical wrestler."
Jones survived, and moved ahead 7-1 when he took Blankenship down near the edge of the mat in the final period. Blankenship again ended up in near-fall territory, but the referee refused to award Jones any back points.
"He wanted me to drag him back onto the mat," said Jones, who was to score one more takedown en route to the upset.
Now, all Jones has to do, probably, is to do it again.
Instead of the knock-out brackets normally used in wrestling tournaments, this year's format is pool wrestling, meaning the top two wrestlers, even those with a loss, from each of the two pools advance to Saturday's 11:15 p.m. semifinals. Those winners will clash in the finals.
In effect, Blankenship was saved by the format.
"All our kids are sick," said Blankenship's father and coach, Greg. "We rode the bus up to Alconbury and caught something. "But we'll be all right."
Jones was nonchalant about the possibility of having to defeat Blankenship twice.
"That's how the tournament is set up," he said. "If it comes to it, I've just gotta do it again. Now, I know he's beatable."
Blankenship, hardly able to speak with laryngitis, had more work to do before he could worry about a rematch.
"I've got to get past this next match first," he whispered.
---
---
---
---